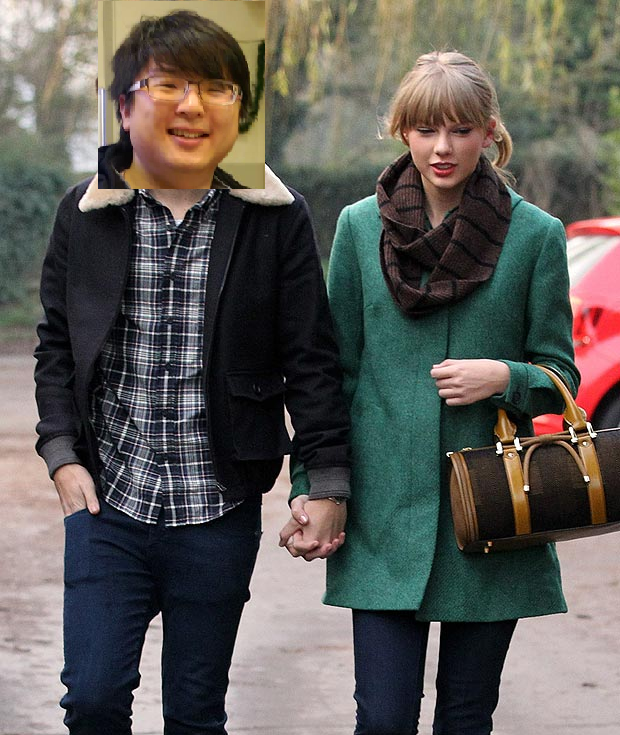 TOPLIST AGAIN – ANTHONY'S 26/2016 BOUND
Another year's gone, and it's another year I'm ready to move on from. Well, on this, my 26th birthday, let's look at some of what came out. Earlier in 2015 we put up listicles of five favorite records from the first six months of the year, and it's amazing how many of them carry over to this top ten.
Also I'd like to earnestly apologise to my PR friends, who are the coolest and most understanding group of people ever. I'm working on getting more on top of RCA stuff, promise!
P.S. Thanks Ryan for the picture. It's not Ellie, but hangin' with Taylor would be fun too. Also, thank you for cropping a pic of the ol' chub Anthony from a few years ago. I'm a lil thinner now, haha <3
---
Honorable Mentions
Okay, I love Ellie. This 80's inspired record is excellent. Now that's out of the way, Delirium doesn't have the same emotional punch that 2012's Halcyon (or reissue Halcyon Days) had, but it's still a delight to listen to. Make sure you hit "Codes", which puts everything I love about Ellie's heavenly voice into one radio ready earworm. Her inflections and expressive tones have me weak at the knees.
This record was slated to make the list for a long time, but a series of late entries pushed it out. Sorry team… but That's The Spirit is going to carry BMTH solidly onto arena stages. Aside from losing the metalcore elements of the band's Sempiternal sound, they've actively embraced "just" rock, and it turns out they're really dang good at it. "Doomed" and "Avalanche" are two non-singles to definitely stream.
I also really love Carly Rae, and this record is another 80's inspired pop gem. I don't know how I feel about the fact that "Boy Problems" is my undisputed favorite track on this release, but every song is a fun one.
Being As An Ocean is one of the most important bands of our time. No one else is as frank or honest or loving or welcoming with their presentation of Christianity, and superb musicianship with the Joel Quartuccio/Michael McGough power vocal duo is a recipe for incredible music.
Ryan Adams – Ryan Adams 1989 (Blue Note)
Say literally whatever you want about Taylor Swift, but Ryan Adams is a boss. Ryan Adams 1989 is delightful in arrangement, but it's even better because you already know all the words. Admit it. You do.
Modern Baseball – MOBO PRESENTS: The Perfect Cast EP Ft. Modern Baseball (LAME-O)
Obviously this is an EP, but the few short tracks here have more than enough depth to go toe to toe with any full-length. Modern Baseball is immensely talented, and if You're Gonna Miss It All last year didn't prove that, let a six-song EP show you just how dang good these young gents are at assembling a folky pop punk earworm. I listened to "The Thrash Particle" a good 100 times after picking up this CD. I love their music from the bottom of my heart, and the band chemistry shines through in the studio as much as it does onstage.
The Wonder Years – No Closer To Heaven (Hopeless)
Don't get me wrong. This is a wondrous album that picks up right where The Greatest Generation left off. Let "Stained Glass Ceilings" (ft. Aaron Butler) absolutely take you off your feet. Soupy's at the top of his game, and this band somehow finds a way to get better with every release.
So many parts of this record are so beautiful. Beatrice Martin is a charm, and she sits vocally in the same league as Ellie Goulding, Jess Abbott, and Kim Walker-Smith: SO much character and emotion with every syllable.
Deafheaven – New Bermuda (Anti-)
With only five tracks, New Bermuda is only nominally short. Building off of Sunbather, this black metal band intersperses jarringly vicious moments with tender, beautiful shoegaze. It's disorienting and uncomfortable in a deeply moving way.
Better Off – Milk (Equal Vision)
Joe and I talked about this record so much. Aside from how delicious the sandwich on the cover looks, Milk is a witty, intelligent rock release that is as interesting to listen to as it is engaging to understand. Definitely give this one a glance.
---
TOP TEN RECORDS

Yea, alright. It's good. It's really this good. The honest-to-goodness only misstep on this release is Big Sean's atrocious rapping. His feature on the otherwise fantastic "No Pressure" is maybe the worst guest appearance I've ever heard, and possibly the worst rapping I've ever heard. I was there when Christian rap was still emerging, so that's saying something.
Key Tracks: Sorry, The Feeling (Ft. Halsey), Children
---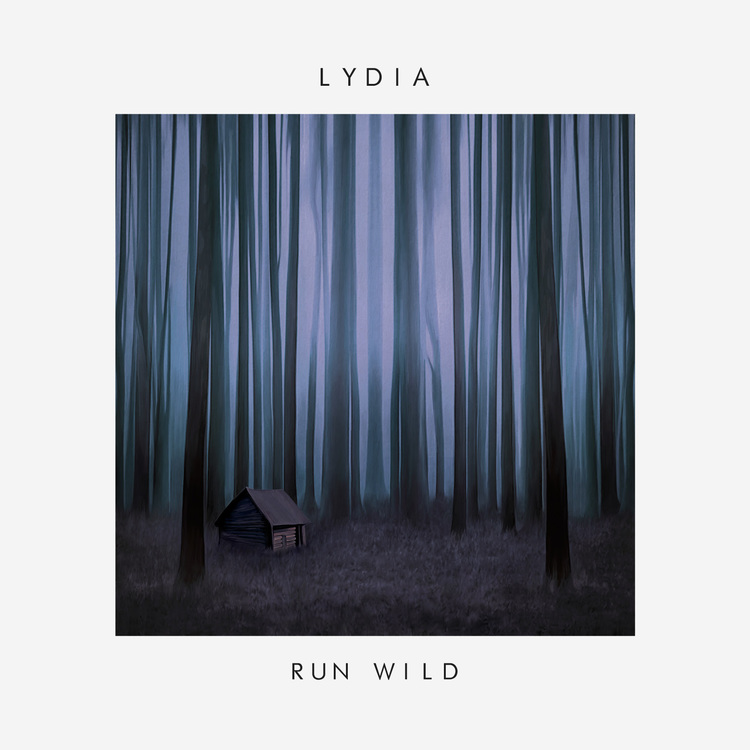 9. Lydia – Run Wild (8123)
It's a shame this was such a quiet release, because it's a stunner. Leighton Antelman is still one of the most intriguing songwriters of our generation, and whenever you see him on stage with Lydia it's clear they're having the time of their lives. He's all grins, and in the sweeping movement of these 11 new tracks you can hear him smiling through the prose. It's fantastic.
Key Tracks: Riverman, Past Life, Coffee Drips
---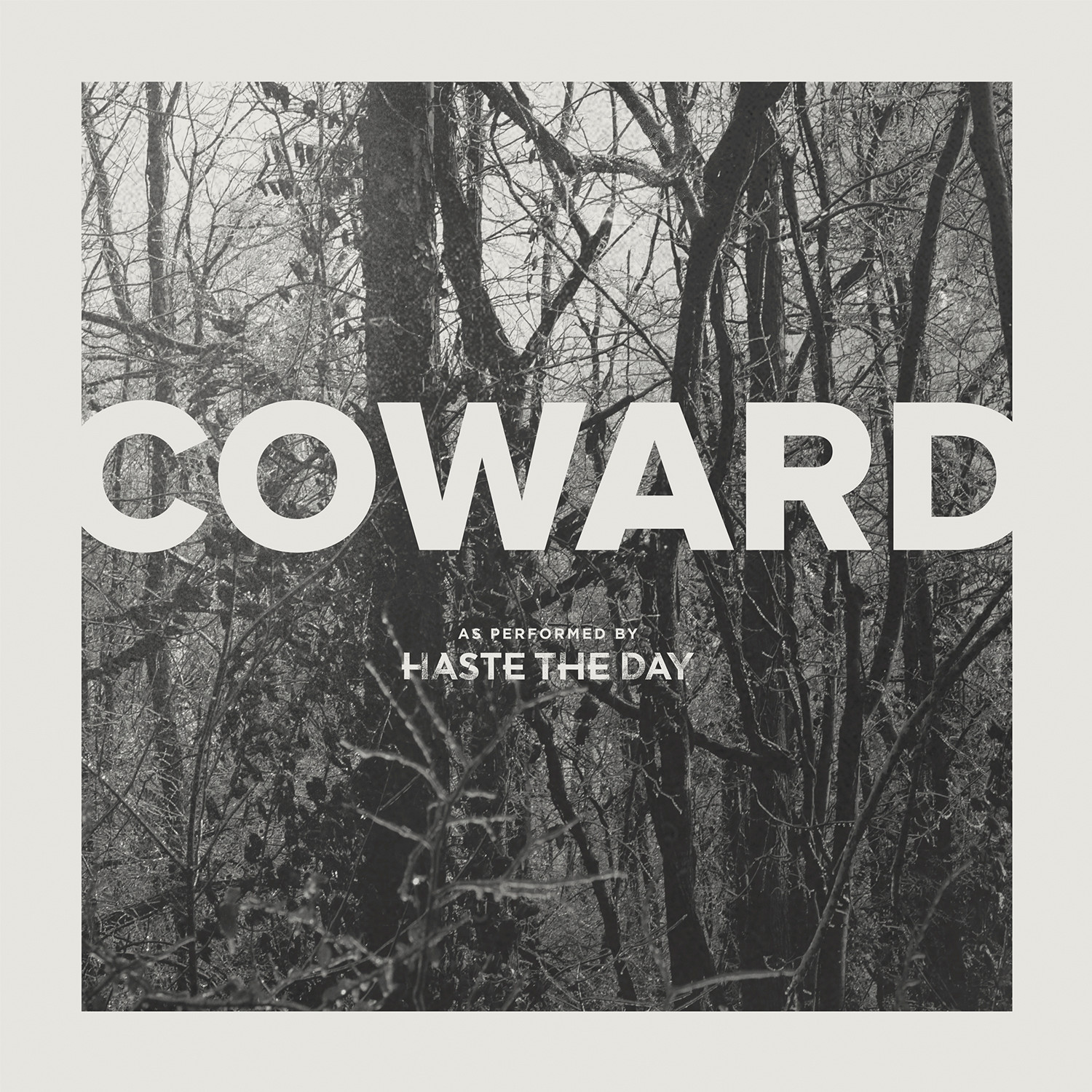 I'm usually not a big hardcore fan. There's always exceptions, though, and Haste The Day's Coward is a big fat one… Even if it's just because they land closer to metalcore than hardcore. Seven active members make for a titanic sound, and you can hear 14 years of experience shine on this release. There isn't a bland or unremarkable moment, and joint frontmen Stephen Keech and Jimmy Ryan represent a dynamic duo talented enough keep every aggressive vocal part distinct. Don't miss closer "Gnaw", a gargantuan piece whose devastating final moments will take your breath away.
Key Tracks: Begin, Reconcile, Gnaw
---
7. The Story So Far – The Story So Far (Pure Noise)
A surprising number of self-titleds dropped this year, and I have a few on my list. TSSF has been a favorite of mine since I randomly saw their lyrics on Tumblr a few years back, and 2013's What You Don't See was spun in my car for months at a time. This year's effort, however, took a while to take a hold of me. Parker Cannon is as furious as ever, and while the band is clearly tighter and more professional than before, something in my first few listens wasn't quite clicking. Well, I tried again in November and it's definitely clicking now.
Key Tracks: Smile, Heavy Gloom, Nerve
---
6. Four Year Strong – Four Year Strong (Pure Noise)
Another self-titled. This one is SO much fun to listen to, and co-frontmen Dan O'Connor and Alan Day come back huge with their chemistry. Big, ballsy pop punk through 11 tracks demand to be sung along to, and the album art just takes the whole package right over the top. Alan's eyes are up there, people.
KT: I Hold Myself In Contempt, Gravity, Go Down In History
---
5. Sorority Noise – Joy, Departed (Topshelf)
This album contains two of this year's most beautiful songs: "Fluorescent Black" and "Fuchsia". Man, both of those are hard to spell, but they're also electrifying and heartbreaking in their own way. This is an album of vivid monologues spoken with the same frankness that made Modern Baseball and The Front Bottoms genre sweethearts. For fans of Turnover, Seahaven, and Somos, I'd say.
KT: Fluorescent Black, Nolsey, Fuchsia

---
What to say about Man Overboard… Well, they've overtaken the #2 spot on my top 5 favorite bands, and Heavy Love is a significant piece of that swap (they displaced TDWP). It's mature and fresh without disassociating from the Man Overboard of old, and Nik Bruzzese and Zac Eisenstein are as much on top of their vocal tag team situation as ever. Also, I requested "Borderline" (scroll on down) at their Mountain View, CA Warped date and they agreed to play it. And they did. And it rocked.
KT: Borderline, Splinter, The Note
---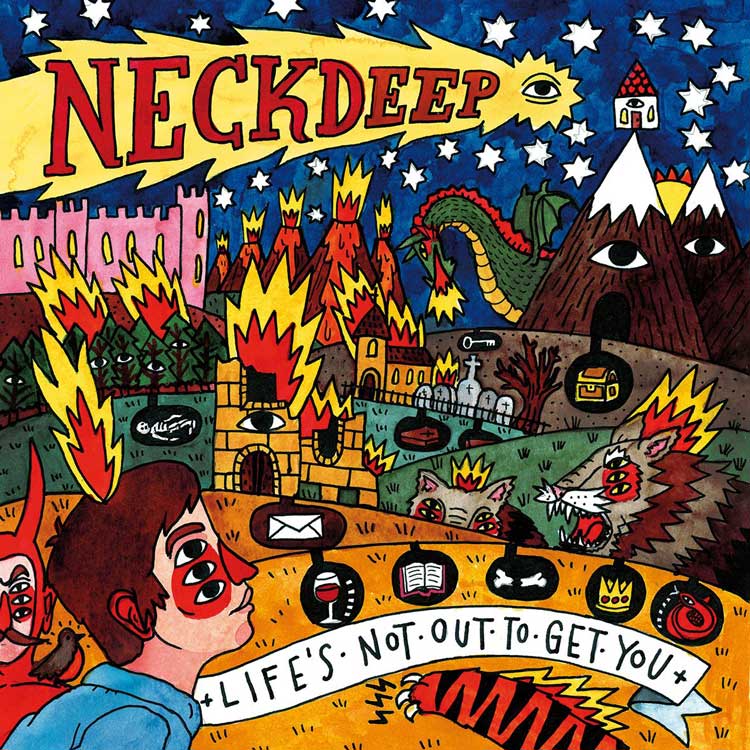 3. Neck Deep – Life's Not Out To Get You (Hopeless)
Neck Deep is probably the best new pop punk band I've heard in the last five years. As with the other pop punkers mentioned on this list, these UK lads have found a way to make a mark on an otherwise highly saturated genre. The three times I've seen these guys, they've leaned more heavily on old material, but the new songs they're writing show incredible growth and a key departure from the TSSF sound that they sprouted up in. Singles like "Can't Kick Up The Roots" and "Gold Steps" were strong indicators of how catchy all of these songs are, and their full-bodied flavors make for a delicious 12 song sophomore outing.
KT: Kali Ma, Lime St., Serpents, Rock Bottom
---
2. Pentimento – I, No Longer (Bad Timing)
Pentimento is the band that brought Sean aboard RCA through a few friends on Twitter. Pentimento is the band that saw heavy spins on my Spotify around the same time I discovered Seahaven. Pentimento is the band that dropped I, No Longer this year. Pentimento is the band whose record hit me so hard I closed my eyes while driving on the freeway. I couldn't hold this record all in, and frankly, I shake a little when I hold the physical copy. I bought two.
I do not recommend listening to this without giving it the attention it wants. The storytelling on this album is unbelievable, and the honest conversations described in its 12 tracks will pull you in. You'll have no trouble finding a way to relate. Every time I listen to it I uncover a new facet or subtlety in the layering, and while Pentimento's sound is straight rock, there's a vulnerability not-so-deep under the surface that makes this album irresistible… and just about flawless.
KT: Clever Reason, Got My Answer, Slow But Sure
---
1. Turnover – Peripheral Vision (Run For Cover)
This is such a beautiful record that seven months after its release I'm still listening to it on a weekly basis. Everyone was talking about how Turnover transformed out of Magnolia's pop punk and into this incredible indie rock, and I can see why the progression trended that way. Magnolia was a natural launch into whatever this version of Turnover might be called, and it's turning out to be a primo strategy. Soft vocals on sweeping arrangements cover almost all of this record in a thoughtful, reflective tone, and it's easy to buy in.
KT: Hello Euphoria, Dizzy On The Comedown, I Would Hate You If I Could
---
TEN GREAT MUSIC VIDEOS IN NO REAL ORDER
Carly Rae Jepsen – I Really, Really, Really, Really, Really, Really, Really Like You
Tom Hanks lip syncing and dancing, Justin Bieber, and CRJ in general. Say no more. (OK but fun fact – the Tom Hanks car scenes are pulled straight from Bridge Of Spies, an awesome drama that is definitely worth watching.)
Ellie Goulding – Love Me Like You Do
Why does Washington get stuck with all the ridiculous book settings? IDK, but Ellie is absolute magic, and whatever your feelings on pop music may be, it's not hard to agree that this is a truly beautiful song. Also, I really like Dakota Johnson. But not as much as Ellie. And you already knew that.
Taylor Swift – Bad Blood
Ellie as Destructa X. That's all.
Moose Blood – Gum
Moose Blood has such a way with making art. This video will take you right back to your first crush. Whoever you are out there, I'm requesting at least a few Moose Blood songs for my wedding.
Modern Baseball – Rock Bottom
Modern Baseball doing Modern Baseball things. As for making a big budget music video, Brendan Lukens is over it!
Cœur De Pirate – Crier Tout Bas
Just watch. Beatrice will take your breath away.
The 1975 – Love Me
Aside from being the most highly anticipated pop album of ever, The 1975's changed their look, style, and color palette into something bigger and brighter and more fun. It's a good look, and a great sound… and look at all those pretty guitars.
The Devil Wears Prada – Alien
Oh, creepy. Oh, wait, cool. The Space EP is a solid short -follow-up to the beloved Zombie EP, and this is a thoroughly disturbing video to go with the single.
Twenty One Pilots – Tear In My Heart
Earlier in the year Blurryface was in my top 10, and as much as I loved it, I just couldn't fit it on this list. Well, except for this fantastic, goofy, super TOP music vid.
SO GOOD.
Man Overboard – Borderline
I love Man Overboard, and while "Borderline" was one of three first singles whose music videos were all, well, basically this same thing, "Borderline" was also the first and my favoritest of those three. Then again, "Splinter" and "Now That You're Home" are also favorites of mine on that record… but anyways.
Thanks again for reading. See you on the flip.