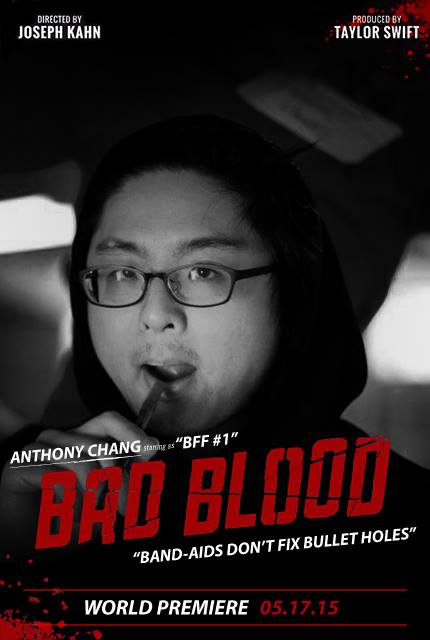 Anthony's Top 5 Of 2015… So Far
Listicle writing school pt. 1 of several in 2015. Now that we're about halfway through the year, here are my favorite records so far. You know I can drone on and on so I'll pipe down. So I can talk.
Here's even a Spotify thing so you can hear these songs with ads! Trojan Man!
5 Imbue – The Early November
I'm a relative newcomer to The Early November, but their name has been popular for long enough that I decided to take a listen with a little encouragement from RCA bro Joe Bosslet. Imbue is a delicate masterclass in songwriting, showcasing Ace Enders' expressive voice on a background of massive alt/emo rock. The results are stunning.
Key Tracks: Narrow Mouth, The Negatives, Boxing Timelines
4 Blurryface – Twenty One Pilots
"My name's Blurryface, and I care what you think." Haha. Blurryface is a smorgasbord of sounds and styles, compositionally similar to Vessels but stronger in writing and more assertive in production. What a music writer sentence, ugh. Barf. I dig Blurryface because Twenty One Pilots has never really cared what people expected them to do, they just did what they wanted. The result is a crazed offering that is equal parts spoken word, pop jam, trap, and ukelele.
Key tracks: Stressed Out, Tear In My Heart, Doubt
3 Peripheral Vision – Turnover
Everyone knows by now, blah, blah, blah, Turnover used to be a pop punk band, they changed, whatever. Peripheral Vision is a masterpiece that deserves shelf space next to Copeland, Moving Mountains, and Seahaven. Produced by Asian-American studio hero Will Yip and full to the brim of musical genius, Peripheral Vision was one of those rare records that I bought the vinyl for, skirting my preferred CD medium entirely. It possesses that curiously rare trait present of only the most beloved records: there are moments so beautiful and fleeting that by the time the listener has registered something remarkable, the song has already moved on. What an annoyingly accurate metaphor for life. Look up from your phone, kids.
Key Tracks: Cutting My Fingers Off, New Scream, Intrapersonal
2 Four Year Strong – Four Year Strong
Woa. Four Year Strong fell off my radar for a while, around the time In Some Way, Shape, Or Form hit the shelves. Yea, I was one of those fair-weather fans, you guys, and I'm sorry. I doubted. In a way I think FYS needed to try a different direction to get fresh eyes on the pop punk/easycore that has always fit them like a glove. Four years (haha) without a full-length and one EP later, these guys are back with a self-titled long player that is as good and often better than anything the band has written before. That's a huge statement for the world's-biggest-former-easycore-fan, sure, but it's not written lightly. From the opening track to the reissued closing track "Go Down In History", Four Year Strong is back in shape and stronger than ever. Try not to get lost in Alan Day's, uhm, chest, on the album artwork though.
Key Tracks: We All Float Down Here, Stolen Credit Card, Go Down In History
1 Coward – Haste The Day
Haste The Day is a band I haven't seriously listened to since high school. No idea why. It just happened. In that huge pool of Solid State veterans that defined the Christian post-hardcore scene of my youth, Haste The Day fell through the cracks for me, along with Norma Jean and The Chariot. Well. Coward is an outrageous record, and I bought it on a whim when my friend fervently recommended it. It's a gigantic, brutal, and amazingly melodic presentation of The Gospel, and even if that's not your thing, this band is talented enough to at least warrant a listen. I'm not really sure how many people are involved now (seven?), but it's a mark of the band's experience that the album isn't all pistons firing all the time. Dynamic, well-written, monstrously performed. Don't miss this one, and certainly not the fantastic marathon-length closer "Gnaw".
Key Tracks: Begin, Accept, Gnaw
---
 Honorable Mentions
Transit's 2014 offering Joyride, which, in an earlier version, was #1 on my list until I realised my dates were all jacked. That's frustrating, since Joyride has come full circle for me and I went from not liking it at all to listening to it almost exclusively. Boo. Sorry dudes :/
Made in Heights' Without My Enemy What Would I Do, the stunning musical product of the beautiful Kelsey Bulkin and talented Blue Scholar Sabzi.
You Were Never Alone, a blockbuster crowdfunded album by the Seattle rock veterans in Emery. Several single-digit level appearances on the Billboard Top Charts mean independent releases are more a thing now than ever. One whiff of YWNA and you'll know, this record is the most Emery that Emery has been in a good long while.
InVogue Hotel Books release Run Wild, Young Beauty: spoken word genius set to music tackling all the heaviest of topics with grace, humility, and an amazingly expressive voice.