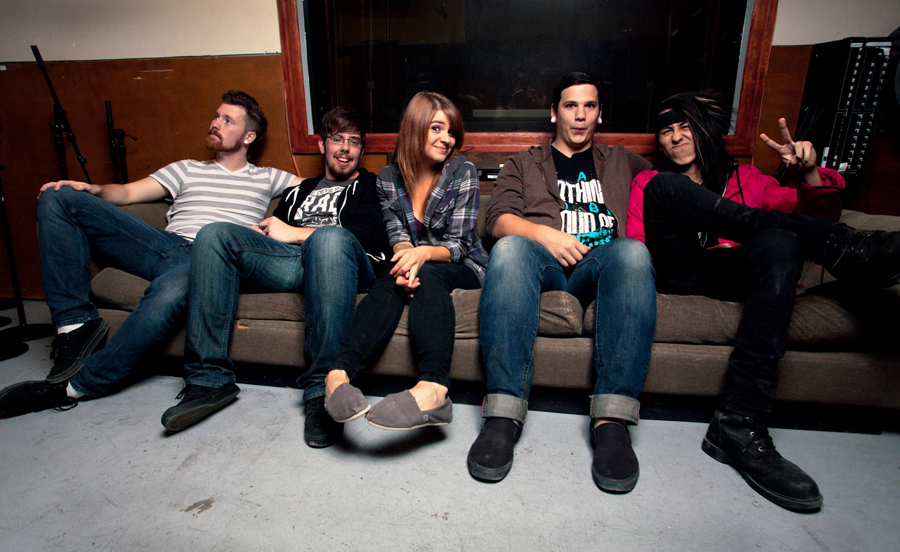 Local Spotlight
Truth Under Attack

From: Seattle, WA
Genre: Indie/Screamo
There's something to be said about a band that can be on the brink of a breakdown and still come out on the other side of it as determined and driven as ever. This is the story of what the last year or so looked like for Truth Under Attack. After overcoming obstacles that could push many bands to separate, the group is more excited than ever and about to depart on their second tour, called the "All I Want for Christmas Is" tour, from December 14-23.
I sat down with them in an apartment in Bellingham, where three of the bandmates live. They told me stories from their first experience on the road, the internet ads that brought them together, adjusting to their rising recognition and the season that almost broke them.
Truth Under Attack is vocalist Chelsy Hancock, guitarists Stephen Gleason and Nathaniel Zaborac, bassist Keegan Chapman and drummer Jesse Larson. This is a relatively young band, with their youngest member (Jesse) still in high school and oldest members at 22.
THE CRAIGSLIST BAND
Chelsy and Keegan grew up in small towns north of Bellingham and found each other through the grapevine of Craigslist in spring of 2010. Keegan gave Craigslist essentially all the credit for bringing the entire band together. Stephen was filling out his application for New York University when he saw the Craigslist ad, and decided to try out for the band instead.
"Stephen gave up a lot to be in this band," Chelsy said.
Chelsy now lives in Seattle and has been able to network with other bands and support the Seattle music scene more effectively than when she lived in Bellingham. Her apartment is about a five minute walk from El Corazon, and sometimes she finds herself going to four shows in one week. She and Jesse (who also lives near Seattle) carpool up to Bellingham to practice in a storage unit two times a week.
"You don't say you're from Bellingham unless you're an indie band or know Death Cab for Cutie," Chelsy said. "We say we're from Seattle."
A SEASON OF UNCERTAINTY
Over the last couple years, the band went through a number of member changes that could have shook their foundation. The personal financial investment by the band has been massive, and many bandmates weren't able to afford the price. The group is completely self-funded, and as a band they personally put over $5,500 into their last recorded EP.
"We haven't actually used our personal birthday or Christmas money on ourselves in two years," Chelsy said.
Not only did the financial commitment cause many members to walk away, but the young band had already been touched by not-so-young life experience. One of their prior bandmates was going through a divorce. Chelsy experienced the end of a long-term and serious relationship, who was physically abusive and unfaithful to her. That experience inspired her to write the song "iHope."
During this time, Chelsy said she was also inspired by their original drummer and lead guitarist, who told all of them they didn't have what it takes and Chelsy wouldn't be able to handle the pressure. She wrote the song "Forever and a Year" about that.
Included in the list of obstacles was a failed Kickstarter attempt to fund their first EP, and waiting for their EP for over half the year when they were promised a month turnaround time. Once they finally gathered the funds to record the EP and spent 12 days in the studio in December 2011, they waited six months until they ever received any material back from the producer.
They said this period of waiting was difficult because they promised fans an EP much sooner, were planning a CD release show and tour, and didn't have their backing tracks for their live performances until almost a year after they recorded them.
During this time, the band was constantly disagreeing and walking out on practices, Chelsy said. They were uninspired, would work on the same song for up to six weeks and weren't feeling confident in their live performances. The group was frustrated, discouraged and divided and they didn't know what to do with how they were feeling.
"When we were at the lowest of the lows, I seriously considered leaving. I guess it was the feeling that this group of people had the potential and drive to actually do something [that made me stay]," Stephen said.
Chelsy agreed.
"I think what kept us going was the fact that we know we've got something good together. We all see the amazing potential that we have as a group. We've got so much drive and determination to make this into our full time jobs," Chelsy said.
Keegan emphasized the personal growth that has taken place in the band over the last year, and that all the tough life-experience really made everyone come out of their shell and grow up.

BARBARA THE 'BURBAN
Keegan is the business manager of the band. He is a student at Western Washington University and designed his own major through the Fairhaven College, "Music Industry Entrepreneurship."
He said from the business perspective, the first tour, shared with Portland band Chin Up Rocky, was a success. They hardly had to pay for anything out of pocket, because enough people bought their merchandise and came to shows. This makes them excited for their second tour, because many fans have been asking them to come back to their hometowns.
Transporting them through their tour has been and is the band vehicle, "Barbara the Burban." Keegan's 21st birthday present from his parents was a suburban to use for band purposes.
Barbara pulls their trailer, which leaves enough room for the group to build bunks in it this time around.
They will be ending their tour with a "Homecoming" show in Seattle on December 23.
A SECOND CHANCE FOR A FIRST IMPRESSION
When they get back from tour, they will be getting ready to record a new album sometime in March.
"This music is going to feel different, I'm shooting for heavier, and more technical," Stephen said.
Nathaniel said this album is going to feel different because it will be the first recorded music and written material with this lineup, so the chemistry is different. After the last tour, the lineup of the five members has been solid and Chelsy can't imagine a different lineup now, she said.
Currently, Nathaniel and Chelsy described their music as "Paramore with balls."
Stephen said he would describe it "like Four Year Strong, Sleeping With Sirens and Tonight Alive all had a freaky five headed baby."
Also on their planning horizon is a DIY full U.S. tour (that Keegan gets to book and plan as part of an independent study for his major), a music video, releasing the new EP by summer 2013 and maybe a second attempt at a Kickstarter.
Keegan created the budget for the first six months of 2013 and said it's in the tens of thousands.
Chelsy and Keegan described their excitement for a second chance for a first impression. With the quality of their first EP, they were attempting to show up onto the scene with something outstanding. Because of the delay, they feel like they didn't give the first impression they wanted to.
"We got screwed out of our first impression," Chelsy said. "We tried to hype up our last one before it came out. Our next CD is going to top our last. There's nowhere to go but up from here."
RISING RECOGNITION
Along with the personal and group growth the band has experienced over the last year, they have all noticed an increase in recognition and popularity.
Chelsy described the first time she was recognized as part of the band. The group was walking outside a burger joint in downtown Bellingham. A group sitting outside said, "It's Truth Under Attack!" Chelsy turned to them and said, "Who the fuck are you?!"
Chelsy felt band and went back and apologized.
"I told her she will need to work on that," Keegan said and laughed.
Over the last year, they played with The Classic Crime twice, one of which was their CD release show at the Showbox. Playing with The Classic Crime was a personal dream of Chelsy's. That show was the day before Warped Tour, and the band said people recognized them at Warped Tour from the show the night before. They gave away about $200 worth of merchandise and had people come up to them asking for autographs and photos, even though they weren't even playing that day.
"We can scribble something on something and people care about it!" Keegan said.
The rising recognition is shocking the whole band.
"Its super surreal. It might sound like we are trying to boast about ourselves but it's more like a shock thing," Chelsy said.
In addition, guitarist Nathaniel receives pictures that fans have been drawing of him. Chelsy said one of the best decisions they ever made was letting Nathaniel in the band.
"He's the pretty one," Chelsy said. "We get hella bitches because of him."
Along with rising band recognition often comes people from their past trying to make amends.
Nathaniel noted that he started hearing from his unfaithful ex-girlfriend when word was out they were going on a second tour.
Being from a small town, Chelsy has experienced similar curiosities with people from her past. Her hometown of Lynden is very small, and when they played the Lynden Fair last summer, she turned heads. Chelsy lost 70 pounds since high school, which grabbed the attention of many people who knew her before.
"When we played the Lynden Fair, people from Chelsy's high school just came up to the stage and stared," Keegan said.
Also, she said she goes back to the same cafes she grew up in and the same people have been working there for years. That is just an example of how hard it can be to break out of small-town life.
"It feels good to get out of the small town and actually do something," Chelsy said. "I just want to be doing this as long as I possibly can."

Spend any amount of time around this band, and you'll be left with sore abs from laughing so hard. Chelsy describes the band chemistry as a sibling relationships, and naturally she gets picked on relentlessly by her brothers and bandmates. This attitude causes them to hate each other at times, but at the end of the day they are best friends and love being in their band family together.
As someone with an undying love for Paramore and a newly discovered crush on Alabaster, female fronted Truth Under Attack caught my attention when I saw them live for the first time last month. I can't wait to see whats next for them and welcome them home from their "All I Want For Christmas Is" tour at their Homecoming show.