Local Spotlight
New Lungs

From: Seattle, WA
Genre: Indie/Post-Rock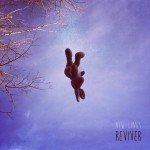 New Lungs is the indie/post-rock/post-punk product of five skilled Pacific Northwest musicians that put on a mean stage show. And what better way to represent the local scene than with a few guys from Seattle, Bellevue, and Bellingham.
I once had the honor of sharing the stage with guitarist, Scott Rixon, in a band called Drypoint (now retired) a couple of years ago, so I knew New Lungs was going to be the real deal based off of his undeniable musicianship and super energetic stage presence. As soon as I got my ears on one of their tracks, my theories were proven correct. I was instantly drawn by the double lead vocalists/songwriters – this means double the voices, double the writing power, and double the style. The voices of Wes Gonzalez and Nick Emard vocally and lyrically weave through their songs in a way that is complimentary, and not cluttered. Although their sound could be put in a "post-punk" bucket courtesy of the countless headbanging moments and vocal style of the two lead singers, their instrumentation and composition choices provide a more sophisticated indie-pop sound that is reminiscent of other Seattle bands like Acceptance and Barcelona.
Although the New Lungs EP release show happened on a late Sunday evening, that did not stop the loyal fans from coming out to support the band. And when I say loyal, I mean really loyal. These guys knew every single lyric to all the songs, it was impressive and pretty endearing to see all the love for a local band. The quintet put on a high-energy show and proved that they were not only stellar musicians, but awesome performers.
A New Lungs show is a must for any live music enthusiast. Catch the guys in Anacortes, WA at The Business on August 15th.