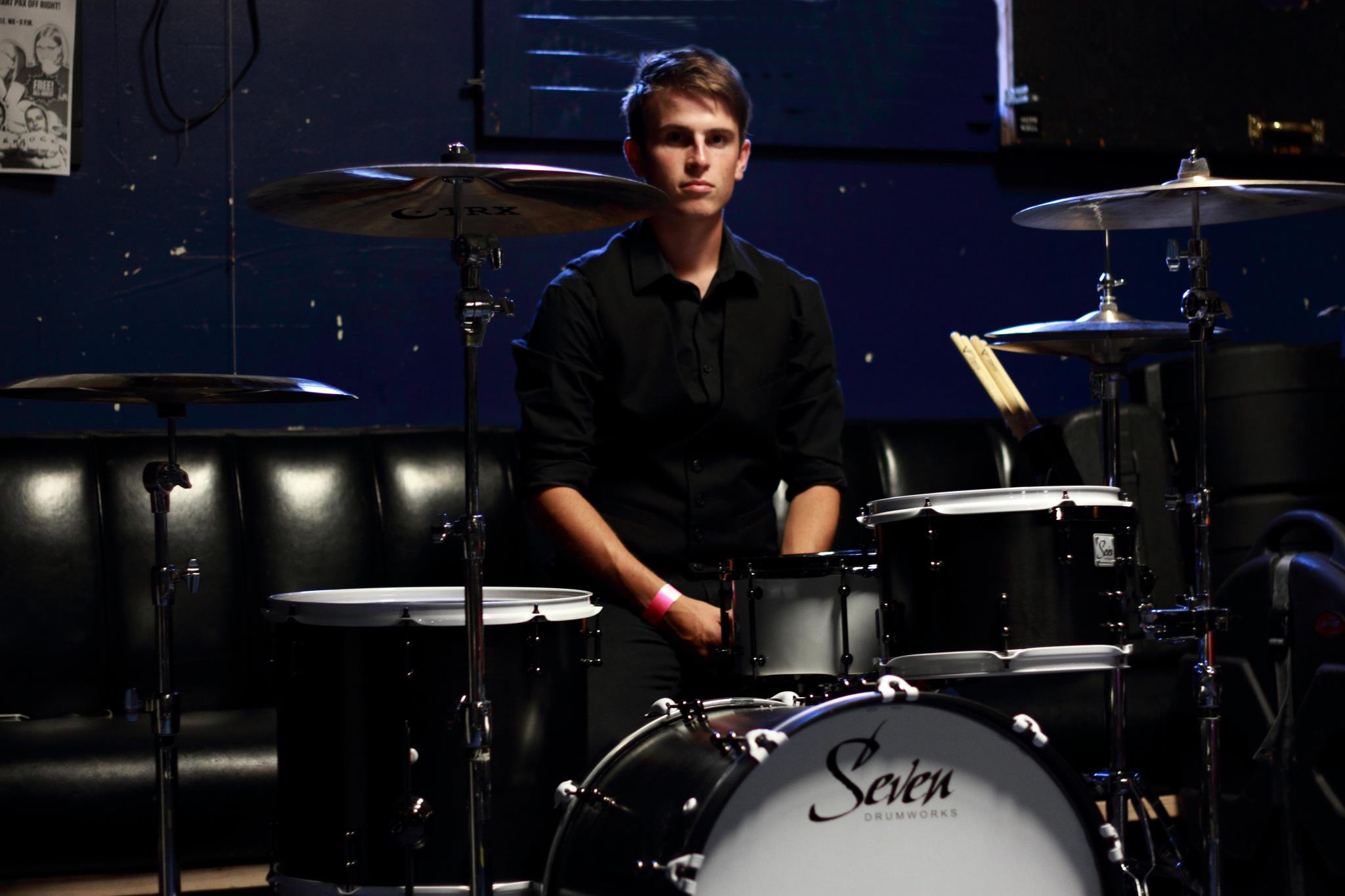 Local Spotlight
Anthony Ghazel

From: Seattle, WA
Genre: Drummer
Anthony Ghazel has been all over the place lately. Whether it's playing hip hop in Fremont or touring the country with He Is We, you can find him anywhere. I sat down with Anthony to talk to him about his drumming and what he has going on right now. Be sure to check out the video at the end for some drumming tips!
Equipment:
Endorsed by Seven Drumworks:
13×7 ½ snare
12×8 rack tom
16×14 floor tom
20×20 bass drum- "It's awesome, 20×20 is the best size I've ever used, there's just something different about how it plays."
Endorsed by TRX cymbals:
14" MDM Hi-Hats
19" ICON Medium Crash
21" BRT Crash/Ride- "This is my favorite crash cymbal I've ever owned."
19" LTD China
12" BRT Mini China
Endorsed by Vater Percussion: Fatback 3A sticks
Pedals: DW 9000
Heads: Evans
How long have you been playing?
I started playing when I was 13, so about 8 years.
Are you self taught?
Yeah, I've taken one lesson ever. It was one guy, I don't remember his name–through the Seattle Drum School. He was really good, though. He specialized in double kick. Actually, I guess technically I got a lesson from Matt Greiner (August Burns Red), that was a pad lesson. So yeah, I've had two lessons.
Why just two? Was it just not your thing?
I was living on Orcas Island at the time. I was off the island with my mom so we scheduled it. I just wanted to see what it was like.
Are you happy with where you're at and do you feel like you're improving the way you want, or do you wish that you had a teacher?
I wish I could take lessons. I wish I could afford it at this point, really. But I bought one lesson online recently from Travis Orbin, and I am constantly looking at YouTube videos. I've learned a lot, I'd say most of it is just from listening. Like 90% from listening, 10% from watching. I'm not where I want to be–not even close–but I do feel like in the last five months where I've actually been living with my drum set (I was in an apartment all four years of college) I've been able to play drums more so I feel like I'm definitely improving. It feels good to actually see progress. The biggest things I've noticed have been general control, especially with my feet. But yeah, I'd love to take lessons; it's something I think about a lot, I just don't have the funds right now.
So it was never something like "oh I hate rudiments" or something like that?
It honestly was when I first started playing drums, but I've been more disciplined recently. I don't mind sitting down and just playing on my snare pad for 30 minutes or an hour. I'm not great with rudiments and I'm not great with reading but it's something I'd love to get better at.
Who are your favorite drummers and why?
Definitely Travis Orbin. Why? Because there is literally nothing he can't play. I've never seen him be like "oh I can't play that," you know, when I've talked to him or emailed him, there's just nothing that phases this guy. He can play anything. Definitely also on that list is Matt Halpern, because of his groove. My favorite thing about Matt Halpern, I mean he's so much different than Travis Orbin playing-wise… Travis Orbin puts his head down, and he just shreds. Matt Halpern is always dancing behind his kit and going nuts, and I just love watching it; I love watching both of them. Their styles are just so different. Matt does a lot of improvising on the spot, whereas Travis is by the book, going to play it note for note how it's written, but I love both styles. Another one of my favorite drummers is Adam Gray from Texas In July. Same idea, he's just got his own style, too. I love any drummer that makes his/her drum set their slave. I mean that in a sense that the drum set does whatever the player wants it to do…I love that. No matter who it is, what style, what genre. Adam Gray beats the crap out of his drums, but not in a way that's annoying or makes it seem like he's trying really hard. He just owns it, and he's so clean. He'll never cheat out a part, he'll never put something on a record that he can't play live, he'll play every one of his double kicks parts with so much precision and power, and all the time his sticks are all over the place. The dude is really fun to watch.
What bands/projects have you been involved in/are you involved in/will you be involved in?
To Paint The Sky was the first real band I was in. Right now I'm playing with He Is We, which is really fun. Rachel Taylor called me up a few months ago to ask me to play, and I've been really enjoying it so far! We leave soon for a short West Coast run from April 17-30th.
I'm also working with a local rapper—RA Scion of Common Market. He asked me to play Sasquatch! Festival this year with him, so we'll see how that goes! I love playing hip hop…definitely one of my favorite genres to jam to.
What's the ideal band you could be in?
Oh man…If I could play in any band right now I would play drums for Chiddy Bang, the rapper, because I saw him live and their drummer is also their producer and he literally just sits back there with a laptop, presses play, and then just drums live over it. It's him and a rapper, and that's it. It's simple yet also challenging to hold solid grooves and make things dynamic. Other than that, I'm pretty happy playing with He Is We right now. Working with professionals is amazing, and I don't ever want to have it any other way.
Keep up to date with Anthony by liking his facebook page