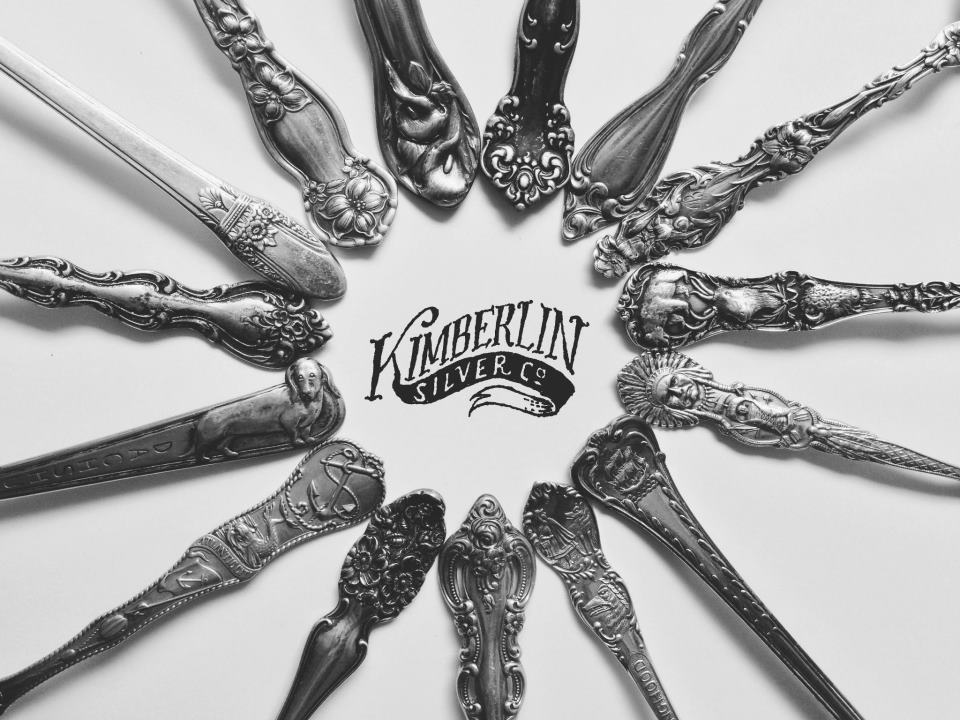 Local Spotlight
Kimberlin Silver Co.

From: Seattle, WA
Genre: Independent Spoon Ring Creator
Like how many good stories begin, Eric Bowley was inspired by a girl. If you know anything about him, you may think I'm talking about love songs and his band The Scene Aesthetic. This is a different story. This is a story about spoons, and the rings he makes out of them at Kimberlin Silver Co.
Spoons are said to be the first forms of flatware, dating back well before ancient Rome. They were given as gifts and considered works of art. Throughout history, they were carefully crafted from the finest sterling and silver, with intricate details and designs on the handles. These ancient pieces of art aren't anything like the silver spoons bought and made today. Some of these vintage and ancient spoons can be worth up to $3,000. Unfortunately, many people melt these spoons down and sell them for their weight in silver, according to Bowley. A way to protect the precious history these spoons embody is to make jewelry out of it.
Bowley had a girlfriend in 2010 that wore a spoon ring she got at a flea market every day. According to him, she got compliments on it everywhere she went and could never remember who made them.
"I saw this as a huge missed opportunity, she could never tell people where to find them!" Bowley said.
Later, they were at dinner at his families house, where his sisters insisted they find the source of the spoon rings. After looking on the internet, unsuccessfully, Bowley decided he would figure out how to make them and give them to his sisters. Through trial-and-error, he perfected a technique and decided to keep making them.
The early days of his business looked like most modern businesses: social networking, selling to his friends, and a serious hard lesson learned about copyrighting. He first made spoon rings under the name "Silver & Spoon," which he used to make his first set of business cards, Facebook page and an Etsy shop. After starting to build his business, he got a phone call from an Australian women, who he had already heard about after doing some research on his competitors. This woman was threatening to sue for customer confusion because her name was so similar.
"I just said, 'I'm not competition, I'm a full time musician just doing this on the side!'," Bowley said.
But he took this as a challenge to become competition.
Bowley then reopened the business under the name Kimberlin Silver Co. and completely started over from scratch. Etsy shop owners used to not be able to change names, so if one needed to change their name they would have to start all over with a new account. This resulted in loosing shop statistics and feedback for Bowley. In June 2011, his new name and business was launched.
Like any entrepreneur, Bowley needed a workshop. The first Kimberlin Silver Co. workshop was in his mothers garage. He now works from his home in West Seattle, which he said was "almost like it was built to be a spoon ring workshop." The perfect spoon ring workshop needs a sturdy vice to hold the spoon, a raw hide mallet (the hammer that bends the metal), something to put in between the vice and the spoon to not damage the spoon, and a ring mandrel to size the rings, according to Bowley.
His method came from a combination trial-and-error and watching online tutorials. Some of the tutorials he saw said he would need a heat torch, some said to use a jewelers saw to remove the bowl of the spoon from the handle, and some said both of those things were a waste of time.
"After breaking saw-blade after saw-blade I was too impatient," Bowley said. "What if I just used bolt cutters to pitch it off? That's a little step that saved a lot of time."
Bowley is eager to share the tricks he's learned and the process he uses. When he started this, he reached out to many people on Etsy who were doing to same thing as him. He contacted over twenty other spoon-ring makers for tips to get started and didn't get a single response.
"I get it, they wanted to protect their craft and trade," Bowley said.
But he's taking a different approach. A friend of his is traveling up from San Francisco to film him in his workshop, almost like a "how to" tutorial. His process, from cleaning and polishing each ring, to sizing, to bending, can take at least a half hour for each ring. His slow process pays off, he said, because there is a technique to making comfortable rings.
"It's not rocket science!" Bowley said. "If you want to make your own spoon rings, be my guest! I'll save you some trouble."
Along with the tutorial video in the works, Bowley is also working on a new website, new branding and figuring out how to get others involved with giveaways and planned events. He described "instameets," where people get together who meet through instagram, hang out and take photos.
"I've been going to these! They're so much fun, and you meet incredible people," Bowley said.
He wants to combine "instameets" with "geocashing," which he describes as "a worldwide treasure hunt." With "geocashing," there is an app to download and use the GPS to find where "geocashes" are using clues. Once you find the "geocash," there is a little capsule with something inside. If someone takes what is in the capsule, they have to also leave something behind.
There's a really cool little community that is really into this," Bowley said. He wants to combine the two ideas somehow and have an event to take pictures, meet up at a park, hang out, and give away some rings to the first couple people who show up.
As to the girl who inspired it all, they haven't talked in a while.
"She probably still has the rings!" Bowley said. "She got a couple of them. We'll leave it at that."