Local Spotlight
CreativeLive

From: Seattle, WA
Genre: Online Classroom
If you haven't heard of CreativeLive, jump on it. This Seattle/SF-based teaching community offers world class instruction on photography and videography, art, design, dance, and of course, music. Music/Audio mastermind (and local production guru) Finn McKenty chatted with me a bit about CreativeLive, working in such an exciting organization, and hammering out course materials for today's musicians. That's him up there with Kurt Ballou (of Converge) at NAMM!
---
Hi Finn, thanks for taking the time for this! My name is Anthony, and I'm a writer and the managing editor for PNW music blog Rain City Ambience. We share a city and a love of music, and I've seen a bunch of CreativeLive news and tidbits on the awesome classes you're holding there.
Anthony: To start off, could you tell us a little bit about what your role is at CreativeLive, and how you got to be involved there?
Finn: I run the Music & Audio channel. Basically, each one of our 6 channels is run like its own business, so I am pretty hands-on with everything: recruiting teachers, reaching out to partners, coordinating with our marketing team, etc.
As far as how I ended up at CreativeLive, I moved back to Seattle about two years ago after doing marketing for Abercrombie & Fitch out in Ohio. I've known our founders Chase Jarvis and Craig Swanson for about 15 years, so they snatched me up when I got into town and the rest is history!
AC: I see that the office/studio is right here in downtown Seattle. How's the office life, and what's an average day for you when working on CreativeLive projects?
FM: The thing I really like about CreativeLive is that there really isn't an "average day." Every day is different, which is great for me since I love working on a million different things at once. On any given day we could be doing classes about anything from baby photography to recording death metal, so the vibe obviously varies a lot. I love being exposed to weird little niches of the world that I didn't know existed, so that's really cool to me.
AC: Awesome. What's the process of production for an average class, and is there interactivity among class attendees and teachers?
FM: Basically its starts about 8-12 weeks out, where we kick things off with the teacher and go over ideas for what they want to teach and how we want to teach it. From there, it's an ongoing process where we work together on putting together all the million little details that make up the class. The day before the live event we do a pre-pro meeting where we soundcheck, work out any last-minute technical stuff, etc. Then we chill out for a bit and go live the next morning!
For all our live events, we have tons of interactivity between teachers and students. There's an in-studio audience of 2-10 people who can ask questions and interject just like any other class, and for everyone watching on the internet we take questions via our social classroom (see attached screenshot). So whether you are watching in the studio or from our desk at home, you can interact with the teacher in real time!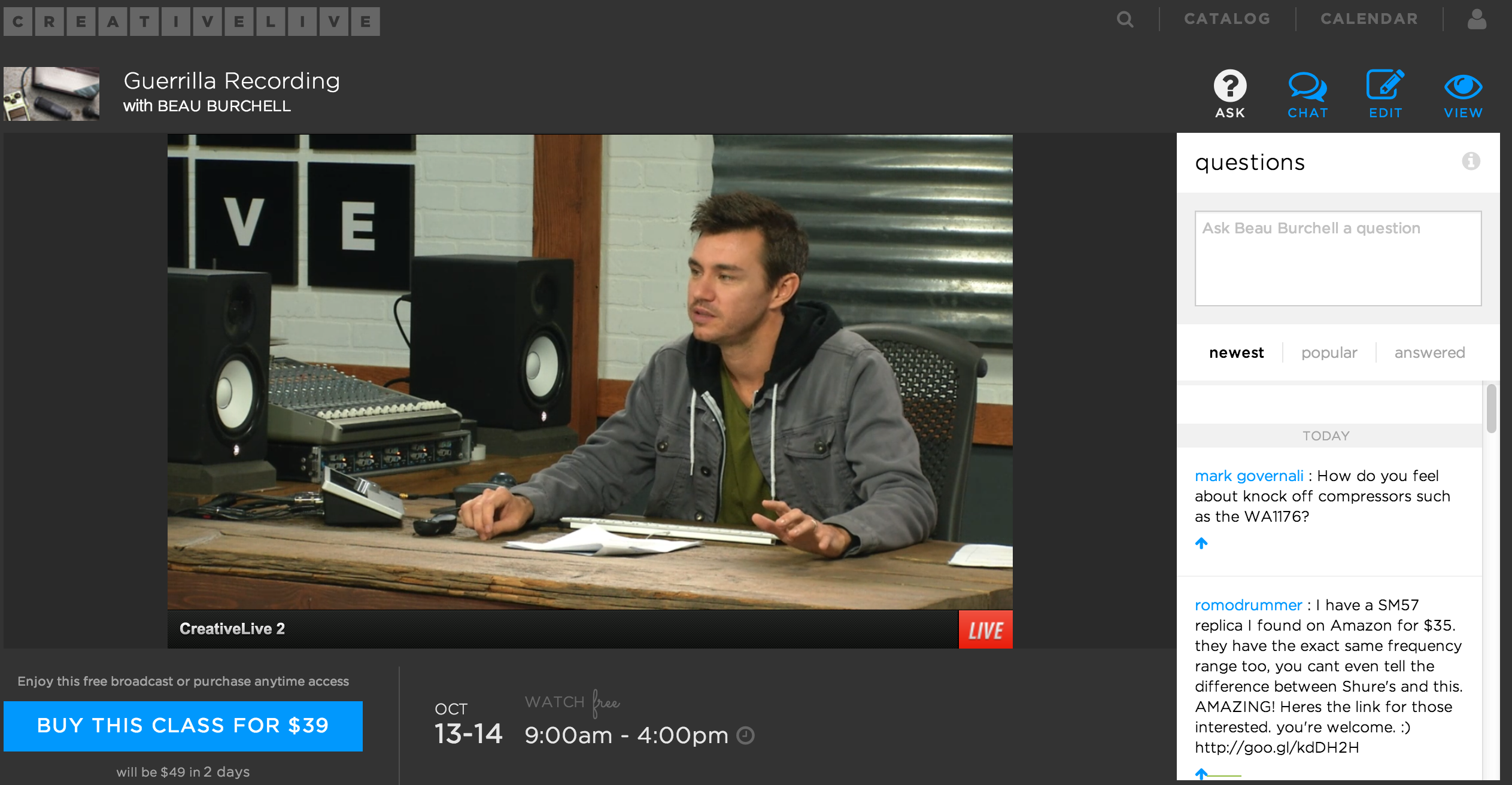 AC: How do you choose who is showcased, and what's the procedure in having them teach a class? I've seen names like Ryan Clark of Demon Hunter, Beau Burchell of Saosin (currently live!), producer Sam Pura, and Warped founder Kevin Lyman among the many class teachers.
FM: The way I choose people is pretty simple: if they are doing cool shit, then I want to work with them. In the past year, we've had artists like Converge, Periphery, Dillinger Escape Plan, and Between The Buried And Me on CreativeLive, which I am incredibly proud of because that's pretty much a who's-who of bands who have changed the game in this generation of metal/hardcore.
The great part about my job is that I am a genuine fan of everybody who comes on our platform. Plus I get to be super selfish: if I want to know how an album was done, I can just call up the producer and have them do a class where they show us.
For example, A Day To Remember and Issues are two of my favorite bands of the last 10 years or so, and we had the producers behind both bands (Andrew Wade and Kris Crummett, respectively) on CreativeLive using the ACTUAL PRO TOOLS SESSIONS from their albums. How cool is that?! I am very spoiled.
AC: VERY cool. When teachers are selected, do you discuss class topics and potential class materials with them, or is it up to them? Maybe a mix of both?
FM: Yeah, it's a little bit of both. Usually when I reach out to someone, I have something specific in mind, but I'm always open to ideas. For example, when I hit up Andrew Wade, it was because I loved the guitar tones he got on the These Hearts album, so I proposed we do a guitar class and he was into it. On the other hand, I originally talked to Andrew Wuepper about doing a class on mixing pop, but he wanted to do one about how to get a job at a recording studio, so we went with that. It's always a collaborative thing between us and the teacher.
AC: The CreativeLive team covers a LOT of ground in a ton of areas. What is it like being a part of an organization with such great reach and such a desire to bring education and information all over the world?
FM: At the risk of sounding corny, I feel like this is kind of what I was put on earth to do. I am really passionate about helping people, especially people who want to build a life doing what they love, and CreativeLive gives me the opportunity to do that.
Being part of a startup at this stage in its lifecycle is great because there are no rules in many ways. We're still figuring out what works and how to grow this thing, so it's kind of like a real life Grand Theft Auto where we are always trying crazy things and seeing what happens. Everybody here is really passionate about what they do, and that's a great atmosphere to be in every day.
AC: I think that's it for now. Hopefully see you around, and let us know what other CreativeLive stuff is going on! Thanks for your time Finn.
FM: Thanks Anthony!