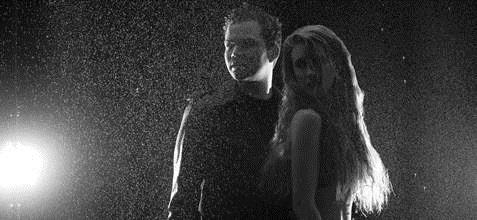 Marian Hill
We chatted with Philadelphia-based songwriting duo, Marian Hill, before they graced The Crocodile stage on Saturday, October 24th. Cop tickets HERE.
RCA: Hey Samantha and Jeremy! Thanks so much for taking the time to talk with Rain City Ambience, we can't wait for your show at The Crocodile in Seattle! Your "Sway" record has a such cool rhythmic vibe accented with electronic components, yet it almost feels acoustic due to the clean production. What kind of influences did you guys refer to for the arrangements and production?
Jeremy: Wow, thank you! I love that description! Probably the biggest reference point from a production perspective was 40, Drake's main producer – and also Pharrell, particularly his work in the late 90s/early 00s. With all our songs balancing electronic and acoustic is a priority – I'm all about finding ways to make electronic music feel as human as possible.
RCA: Music first, or lyrics?
J: It always varies, but for us it's usually music – I'll come in with the beginnings of several beats and we'll pick the one we like the most and start singing melodies to it.
RCA: Favorite place to write your songs?
J: My bedroom studio. I nest pretty hard and I've built a space for myself that I really love working in.
Samantha: I don't have a favorite space. Wherever I'm inspired, but I've found lately that I like the focus of the studio, I'm much less distracted.
RCA: What is one album that you can listen through completely without skipping a song?
J: I have a few of these – Drake – Take Care, Kanye – My Beautiful Dark Twisted Fantasy, Fleet Foxes – Helplessness Blues, and Bon Iver – For Emma
S: The Bon Iver record, the eponymous Beyoncé album.
RCA: You both have very extensive music education backgrounds, which is awesome! What would you say has been the most useful in your career as performing and recording artists now?
J: At school for me there was a huge emphasis on making artistic projects happen yourself. It was easy to get funding to put on a show and then you had to recruit the whole team and make everything happen yourself, without faculty telling you what to do but w the school and your friends as a safety net. And it just taught me so much about making things happen for yourself – Marian Hill was a project that started in a similar way and I felt so prepared for it after my experiences at school.
S: Haha. Honestly, to be wary of everything in the business! (Only slightly kidding) I had great classes and courses such as contract law and music supervision. But while the classes were fun, they're generally overviews, and I found that you really learn through experience in this industry. There aren't any "how to be an artist 101" classes. Those skills are cultivated through years of lessons and watching other people's performances. Learning who you are as an artist and being comfortable with yourself and the material you're performing.
RCA: What is your favorite way to discover new artists?
J: I don't know about favorite, but I spend a lot of time cruising hype machine for the newest hot thing I've never heard of.
S: Producers, recommendations. Every once in a while I'll check out hype machine, but it's usually Jeremy showing me what he found haha.
RCA: Three items you can't live without while on the road?
J: Cereal and milk.
S: Red lipstick, tea, and "breast petals" as they're fondly called (isn't that an amazing euphemism!? They're essentially pasties but why not call them breast petals).
RCA: Go-to stage outfit/shoes?
J: I try to keep things switching up but lately I've been all about this pair of white Supra high tops.
S: Crop tops of various kinds, and platform sneakers. I've gotten pressure to wear heels but they're so much harder to perform in! I'm practicing.
RCA: Favorite new food you've had while on tour?
J: Kansas City BBQ!
S: Austin or Kansas City BBQ.
RCA: Last song you listened to?
J: Made of Oak – pinebender
S: Automatic – Aluna George and ZHU
RCA: Since you'll be in Seattle, favorite espresso drink? (Or tea, for non-coffee people?)
J: I like a nice jasmine green tea.
S: Oooh, I stay away from espresso as it tends to bounce me off the walls. But I love lattes and mint tea!