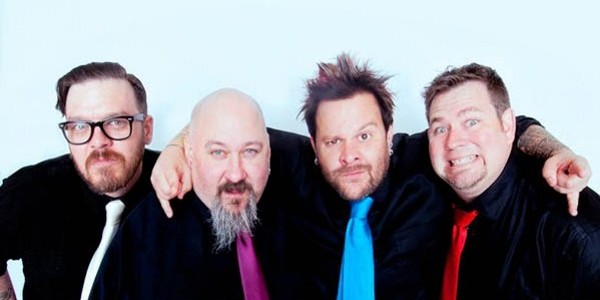 Erik Chandler of Bowling For Soup
As festival season ceases, bands begin touring headlining shows (thank you concert gods), and the most exciting part is more interviews! Kicking off September is my brief chat with Erik Chandler, bassist of the most legendary Bowling For Soup.
Thank you for taking the time to answer some questions for us here at Rain City Ambience! It's been over two decades since you guys started making music, I believe. What is the biggest change in your music- if any- that you guys have noticed the most?
E: Well, after 21 years, I can definitely say the songwriting has improved. We're all definitely better musicians at this point. But, to take it to basics, the idea is generally the same. We just want to have fun and enjoy the music that we make and hopefully, in turn, fans will enjoy it as much as we do.
Have you guys noticed any changes in your fan base?
E: Our fan base is really interesting. When we started, we were a college bar band, then over the years we watched the average age get slightly younger. But we never really lost the original fans at that point. Now, we see two, sometimes three generations of families coming out to our shows. That's a cool thing to see.
Do you think this tour is any different from the past? Why or why not?
E: The biggest difference in this tour is that we broke it up into separate legs and spread it out over several months, rather than knocking it all out in one go. That keeps us a bit more fresh and rested, without having to spend 6-8 weeks at a time away from our families.
 You guys have made it extremely far together, I know this will totally sound like a relationship question (which in reality it kind of is) but what do you think is the secret of staying together, past the success and hard times when most bands tend lose each other after they hit most of the milestones you guys have?
E: You hit it on the head right there. It is exactly a relationship question. It's just a matter of everyone very quickly figuring out what role they play in the grand scheme of things. That, and knowing when and when not to push people's buttons. It doesn't hurt that the relationship goes past friendship and into family at this point. It's that way with our crew as well. The newest members of the crew have been with us for almost a decade.
 What has been your favorite project to have worked on in the past 21 years?
 E: For me, it probably has to be recording Fishin' For Woos. We had just spent a decade on a major label, and that was the first album we had recorded in years that we didn't have anyone from some corporate music office half a country away trying to put their fingers into our project.
 If you could go back and re-live one show in particular, what would it be and why?
E: It's hard to pick just one, but knowing what I know now, going back to the summer of 2000 to replay our first appearances at the Reading and Leeds festivals in the UK, I'd probably soak in a little more than I did, rather than be so overwhelmed by the nature of the situation.
When was your last visit in Seattle and what excites you most about coming back to visit us?
E: It has been several years since our last time on a headlining tour in Seattle. We've been through on Warped Tour, but that's not EXACTLY Seattle. We've always had great shows there. The crowds have always been amazing to us, so we're very excited to get back. And, personally, I'm hoping to get a chance to pick up some Serious Pie while we're in town!
Catch these guys on September 15th at The Crocodile! Tickets available here. Say hi if you see us!