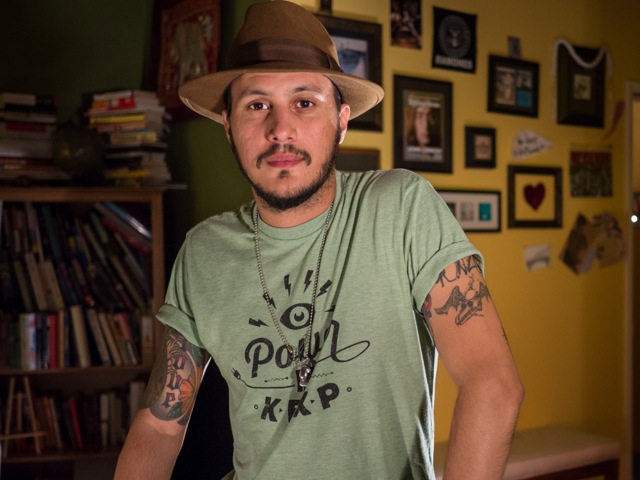 Eric Lilavois
Eric Lilavois is an esteemed record producer from the Northwest that is known for working at London Bridge studio. He also records his own music which can be found here on his site. He has worked with bands like Saint Motel and Atlas Genius, as well as working with My Chemical Romance on one of their last EP's. I sat down and interviewed him about the recording process and pizza, read that below.
Eric Lilavois, welcome to Rain City Ambience! How are you today?
Excellent, thanks for asking. You? 
I am doing well, enjoying a beautiful day of sunshine. Most producers are known for working with a specific style of bands, what would you say your group consists of?
I've worked with such a wide variety of styles and artists, but for me it's about getting to the center of the artists vision and taking it from there. I'm much less concerned about the genre per say and very interested in who the artist is and what they are trying to achieve. It's not so much about my stamp as it is about understanding what mark they want to make and helping them grow that vision.
How did you fit in different visions for so many bands?
There are similarities as far as approach to the process, but I look at it from the perspective of trying to identify what makes any one particular artist or song unique.
How was working in the Saint Motel album? I love the way all the instruments fit into the mix perfectly.
Working with Saint Motel was a great time. I can't remember a single "bad" day in the studio. They have a really great way of keeping it light, but always working hard. I have tremendous respect and admiration for them and their craft. Each one of them is individually committed to their instruments and ideals as players, and people, and understand how that comes together to make up the group. When a band understands that on a real level, the potential is limitless, they are a perfect example.
Have there ever been bands that are stubborn with their sound? Like making sure this one note sounds EXACTLY like this? Is it hard to work with or do you admire the determination?
I've definitely encountered that before, and I'm understanding of it to a point as long as everyone's ideas are at least heard. I'm of the firm belief that you collaborate with and work with people for a reason, so if there's no flexibility or trust there, it's just not going to work. Having a very strong vision is a different thing then being stubborn. The former I'm always in admiration of.
Any bands you would love to work with?
I'd love to make Belle and Sebastian record. I could see them really settling in and thriving at London Bridge.
What is your favorite toppings on a pizza?
Ooooooh, Pizza! This is a tough one cause there's sort of two answers, because I'm trying as hard as humanly possible to eat plant based mode these days. So my daughter and I usually split a Vegan cheese pizza with artichokes, olive oil, and olives on my half. Previous to that, it was pepperoni, ricotta cheese, artichokes, jalapeños, and pineapple.
Any last words?
I would love to hear from other Seattle musicians and bands that are interested in working together or recording at London Bridge Studios. They can get in contact with me at eric@ericlilavois.com
Thanks for this lovely interview!