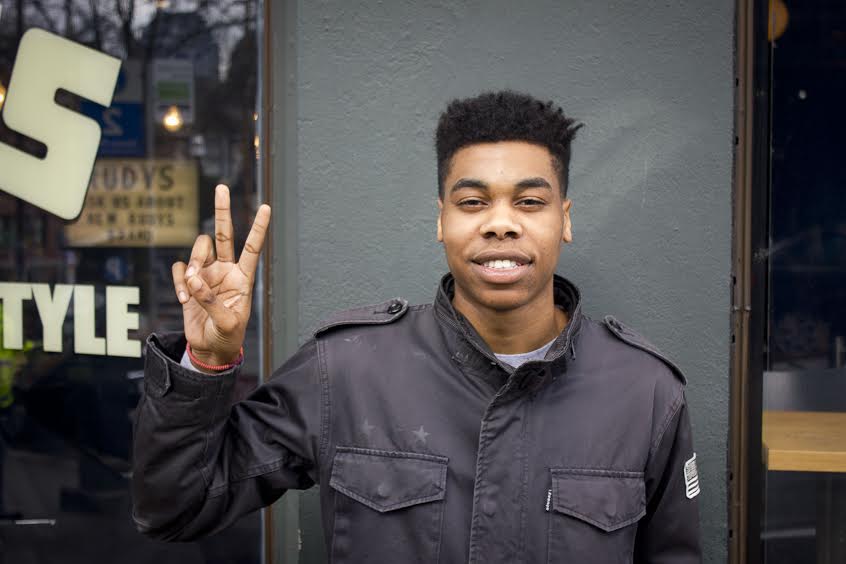 Dave B .
After an impressive first place win at EMP's 2013 Sound Off, Dave B is becoming one of Seattle's freshest up-and-coming artists and quickly taking his claim to a spot in this cities ever growing Hip-Hop scene.  Keeping us on our toes for his next project titled "The Doughnuts EP," he has slowly been releasing some serious bangers. His most recent single features Seattle's SOL in "Boathouse," and the collaboration between the two is nothing short of brilliant. I had the chance to meet up with David talk about music as well as his latest project.
Thank you so much for meeting up! Now I know you've probably been asked this so many times already, but I'm extremely curious: what did it feel like winning Sound Off as a wildcard?
Dave: Well, we did the first Semi-final round and we didn't win, so afterwards we're in the car and I'm just like 'man, damn, I wanted to win!' I don't know–I felt hella good after. I'm not even a super competitive guy, but it just felt like "damn, I've been doing music and I was trying so hard and now we're second place'. I wasn't really sad, but I was off music for a little bit just to chill, and then they announced the wildcard a week before and we went crazy in the car listening to the radio all hella happy, but it was like a week and we hadn't done any rehearsals. We did a whole new set, just shit that I'd never performed and then I don't know. Walking in there was a whole different experience. It was the sky church. Every time I perform somewhere new that's big or whatever, I take it in. I just wanted to give the best performance of my lifetime; I was trying to not look at it as a competition because that's how we lost.
I remember being there and just feeling a totally different energy coming from you on stage. You definitely slayed! What do you think has been your favorite experience so far since starting out?
Dave: I think–it's hella cheesy, but–Bumbershoot.  It was the first time we felt like we were treated as artists. They like roll you in on carts and shit. It wasn't even just the stage performance; it's like the whole hour leading up to it. It's legit. Bagels and shit, you feel hella cool after that.
I can definitely picture that. I feel as though it would be a total "momma I made it!" moment. What do you think is your ultimate goal as a musician?
Dave: I think just to be that common ground between hella different types of people. I don't know… I'm trying to build the most diverse fanbase ever. Not just strictly Hip-Hop heads but just people that like anything. People that like to just be chill I guess. I'm trying to figure out what that common ground is where they'll have just that fucking chill vibration.
Is that something that you would use to describe your music? Do you think that your music itself is not strictly hip hop? I see a lot of different influences in your music like jazz for example.
Dave: I would say so, yeah, what I've noticed in people that appreciate my sound is that it's all just so chill. It's like I can vibe with it at any time of the day, and I don't know what that is but yeah.
What can we expect from Doughnuts? You've really been working us up!
Dave: It's hella not like anything I've ever made, so I've been trying to hold off on it. I don't wanna just put it out and have it get lost, because people upload music every single day. I want it to be an experience for everybody. I wanna build this whole kind of backline to it.
I loved coffee and I've definitely been waiting for doughnuts to drop…
Dave: Thank you, it's been a labor. There was sixty songs for it at one point and then it was eleven, then it became five, and now there's about seven… it's gonna be good though.
From your first releases, what have you seen change? Is it you? Is it that maybe now you have a better idea of what you want to do with music?
Dave: Well, yeah, I think that when you start out any art form it's kind of like 'I like that person's song, that's who I admire' so it was kind of like 'I'm gonna use so-and-so's flow but write my own words' and now it's more-so just what I feel . You kind of look in the mirror and you actually see yourself and it's like 'oh shit this is what I want to sound like; this is what I want to do'. I think a lot of the themes are the same though 'cause I don't think my life has really changed that much, but I think I just have a better way of saying what I want to say.
Working so closely with other Seattle based artists, what do you think are some ways that they influence you or support you to become a better musician?
Dave: I was shocked at how people will fuck with you or there are people that are just nice. In my mind people are not gonna be nice to me for some reason, but everybody is hella cool. Like Justo–I got so acquainted with him this last year. I'm over there at any given time. I think he's been influencing my style lately just being down there. Everything is so retro; I'm just in love there's so many records. He puts me onto these disco 70's artists and just shit that I can go home and study. He's been making it a whole experience for me, and then I come back like a kid in a candy store. It's great.
I can only imagine that record collection is totally impressive!  I seem to bump into you a lot at different events. Why do you think it's important yourself to get out and support other artists?
Dave: I think we have to have a community of some sort. Hip-Hop culture-–even the way it started–wasn't me vs. you or me doing me and I'm gonna act like you don't exist. It's always been like if Nas had a show Biggie was gonna be there and so on. I think that's just the way it has to be– that's just my attitude towards shit. I want to try to be at everything I can even though I don't live over here and it's not as easy to get here. It's just how shit spreads [through the community]; word of mouth is so powerful many of the shows I hear about… it's not through this [taps on his phone] it's more like I see it while walking down the street or somebody tells me about it.
Catch Dave's first headlining show hosted by Gifted Gab at the Nectar Lounge on the 20th, and look out for The Doughnuts EP coming soon!
Photo by Jordan Smith