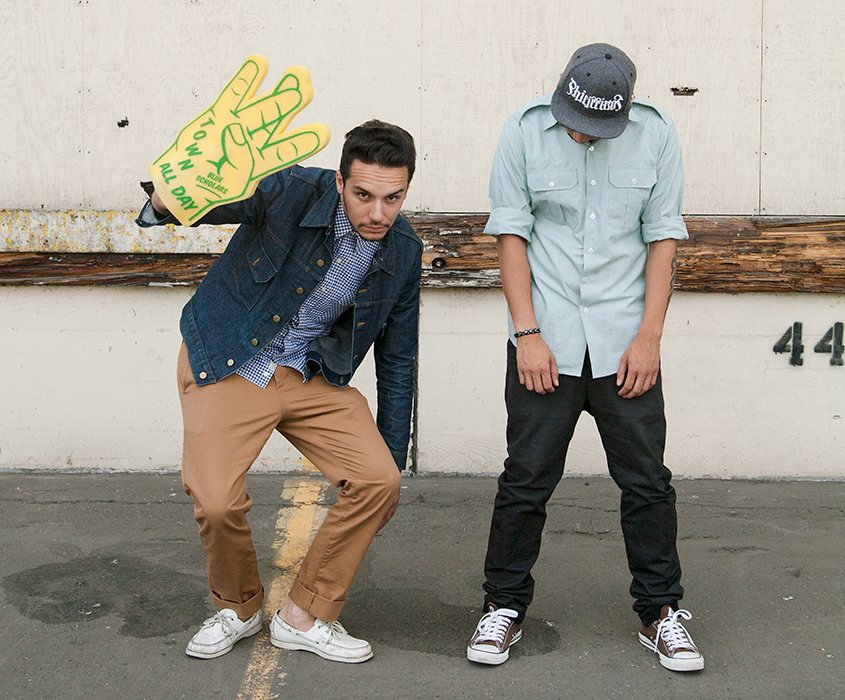 Blue Scholars
Summer is coming to a close, and in about two weeks town legends Blue Scholars will be gracing our beautiful Showbox at the Market with a headlining show. If you grew up in or around Seattle you know the Hip-Hop duo for their songs that illustrate our city. Since the release of their last album, the two have been bringing other projects to life. I had the chance to speak with Geo and Saba (Sabzi) earlier this summer about what they've been up to and what is in store for them in the future!
Thank you so much for taking the time to sit with me, I've wanted to talk to you guys for a while! I'm going to start with you, Geo. Let's talk about Food and Sh*t! I've seen all the pop-ups and I know you guys were in Hawaii so how was that?
Geo: Hawaii was a dope team effort with my wife Chera, my partner in this whole thing.  We've kinda hit a groove; me in the kitchen and Chera running the front of house. We've worked with real dope people with the kitchen experience in our team here in Seattle but we didn't know how it would all translate since it was just us two going to Hawaii. The café that we worked out of had a great front of house team and we had a few homies of homies that came through. It's funny as hectic as it is- in some ways the craziness of the music stuff plus Chera's management skills have actually magically been effective. Of course also plugged in with the great group of individuals who wanna help out and make the magic all happen. Each pop-up has been bigger than the last.
That's tight! It's really cool to see you do something so different! Now to you over here- Tell me about Made in Heights! How has your experience been with it so far?
Sabzi: Yeah so I moved to LA a little over a year ago to focus on it. The project started in 2010 when I sent it out to the Blue Scholars mailing list. It slowly built like a little cult following but Kelsey and I were doing different things. Then it was just like "Hey- this thing keeps growing!" and then "We should make another record but make it really big this time…" and Kelsey said yes so I went down there.
So it just kinda happened?
Sabzi: Yeah! The record is pretty much done. I'm finishing it up and it is amazing. It's really tight. And we've just been doing spotted dates throughout the summer.
Well and your guys' shows are so fun-
Sabzi: Oh so you liked it?
The dancing! I mean can you guys make an exercise video of that?!
Sabzi: Maybe I should show you some new moves and get your opinion on them…
I used to do Zumba so why not?!
Sabzi: That's right Shakin' that Boom in the Zumba room!
Exactly- I'm always down to dance! Now let's talk a little about The Bar! I saw you guys with The Physics a long time ago for their release party, maybe two years ago?
Geo: Woah! That was like when we were just starting… we weren't even calling ourselves the bar yet! You saw when it was still two guys goofin' around. We definitely have chemistry; Bambu went on the Cinemetropolis tour with us and we had done songs here and there. When we were in Hawaii in 2010 we recorded half of the songs and sat on it and then we were like, "Hey let's do a few more songs and call it a Prometheus Brown and Bambu thing". We didn't really push it. Similar to the Heights thing, we just put it out.
And then it just started growing and growing?
Geo: Yeah, so you caught us right at the time when it was just the beginning. We just didn't know if we were going to pursue the whole traditional group; like actually putting out a record under a name rather than just a collaborative record as Prometheus and Bambu. We threw it out there to see what would happen and there was a great response, so we started doing spotted shows. We've been playing at dive bars so we're playing like capacity 100 venues.
Sabzi: The divier the better…
Geo: Yeah it's definitely more of a party vibe. We grab drinks then at some point in the night we rap then hand it back to the DJ.
That's really rad! How does it feel having such a strong fan base that you guys can do whatever you feel like you want to do and people will stand behind you? Like what does that feel like?
Sabzi: Is… is that what it is?
I would say it is, yeah!
Sabzi: If that's true then I think we're kind of coming to terms with that maybe… now. Sometimes I still worry that people aren't going to like what I'm doing.
Geo: I'm grateful! Even before this current generation, Saba was doing Common Market stuff while Blue Scholars was going on… I toured as a solo artist, etc. What is going on now is just a 2014 version of what I feel like Blue Scholars is about. It's like a meeting ground for what we work on together and separately.
Sabzi:  It's almost graduated into a way of life, like Blue scholars is never gonna break up. I'm pretty much positive. We're really big into redefining the way you think about things. This is like our Speakerboxxx/The Love Below. One half is Made in Heights-Townfolk shit the other is Food and sh*t- The Bar. Last night we were going through old tracks and we have like… twenty songs that never came out! They don't sound super great- verses are fine but it's more like the mixing…
Geo: They're rough!
Sabzi: And as I was telling him, its music-
Geo: But it's made life better…
Sabzi: Yeah and because of it I get to meet all these cool people, people like you, and it opens doors for us to also be creative in other ways.
I totally agree and it's really cool that you see it like that!
Sabzi: So we aren't going to treat it like we have to put a record out every year or we have to tour, but it's because we're communicating and taking our time. You know I'm on that Twitter life letting people know what's going on and kind of remembering where it all started- breathing that spirit into our future stuff…to extend the Blue Scholars legacy.
Geo: And Blue Scholars has always been part of a larger body of people who would all still be doing great things that connect us regardless of what we do, like we're going to continue crossing paths.
That's so great; it really seems to me like you guys really support each other. In another interview I talked to Dave B. and we spoke about Hip-Hop and he said that he feels as though it's a community that really involves everyone. Do you agree with that idea?
Sabzi: Well, I don't wanna hear someone that was like, "I went to the woods for four months and wrote this rap album". Hip-Hop is definitely more of a social thing so I personally agree. I don't know if that's what Hip-Hop should be for everyone, but I agree. I would say that when it's connected to a community it's a lot more interesting.
Geo: I agree as well with everything Saba said. There's also a different dimension which is the infrastructure of business. Like writers, journalists, promoters, street teamers, radio people and bloggers. In the amount of time I've been doing this I look back and I'm like holy shit there is a community. When we talk about community we think either a community of artists or the community that the artist already comes from- but there definitely is a music community beyond just a "scene". I feel like that's what Blue Scholars was about before we could even put a finger on it. This dude was chilling with homies that I knew in San Jose that I didn't even know he knew before Blue Scholars was even started.
Its crazy how small the world is! Well I think that's all I have for you guys. I feel like I just learned a lot!
Sabzi: Did you? That's good!
Yeah I think you guys are just generally really cool people!
Sabzi: I hope so…
Geo: Yeah, me too!
Don't miss these guys on September 12th at the Showbox at the Market! Tickets still available here! It will also be Made In Heights' offical Seattle debut, unlike the sneaky pop-up performance this June. If my Made In Heights review gave anything away is that it's nothing you want to miss!