SoFar Sounds: The Mama Rags, Le Wrens, and Rachel Cardiello & James Burrows
Two days before the SoFar Sounds show in Seattle went down, I get a request from RCA for one of our writers to attend a "secret" show in Seattle ("secret" meaning secret location and secret bands). I don't know about you, but anything that entails music, the words "secret," "pop-up," and/or "free," is totally right up my alley and I agreed to cover the show almost instantly!
SoFar Sounds (Songs From a Room) is a non-profit organization that hosts impromptu concerts in living rooms across the globe. The concert series features local and upcoming artists for music lovers to enjoy with no concert lines and free admission. A very cool and intimate experience for anyone that just enjoys going to see live music. Plus, when the artist gets big, you can say "I saw them when…"!
Here's a rundown of the awesome artists we got to enjoy on a swanky rooftop this beautiful Seattle evening:

Rachel Cardiello and James Burrows
Rachel Cardiello and James Burrows are two individual singer-songwriters with folk flare that play joint shows together with the same band. This is a great idea considering they sound great together when seamlessly providing harmonies and accompaniment for each other. Listeners of Edward Sharp and the Magnetic Zeroes, The Lumineers, and Passenger should totally check these two out!

Le Wrens
Representing Le Wrens in the night's acoustic showcase was Elizabeth and Jonathan Gundersen. The siblings blended their voices perfectly in their country/folk-infused song style. The writing style of Le Wrens is reminiscent of old school country, which was centered around honest storytelling. If you are fans of Eisley and the Head and the Heart, you should definitely give these locals a shot.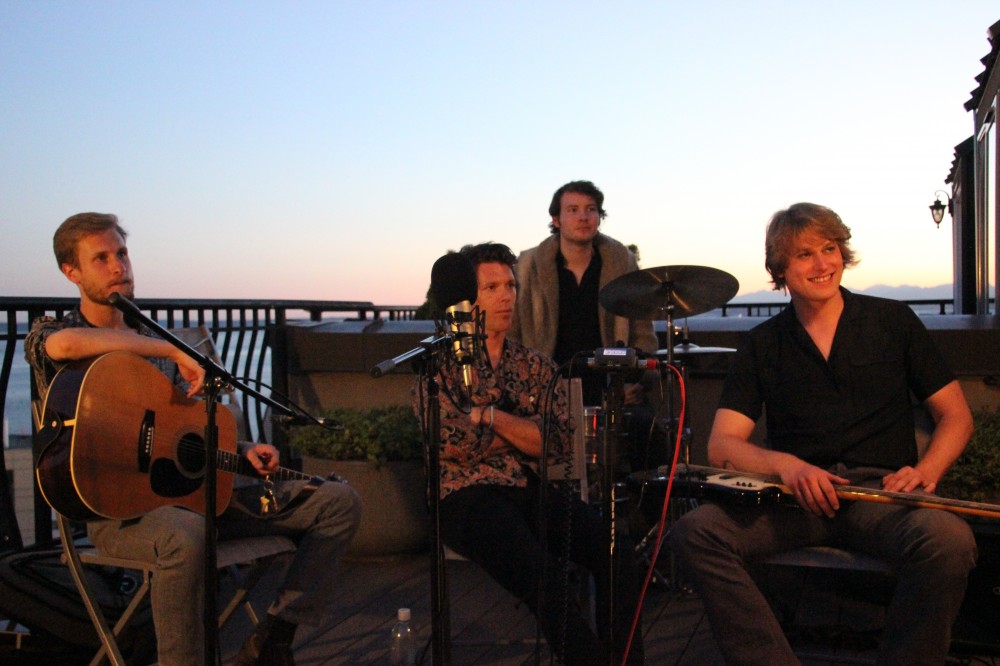 The Mama Rags
Closing out the night was 70's rock influenced band, The Mama Rags. The four piece has only been together since 2013, but it felt like they have been performing as an ensemble for years. The tightness of their harmonies, stage presence, and very apparent musical chemistry was a great thing to hear and see in such a unique atmosphere. To add to their super cool classic rock-bluesy-nostalgic sound, the guys totally dressed the part in their paisley and faux fur coat!