Reflections On Sasquatch 2015
We're a few weeks past more or less the biggest music weeked in Washington, and now that Bjork and Andrew have had time to unwind, we're getting a look at what they saw. Here are Bjork's thoughts and Andrew's shots (not the first time I've rhymed today), in no particular order. Experience Sasquatch through their eyes and ears!
---
The gorge did me dirty this year my dear RCA friends; I was a blistering lobster by day one. Being 21 at a festival was in fact all I imagined it would be, and I'm already aching for next year (literally aching because my back still hasn't recovered from our air mattress).
Day One:
We started our day pretty late on Friday; the first act we caught was Gogol Bordello on the main stage. I hadn't heard of the group until the moment I was standing there watching an insanely passionate crowd screaming the words to his songs. The band's stage presence was wonderful and really radiated their motto – "Pura Vida" (Pure Life). Next, we made our way to El Chupacabra stage for AlunaGeorge, and they were one of my favorite sets of the weekend. Aluna is so charismatic onstage it was hard not to get sucked into it all. Crossing over to the Bigfoot stage we watched Little Dragon do what they do best: kick ass. I caught Little Dragon's set back at Sasquatch 2012 and loved every moment of it, but this time I loved it even more. Maybe it was the fact that the new album is just pure genius, or maybe it was the fact that Yukimi is the most adorable and talented human beings on earth, but Little Dragon tore it up on every level. Flume ended the night for us in what was one of the most epic sets I have ever experienced at Sasquatch. I could not believe the crowd surrounding the stage. I had to dig through it to use the restroom and it seemed to never end. Flume was pretty outstanding, and though I had very high expectations for the young Australian producer, he definitely surpassed them. The whole set had "feel good" vibes, and every person in the crowd was dancing. He also played a couple new songs that left everyone excited for his upcoming release.
Day Two:
I started with one of my favorite duos, Sylvan Esso. I sang my heart out the entire set and danced like it was me on stage, not the beautiful Amelia. She wore bell-bottom jeans, people, she is so cute! For being a short girl (much like myself), Amelia has this great ability of filling up the stage with her moves and her booming voice. Really rockin' set, one of the best from the weekend. We also passed Nick (Sylvan's talented producer) while walking from stage to stage and he totally high fived my boyfriend. Yes, I was jealous. Chromeo got funky on the main stage and it was an absolute blast. They requested that ladies get on some shoulders and very suddenly the pit became a sea of girls. Real Estate was a nice and much needed chill set at the Bigfoot stage; I even got to sit down and come to terms with my impending hangover! We attempted to catch Glass Animals, however, the El Chupacabra tent was overflowing with people so we snuck onto the hill to catch The Decemberists. Another great and more relaxed set. I think my favorite part was definitely when they had a whale attack the whole band during the last song. Modest Mouse ended the night for us. They are definitely one of those bands that sound even more fantastic live; they did a great job with the old to new ratio so crucial for a band with such a long and legendary discography.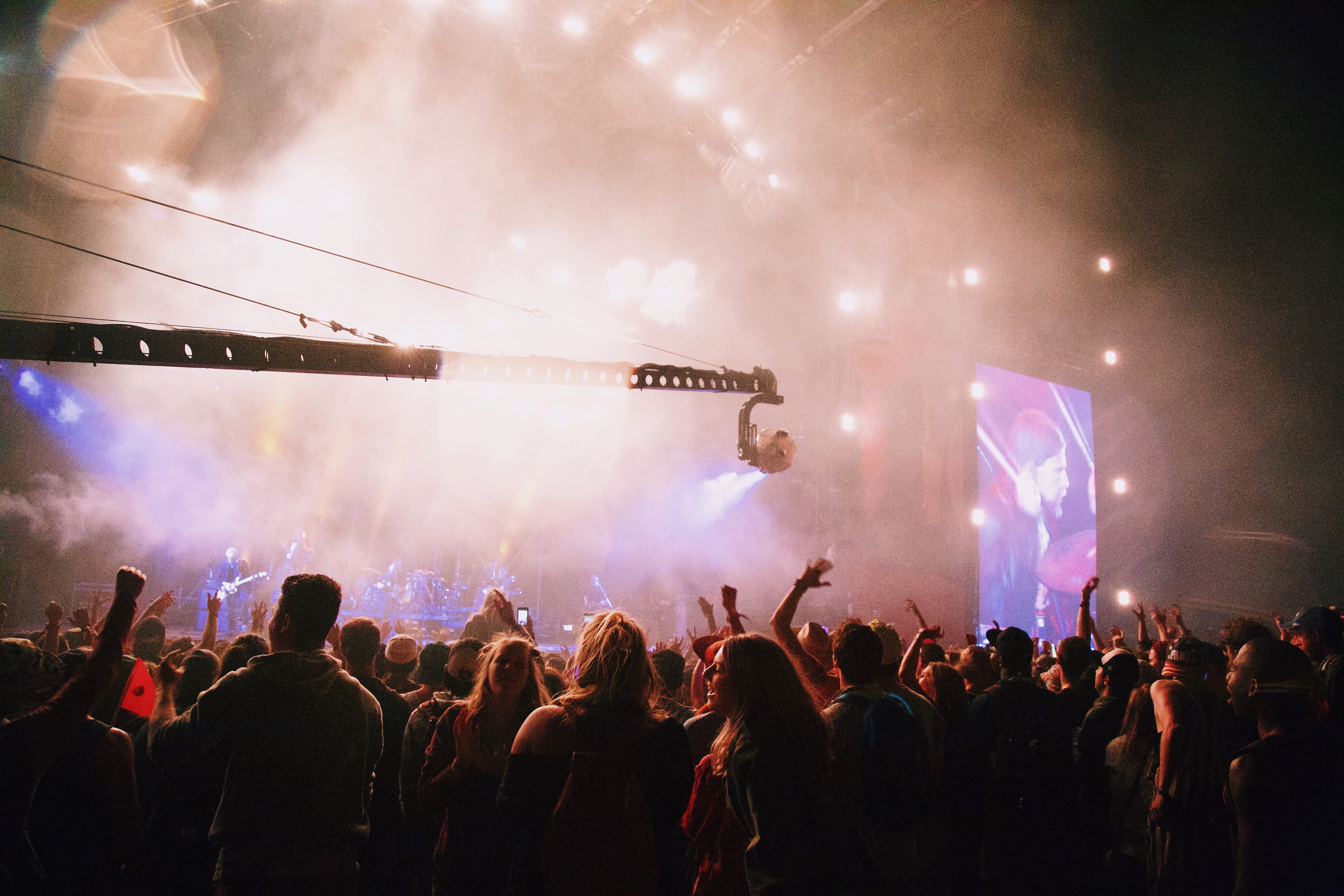 Day Three:
Seattle's beautiful and talented Shaprece was the beginning to our third day. I've seen her a few times and her growth as an artist has started to show. It's a wonderful thing to see. We stuck around for The Knocks and spent the hour dancing to their mixes. It was an incredibly fun set, and really prepped us for our wild night. Next on our list was Rustie. I had heard a couple songs by him on the ride over but didn't expect to lose it during his set. It was the perfect lead into Cashmere Cat, I RAGED! Cashmere Cat is probably the most danceable producer out right now. He played songs off his EPs as well as other mixes that had the tent on fire. Then it was my moment – I saw SBTRKT finally, in all his masked glory. Yes, my prediction came true: I sobbed from the moment he and Sampha took the stage until the last song. The set covered songs from projects before his self-titled release to his newest, Wonder Where We Land. If you ever get the opportunity to experience SBTRK, even as just a DJ set, please do it.
Day Four:
Aside from crying because I didn't want it all to end, day four was perfect. We started it with Tame Impala at the main stage, which, as front man Kevin Parker announced, was something they had always hoped to achieve. They had everyone in the crowd swaying and soaking in the sunset. We knew we had to catch Manatee Commune after seeing him open for Allen Stone earlier last month, so we made our way and caught the last half of his set. Performers like him make me really appreciate music in a new light, playing a collection of instruments from drums to violin to guitar in addition to his chill-wave beats. Such a pleasant combination that he really is magic with. MO tore up the stage and I could hear everyone going wild when she sang her hit and this year's summer anthem, "Lean On" from the other side of The Gorge. I think might I might have found my new favorite band, Alvvays. With a lead singer that oozes "kick ass woman alert" I absolutely fell in love with this group. Talking about everything that is being in your twenties and being in love and doing dumb things, it was a great set. The four days of bliss came to a close with the legendary Hot Chip. The set was nothing short of energetic as the wacky five piece brought to life the best songs from their discography. Frontman Alexis Taylor had very few words to share with the crowd when he wasn't singing but the rest of the group seemed more than elated to be closing down the festival. Joe Goddard put the keys to work and danced harder than I've ever seen anyone dance while playing a keyboard. Perfect close to a perfect weekend. Sasquatch 2015, you were a blast and I'm sad to see you go. Thank you for letting me drink a little too much and enjoy some of the most beautiful views Washington has to offer. Until next year!
---
We're proud to have sent Andrew and Bjork to cover this great event. Check out Andrew's pictures for an immersive 'Squatch experience: