This Legend At The Kraken 9/26
Last Friday, newly formed LA band This Legend made a stop in Seattle for their first ever (?) tour together. This veteran quartet has had plenty of press from Yellowcard founding members Ben Harper on guitar and Longineu Parsons III "LP" on the kit, but also prominently features singing members Chris Castillo of Stanley And The Search and Steven Neufeld of HeyMike! holding the low end. With a short tour now under their belt, an East coastish tour underway, and a tour scheduled as Lagwagon support later this Fall, the band is wasting no time in getting the word out. The band's debut record is already finished and awaiting release, and was produced by Sam Pura (The Story So Far, Forever Came Calling).
The night opened with fresh punk trio Shadow Cats, performing for the first time together, Seattle/Longview pop punk outfit The Piniellas, and punk rock sextet 13 Scars before This Legend was on deck.
The band hit the stage at The Kraken around 11PM, sounding massive and owning every square inch of the intimate U-District venue. Though not together long and venue space was limited, the quartet's combined years of experience were immediately apparent in their expert stage presence. Camera flashes lit up the club as Harper and Parsons dished out their trademarks: the former jumping and thrashing wildly with his guitar, and the latter effortlessly doling out superhuman drum fills. Lead singer/southpaw guitarist Castillo and bassist/vocalist Neufeld belted huge pop punk cuts like 'Lyrics From My Pen' and 'Get Fast', energetic songs that wouldn't be a far reach for any fan of The Wonder Years or Real Friends. With an illustrious pedigree and an electric live show, this up-and-coming California band is poised to drop a first-rate pop punk album from The Golden State soon on Cyber Tracks.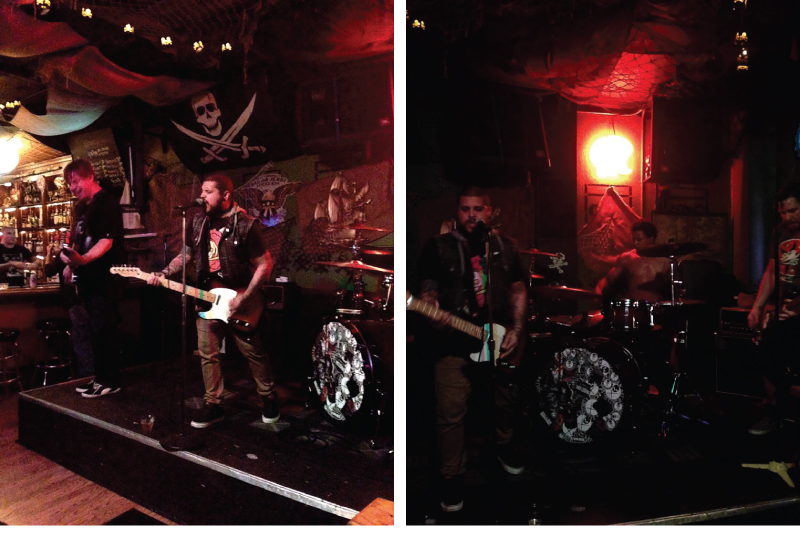 Catch This Legend with Lagwagon on Wednesday, 11/12 at El Corazon. Tickets are going fast at $20 advance.