The Carnivores Tour hits the Gorge
Having such acts as AFI, Thirty Seconds to Mars and Linkin Park headlining this year's Carnivores Tour gathered an eclectic crowd that ranged from guidos to geriatrics and everything in between. But no matter how eccentric the onlookers the focus was never taken away from these incredible acts.
With effortless worship from the crowd AFI strode onstage to a sea of screams so loud you would've sworn a majestic unicorn had appeared before everyone's eyes (although some may argue that Davy Havok is himself a majestic unicorn). Equipped with a studded leather jacket and combat boots Havok meandered across the stage and took full advantage of the runway, amongst coming face-to-face with the adoring audience. Their set seemed slightly short but as are all opening acts (I'm sorry, folks, AFI is now an opening act). It was enjoyable but I knew it wouldn't even compare to that of Linkin Park, my whole reason for making the five-hour trek through the middle of nowhere. The best was yet to come.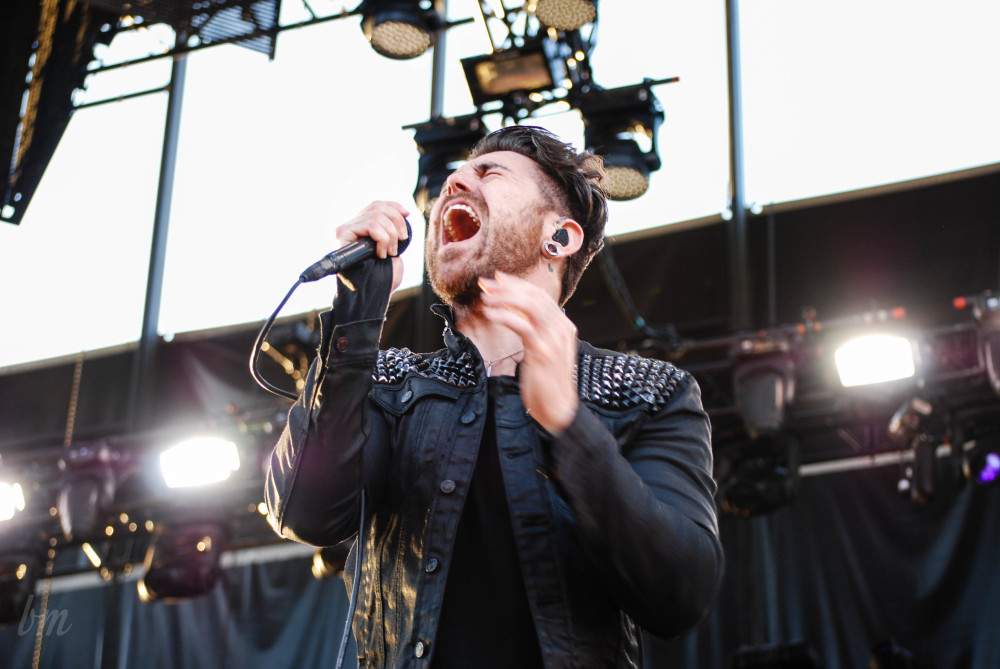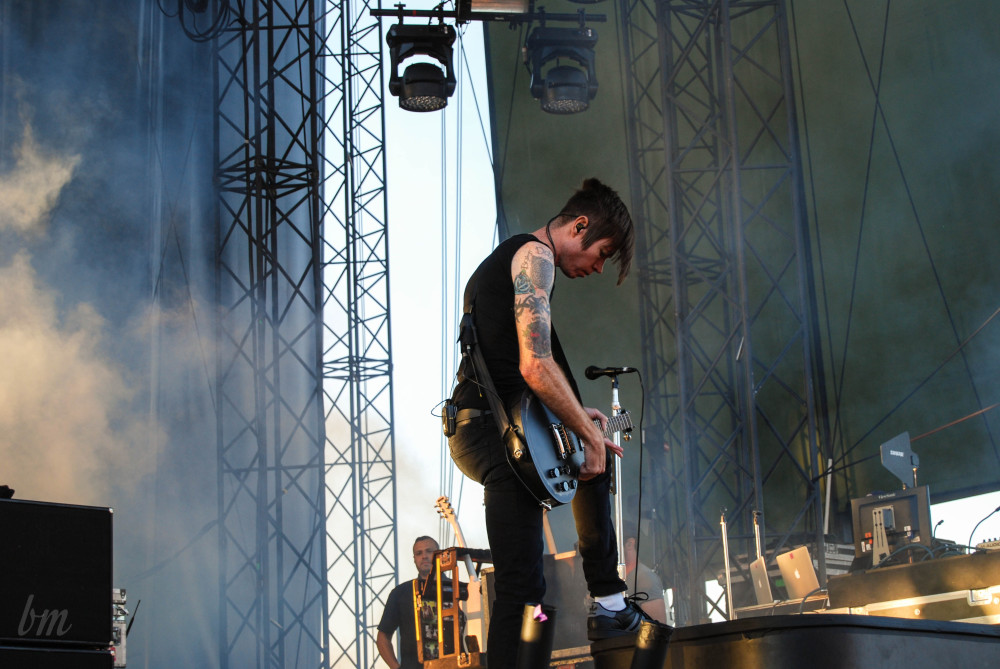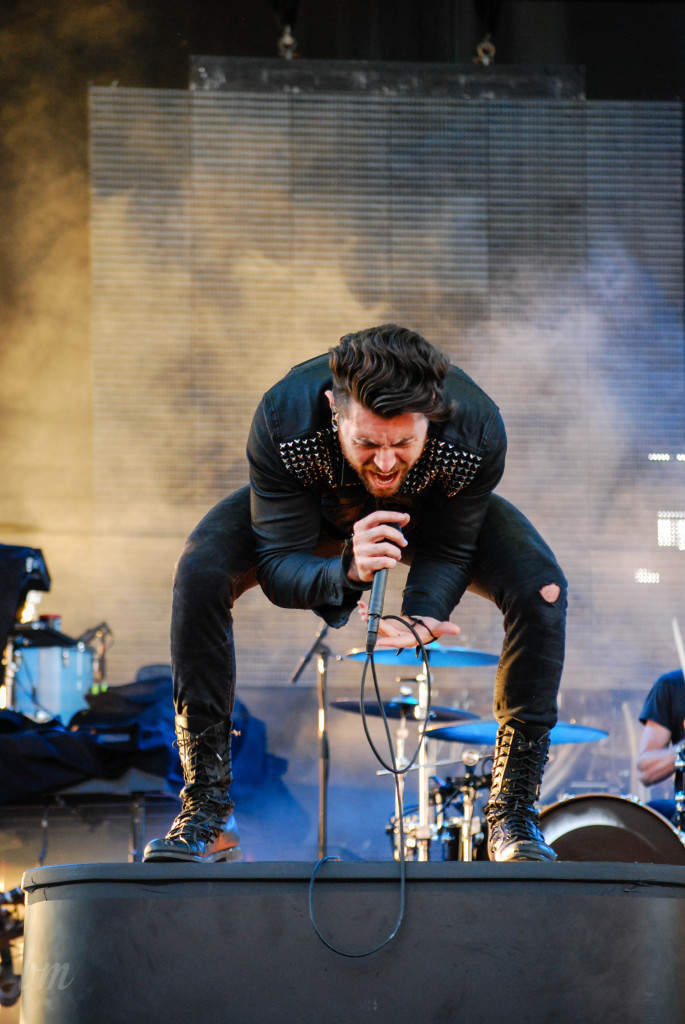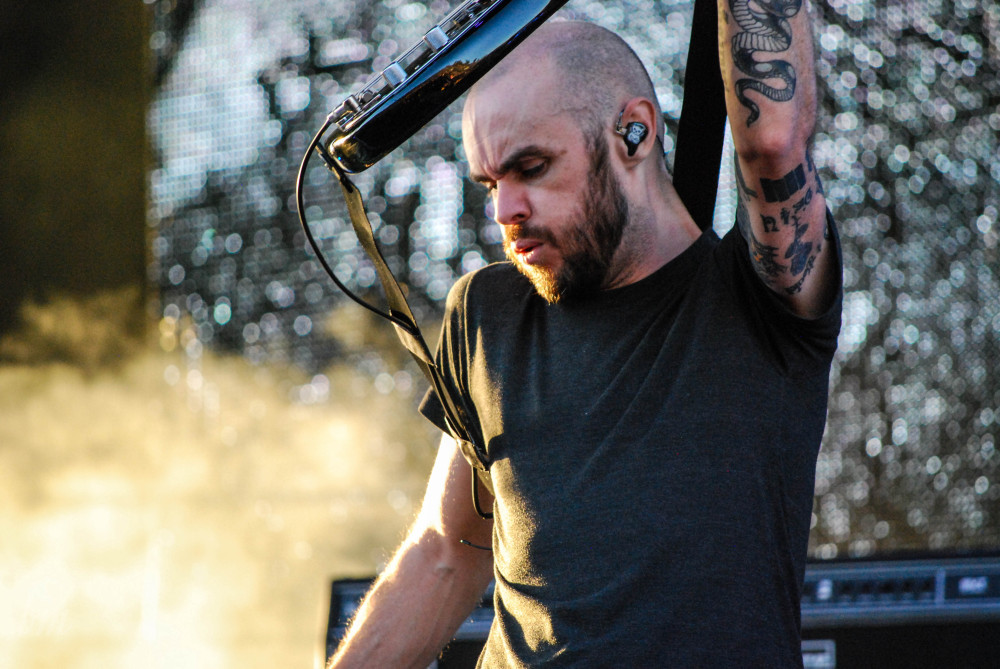 Following quickly after was ombre-sporting and former 90s heartthrob Jared Leto and his band, Thirty Seconds to Mars. Beginning their set in a cult-like manner (ie unified arm motions to intense operatic music), Leto appeared onstage donned in a white trench coat, sunglasses (despite the sun quickly setting), and a headband. Their performance started strong with their hit "Up in the Air" off their latest album LOVE LUST FAITH + DREAMS and then came a slew of other hits. Mid-show the band urged the fans to up the enthusiasm and when one attendee declined he was called out by the ill-dressed frontman himself. Said Leto, "You can play it cool but having fun is always cooler than cool." Thirty Seconds to Mars' set had it's highlights, such as maneuvering throughout the venue and playing an acoustic version of "The Kill" directly in the middle of hundreds, if not thousands, of people. Sadly, Jordan Catalano didn't quite deliver when he was too crowd-dependent to perform the songs and not himself. Nonetheless, it was seemingly pleasant and 30STM closed their set as white confetti brushed over the fans like snow.
It was time. In just minutes Linkin Park would be taking the stage in what I would know to be an unbelievable way. All six members took their stations, some on individual platforms, where everything was canvassed in large screens. Once Chester Bennington made his way to the front the bottled up anticipation was unleashed. The set included beloved songs such as "Crawling" and "Burn It Down" but they also gave the spotlight to some of those forgotten. I'll give praise to Linkin Park for mustering up a setlist that kept the night lively and unpredictable such as their mashup of "Leave Out All the Rest", "Shadow of the Day", and "Iridescent". I also highly enjoyed guitarist/MC Mike Shinoda's rendition of "Skin to Bone", "Wretches and Kings", as well as throwing it back with a little bit of Fort Minor (his former solo project). While I fully appreciate the band's unique approach on this tour, I will say that I was also displeased. With so many mashups included I felt that their performance felt a bit choppy and only snippets of songs were heard and not to be fully enjoyed. Aside from this personal dissatisfaction Linkin Park totally killed it! They've proven that they are not slowing down any time soon and I think we're all happy to embrace whatever they have to offer. #LP4EVA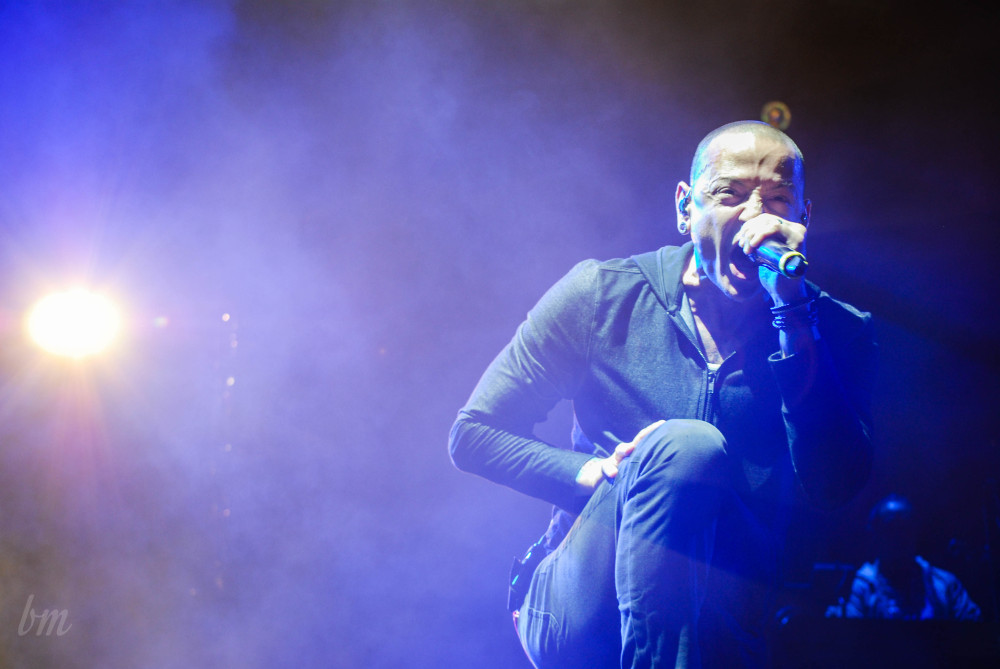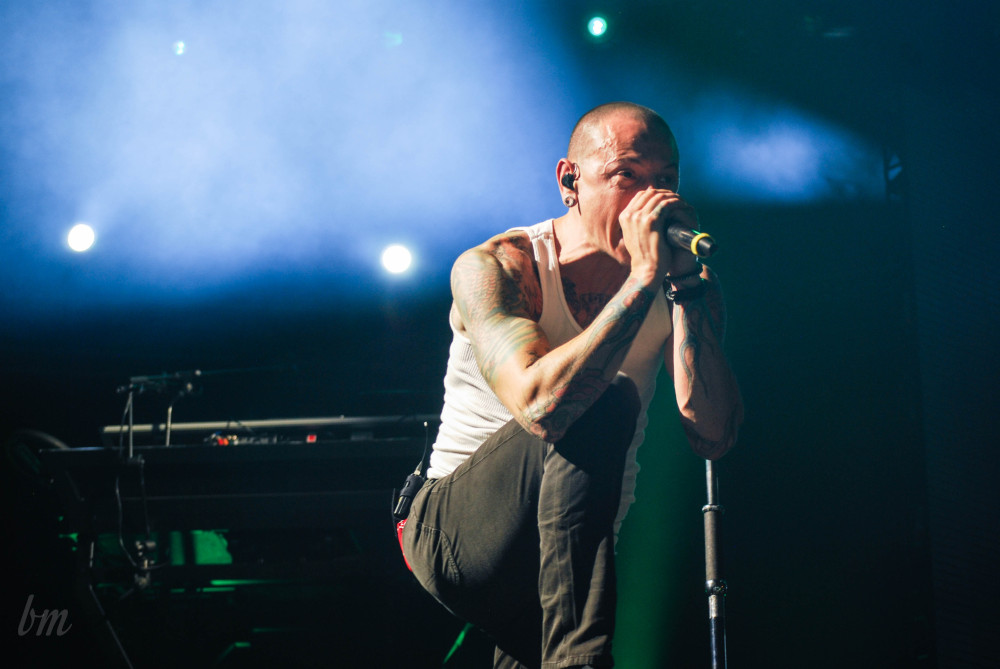 Before the Carnivores Tour began, I was fortunate enough to chat to Chester Bennington and Mike Shinoda over the phone about their latest album, The Hunting Party and this is what they had to say about it.
Brianna: So, do you feel like your newest record, The Hunting Party, is a project you've taken the biggest risks on as far as sound and collaborators?
Mike Shinoda: It would be a split between this and A Thousand Suns for me. I mean, A Thousand Suns, we hadn't done anything that outrageous yet. I mean, before we even wrote five songs, we knew that we were on a path to, like, totally piss off a portion of the fan base, you know? And we knew that if we were going to go down that road, that we had to be committed to being okay with that. It's not like a fun thing for us to be pissing people off–I don't feel like our thing is, like, 'Hey, I'm just going to do this to, like, make our fans mad.' That's never the thing. In the case of both albums, as they were pulled in different directions, like, at the time when we released A Thousand Suns, what was popular on rock radio was, like, the Strokes and the Killers. It was more garage rocky, grungy kind of stuff, low fine, whatever, and we just decided to go out and make this really, almost esoteric artsy concept record that was really electronic-driven and really didn't have a lot of that aggression to it in that sense. And if there was aggression, it was, like, more of an outrageous experimental kind of sound. For example, the song, "Black Out", or the song, "Catalyst". And on this album, it's the same thing kind of happening, but in the opposite direction, and now everything is that kind of, like, electronic base, almost I would say, in a lot of cases, a kind of throwback. Like, I hear, for me, a lot of Talking Heads in it and, like, even Tears for Fears and stuff of that like, which I like. And that –
Chester Bennington: (overlapping) I even hear, like, Sinead O'Connor.
Mike Shinoda: Yeah. There's a lot of that out there. And so, whenever I feel like, 'Okay, there's a lot of that.' Like, if that's what I want to listen to, I've got a lot of that to listen to. What is it that is not out there that if I wanted to listen to, I can't find it, except other than going back to records that came out in the '90's? So, that's what ended up happening is we made an album that had that energy. It was more about, like, the kind of stealing of that music. It's not nostalgic at all; this album is the point. Like, we wanted it to be heavy, but progressive as opposed to, like, 'Oh, it should sound like that album or that band, whatever.' We wanted to take, like, ESO, so those heavy things that we like and try and harness it and create our own new thing.
Brianna: Right. And, Chester, do you feel the same?
Chester Bennington: No. I honestly I feel like A Thousand Suns is a far bigger risk than this record. And although I do think that this record was written, the risks we were taking from the band perspective is that we kind of laughed at them a little bit, because they weren't really risks for us. It was just, like, more of a business thing. Or it was, like, I felt like when we were doing Minutes to Midnight and we were doing A Thousand Suns, we knew we were going to alienate probably some of our fan base, but we didn't know if anybody was going to like what where we were going. That's okay, we know people like what we've done in the first two records. Now, this one is completely different. Like, are people going to buy it or are they not going to buy it in the store? Are they going to believe what we're doing? Are they going to find the concept of what we are doing, like, a new head coach working; that kind of thing? Or are we going to have a team that's going to revolt us and no one's going to show up to practice and, like no one's going to care? And so, for us some of the team members left and most of them stayed, and when we went for A Thousand Suns, it was, like, 'Okay, we've already kind of had a taste of what that gamble is we're doing and that's kind of scary.' The reality is potentially no. People might not like what you're doing. With this record, I feel like, 'Yeah, even with the culture of radio and it's probably not going to get played a lot on the radio. It's probably not going to be number one in the Untied States.' So, we knew that going into it before – those things don't really matter to us. What we care about is making a record that's exciting to us. And at this point in our career, we wanted to make a statement and we can and we found ourselves in a very unique position to do that. So, for us, and in doing so, we knew if we did it right, if we made a good heavy record, we would actually be pleasing most of our fan base. So, I'm pretty sure that, like, 90 percent of Linkin Park fans would be excited to hear a record that reminded them of the Linkin Park they discovered early on. And so, I think in that sense it was not a risk. It's, like, we're willing to take a chance at radio and we're willing to do those kinds of things that may not be fitting within the mainstream right now; that's fine. But we know that we're going to be making our fans happy and we know that we're going to be happy. So, it was kind of a much lower risk, in my assessment, than them, for example.
Mike Shinoda: Yeah. I think that's true. And I also say that, like, it's a great point that Chester made that has to do with, like, how do you measure what's a success and what's, like, risky? Because clearly, as we were saying with the Billboard thing, like how important is – I mean, you have to keep in mind, like, our band was out and in music at a time when a number one album meant a million and a half records the first week. Like, if you're talking about 150,000 records is the number one this week; it's, like, it's not that a tenth of the people are listening to music. It's that the actual metrics live somewhere else. If you're measuring success by Billboard, no disrespect to Billboard. Billboard's doing what they're supposed to do and I think they're doing their best to evolve with people's music assumption, tendencies, whatever by including things we used to do.
Chester Bennington: (overlapping) Simultaneously.
Mike Shinoda: Yeah. Because really, I mean, what we care about at this point with our releases – are the fans talking about it? And that means anywhere, whether it's online or in person or whatever. But you can gauge that on our social media. Are they excited? Yes, they're excited. And then second, are they coming to the shows? Do they care enough that they want to come out and see us play? And, yes, they're coming to the shows. Like, the tickets are selling out and it's doing well. So, at least at this point, I mean, you could talk to us in six months and we'd say, 'Yes, it's been a debacle. All of a sudden, they got bored and now they don't come to the shows. Like, I guess we've got to – ' But barring that actually happening, like, we're really happy with the reception that everything's gotten. And, by the way, in a format that you can't just, like, look at it on a chart and say, 'How does this compare to so and so…' Like, we're living in a different age. Everything is niche or into it. Everything is cut down into a sub-group where you can be a fan of ASAP Rocky and Linkin Park. That's a very realistic possibility in this world. So, just because numbers work out one way or another, whether you're talking about radio or Billboard or Grammy's or whatever it may be, like, those are all different metrics and that's not necessarily how the world works.