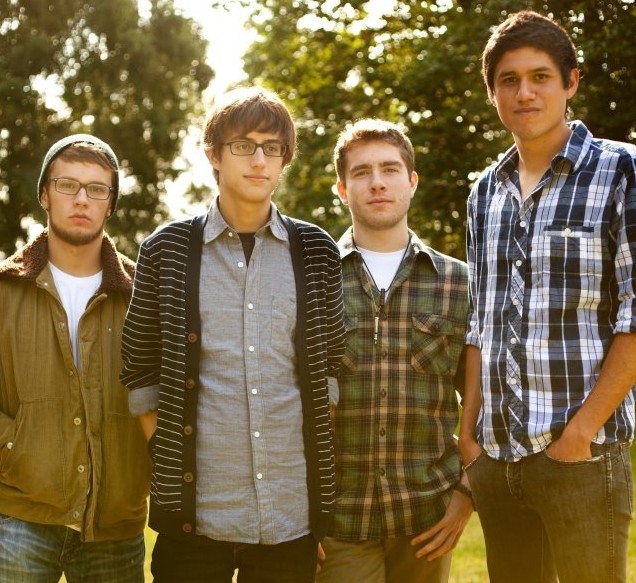 Featured Artist
New Lungs

From: Seattle, WA
Genre: Experimental / Alternative / Indie
Every once in a while a new band comes around and reinvents the wheel in a way that you can't help but admire. It's not a vain attempt to start the next "big thing", but an indicator that within the band lies a wealth of musical knowledge and influences that contribute to something organic and uinque. New Lungs' Lanterns certainly fits this description, as this is one of the most dynamic and well-crafted EPs I have heard from the local alternative/experimental genre in years.
Get to know New Lungs while listening to Lanterns via the BandCamp embed to the right!
New Lungs began as many great bands do: by chance. Wes Gonzalez migrated north from San Diego in 2008 to pursue his education at Seattle University, and at the time he was playing in a band called Amber Sky Lane. They moved to Seattle as well but eventually disbanded, and Gonzalez found himself bouncing from project to project without really sticking with anything. Eventually he stopped looking for a band and started playing solo acoustic shows.
Enter: Nick Emard and Rob Granfelt of Hundred Meter Trees. The band's third member, Antoine "Twon" Martel, went away to college while the other two continued playing shows as seniors in high school. One night Wes was on a bill with 2/3 of Hundred Meter Trees, they decided to jam together, and "everything just fit together really well." Twon came home from school that summer, and knowing that everyone would be leaving for college that fall, the four started cranking out songs. They recorded their first EP titled How To Operate Your Brain and also used this title as their temporary band name. "A lot of people didn't like it," Wes said with a laugh.
With most of the members of New Lungs currently attending college across North America, the group utilizes technology to assist with the writing process. Nick and Wes are the principle songwriters, and they all email demos around throughout the school year and use Google+ to talk business and "hammer stuff out."
Their common influences include Radiohead, The Lonely Forest's We Sing The Body Electric (the two bands that have most prominently "rubbed off" on the band's songwriting) and Weatherbox, with each member's personal tastes adding more diverse perspective to the mix. Wes, for example, grew up with bands like Thrice, Circa Survive, and Brand New, while Nick listens to Blur, Daedelus, and even a little bit of Steely Dan.
New Lungs' second and most recent EP, Lanterns, was meticulously crafted by their friend Drew Pine's bedroom/attic in Tacoma. The house had recently sold and the entire place was empty, making it feel more like a creative space than someone's living quarters.
"Being able to record with Drew allowed us not to be constrained by time, which can really drain a band financially and therefore, cut them short creatively in the studio. With that in mind, I feel like we took the time to experiment with the recording process. And pitching new ideas with someone like Drew didn't feel out of line which really gave us the green light to do anything. We filled out a lot of the tracks with ambient noise and ethereal sounds to give the EP a lot of layers and depth," Wes explained.
New Lungs experiments more with double tracking and vocal harmonies in Lanterns and even use soccer's favorite instrument, the vuvuzela, in the background of the first track "The House I Grew Up In"–claiming it was a joke that they just kind of fell in love with. Vocals and some of the excess ambient noise in yet another empty house with a waterfront view.
Gonzalez also sings the highest praises Seattle math rock band Postmadonna's Pat Goodwin for mixing and mastering the album, crediting him for allowing them to nitpick and make Lanterns sound exactly the way they wanted.
This album would have been solid with another production team, but the creative intricacies they were able to add during the recording process really transformed this into a record that compels you to listen over and over again. It's incredibly difficult to choose favorites, but "Euro" and "A Wallflower (The Price Of Being)" are both soulful rock and roll jams that I look forward to rounding out each rotation.
You can purchase a physical copy of Lanterns on BandCamp for $6, or pay what you want for a digital download.
Look for tour dates on Facebook closer to summer.
New Lungs on BandCamp
New Lungs on Facebook
Rain City Ambience on Facebook