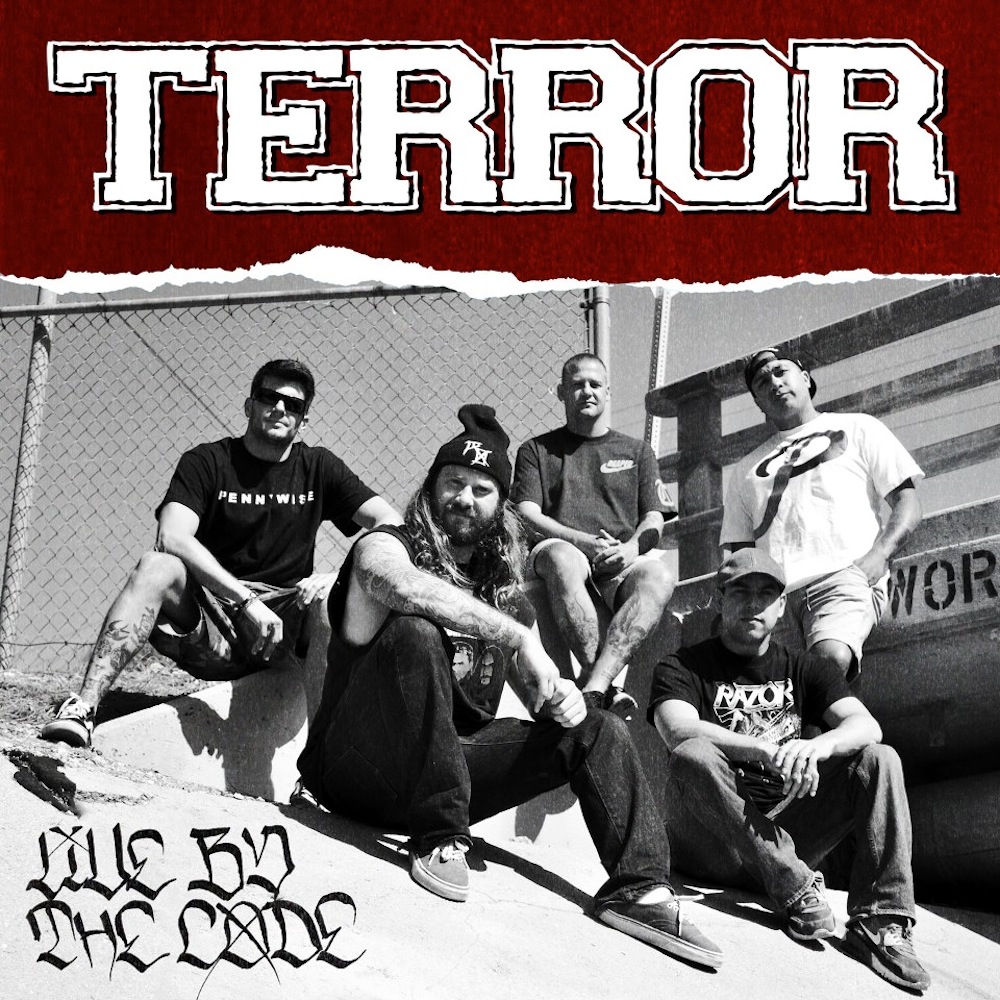 Terror
Live By the Code
Rating: 8/10
Key Tracks: Live By the Code, Shot of Reality & Good Die Young
Los Angeles hardcore legends Terror are a force to be reckoned with. Founded in 2002 by lead man Scott Vogel, this is a band that truly knows the hardcore scene like the back of their hand. It's no secret that this band is one of the hardest-working groups out there today. They pour their blood, sweat and tears into every lyric, note, and riff and they're not ashamed of what they do. "Live by the Code", the band's latest effort through Victory Records, is a return to form after their slightly less impressive "Keepers of the Faith" album which dropped in 2010. Don't get me wrong, the band definitely knows their stuff, and I believe in a lot of people's eyes, they can do no wrong. After all, they have solidified their name in the hardcore scene for many years now, however the album just felt slightly rushed. Not being a real huge fan of hardcore music, "Live By the Code" took me by surprise. From my first listen, I found myself drawn in by the record. They definitely did something right with this one.
"Live By the Code" is the title track from the album, which is self-explanatory, but I will elaborate on its meaning. "Live By the Code, the die-hard remain. The ethics, traditions kept, live by the code, the freedom to live." This is to say there is a certain lifestyle which comes with being a die-hard fan of hardcore music. Give respect and you will earn yours–and NEVER forget your roots.
"Shot of Reality" is about taking the world's shit, moving forward, and realizing one thing: karma is a bitch. What goes around comes around, and the ones who put you down and stab you in the back will get what is coming to them eventually. Life's not fair and in the end all you have is yourself, so keep your friends close and your enemies closer. In the end, all that matters is what you did to make an impact on the lives of others.
This album is by no means, for the faint of heart. I definitely recommend it for any fan of hardcore music, as well as anyone who just really likes gritty, balls-to-the-wall jams. This record will get you out of your seat and will see the band starting many more mosh pits, as is tradition. Go pick up your copy of "Live By the Code" out on Victory Records and immerse yourself in the world of true hardcore music.