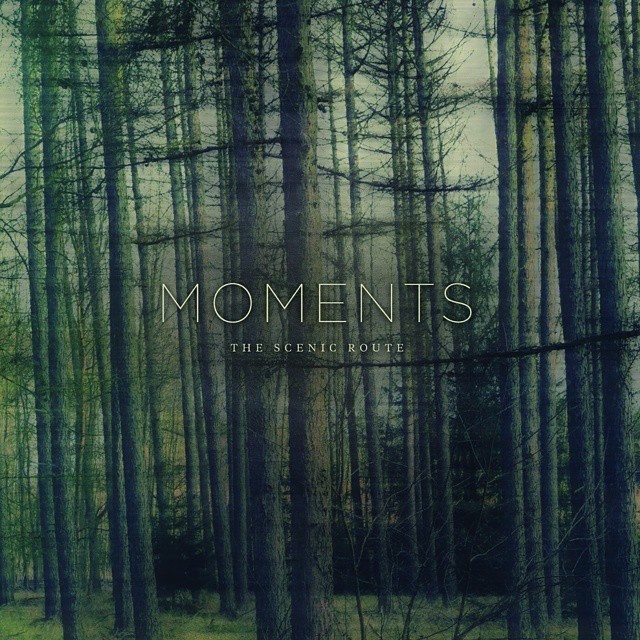 Moments
The Scenic Route EP
Rating: 8/10
Key Tracks: Oceans, Breathe It In, Until Then
This self proclaimed "whatever" rock band from Seattle released their EP for the world to listen to… FOR FREE. So, I had to take the opportunity to listen and review. Basically, it's a throwback without the weird haircut. You might recognize the lead vocals of bassist Ryan Bisson. His former band, The Brightest, made some waves in early 2012. The difference is now Ryan is surrounded by three other gents: Taylor Jurgens (formally of Peace Mercutio), Dwayne Scott and our friend Joe Bosslet (both formally of Alabaster.) Hearing these four gents play together was so familiar to what I have heard before, yet it's a different side of a story untold.
The EP starts with the track, "This is Not a Game." The title of the song comes from the line: "From the Grace of God this where I'm coming from, and I hope you know that this is not a game." The chanting part at the latter part of the song sounds perfect for a crowd to chant during a show. "I've been shot down by the hands that held me up and I need to trust / but trust is failing me so you ask can you be a part of it" Well, so far, we all want to be apart of it.
The second track, "Oceans," is possibly my favorite on the EP. It's true and honest in its lyrics how a relationship, although it has great intentions from the start, can actually put barriers on ones personal growth or pursuit towards ones goals. "Drowning" yourself with the idea of a relationship rather than spending time and fitting that person into your dreams and goals will burn anyone out. "Are you ready you dreamed of oceans and I'd give all to you / but if the moon pulled back the water to dry land / what would you do? / would you stay with me or would you dream another dream?" Ryan voice on this track is really great. His talent is undeniable, whether singing or writing lyrics. My favorite part of the song is the end: "I left my heart at the bedside table so you could see everything so clear when you wake up." The human experience include heartache, much like this song describes. I like that the song says "left" as in "he/her has already gone away," rather than "I'm leaving" or "I have to go," because the heartache is far more damaging after someone has already left.
I got to chat with Ryan about writing the lyrics for Moments and, more specifically, this EP. He said, "Most of the time, when I'm writing, I sit down with my guitar and will work between writing rhythm and lead guitar parts. Sometimes I'll get a whole song together, [but] most of the time, it's a minute or two of where my head is at….. At a practice, we start from the beginning. I'll show Joe and Taylor the guitar parts I have so far, and we will move on from there until we feel the song is perfect…. we feel the music takes us on a "journey" or "roller coaster," then I write lyrics that accent or add too the music. Vocals (for me) will always be worked on last because I feel that, as a musician, the music has to capture the listener first. I want to pull you in and start tugging at your heart or get your foot tapping, AND THEN hook you with meaningful lyrics."
Ryan certainly does that. The beginning of the next track, "The Effort," reminds me of an Emery song mixed in with a little Acceptance. The word "door" is referenced a few times in the song. "The sound of the door was so dark but so beautiful/ I was ready to drive 2000 miles to start a new life." "…but you closed the door the sound was so dark but so beautiful." Taylor and Joe do a fantastic job on guitar matching the tone perfectly to the lyrics. The symbolism of a door being open but yet shut being "so dark but so beautiful," is quite poetic. The "door" is like the opportunity of love was once open but is now a missed opportunity.
The next track, "Breathe It In," I first watched an acoustic video on youtube a few months ago. Anyone can relate with the feeling of just being content with where he/she lives. Yet, we crave that unknown. As a band, I think Moments has opened themselves to the possibility of being bigger than just a small band from Seattle. "I want to get lost and find myself in new lights." The band is true to who they are on this EP as well at a live setting. I enjoyed watching the video back in November and was glad it was on the EP.
The final song on the EP clearly has the listener wanting more. "Until Then" really showcases Moments ability to write a song as a band starting slowly, gain momentum, then hit that giant "moment" during the song. The way the band builds their songs is different then any of their past projects. It isn't just the simple "verse, chorus, verse, bridge, chorus" model seen in almost any standard band, especially when starting out. That is refreshing and exciting as the EP comes to a close. Also, to be noted, this song showcases their ability to insert an obscene word so discretely into the song (possibly my favorite thing a band can do, similarly to that of Ben Folds Five.) I really enjoy "Until Then" as a song that can be translated to so many different life experiences. That is what this band has been able to write. When I asked Ryan about his writing style, he stated, "Most people don't know or understand that I don't always write from my view of a situation. I try and write from the view of the other person. My lyrics are real things… (the songs) [are] reflecting on the damage I've caused and [learning] to grow and question myself through the eyes of the people I cared for."
The EP's title, "The Scenic Route," has been a true scenic route for Moments. Whether we are on the scenic route of life or just getting on the highway, we can enjoy the ride especially while good music is being made. When I asked Ryan to sum up the album in short, he said, "Opportunity and dealing with let downs is the sum of the EP, for sure. We joke about the EP taking so long and that's why it's called "The Scenic Route" but really a big part of it is the road we take through life: The close calls, the home runs, the opportunities that we will have to make life changing decisions. Sometimes we will get to our goals, desires quickly, a lot of times we have to learn the hard way [which] leads us to seeing a lot and learning a lot about life by having to take 'the scenic route.'" 
To hear more on this album, be sure to check out Moments on Soundcloud. They are playing live at Louie G's on January 31st with Lo There Do I See My Brother, The Bomb Shelter, and To The Wind. You can click here for the event page on Facebook. Go follow Moments on Facebook. I'm excited for what's to come for these guys!