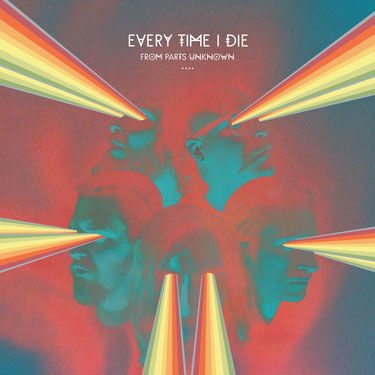 Every Time I Die
From Parts Unknown
Rating: 10/10
Key Tracks: "The Great Secret," "Moor," "Idiot"
It is official. God City Studio has turned Every Time I Die into gods of the hardcore scene. Weren't these boys the party-core kings a few years back? Indeed they were, and their ability to have fun on stage translates into a band distilling with enough time to be considered timeless. The addition of Ryan 'Legs' Leger behind the drums created a spark on their last full length, Ex Lives, but the mastery of producer Kurt Ballou brings From Parts Unknown to more of a dangerous grease fire left alone at the top floor of an apartment building.
The entire band came to "blow your fucking brains out", the first lyrics bellowed out by Keith Buckley, and man is his voice ever sharp. Like fine wine, his howls throughout the years have been consistently improving. His wit has always been fun to decode in between his screams, delivering lines like "I don't believe I'll have a revelation with all these secrets of mine, and if I ever have a holy vision it's going to be two at a time, I got so much soul in me that I'm barely alive" from 'Decayin With The Boys.' Pay attention to the lyrics and we find Buckley near an anxious state of mind questioning love, hell and his actions in life. The album feels like an extension of the lyrics found on 'Revival Mode' (from Ex Lives). The mood he brings forcibly makes clear that this is his best performance to date. His eerie yet confident swoons in 'Moor' that transform into some of his most vicious shrills as the song progresses.
Buckley brother Jordan and second guitarist Andy Williams blister riff after riff into a mosh happy album. Opener 'The Great Secret' explodes with challenging progressions fueled with walls of distortion. 'If There Is Room To Move, Things Move' rages between groove after groove of destructive breakdowns. The syncopation that Legs matches with his top notch drumming only adds more impressive things to write about. His consistent blastbeats and intricate patterns fuel the fire. When he needs to pull the pace back, he can keep a steady flow, as found at the end of 'El Dorado.'
From Parts Unknown comes together the most as final track 'Idiot' begins. What sounds like riffs reminiscent of the Hot Damn! days kick off until a guitar takes the song to a new movement. This movement is the highlight of the entire record for me as Keith Buckley enters the mix with his longest and most visceral howl as a frontman of this band (a nine second shrill). The frantic nature of the part is perfect. As the album comes to a close, we are offered a conclusion that the anxiety is over as Buckley yells, "all I want is for everyone to go to hell, it's the last place I was seen before I lost myself. All I want is for everyone to come to hell, there we can be free and learn to love ourselves." The throne has been uprooted, and Every Time I Die has taken it for ransom.