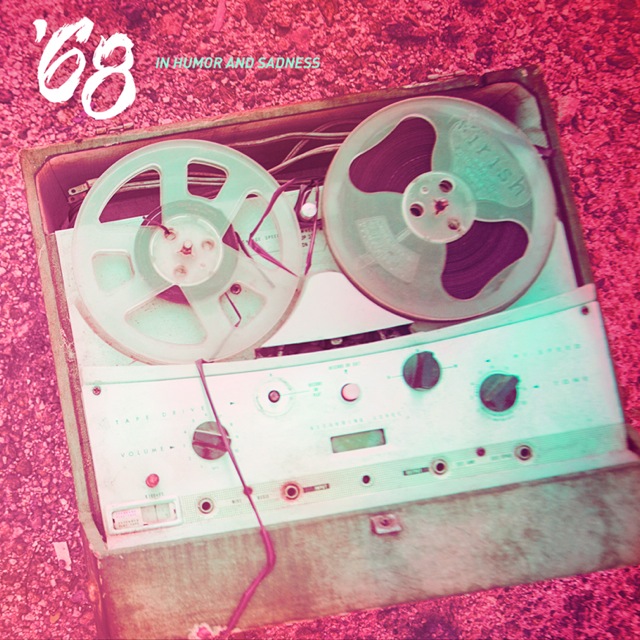 '68
In Humor And Sadness
Rating: 9/10
Key Tracks: "R (Track one)," "e (Track five),". (Track ten)"
For me, Josh Scogin is the renaissance man of today's hardcore scene. He created the almighty Norma Jean and left. Depending on your tastes, you never forgave him for it, or you dug right in and embraced his next project, The Chariot. After releasing a few mediocre but totally improvised albums (seriously, their first two albums were recorded in one take), the final two records gave the band more of a mass appeal while breaking away from the initial cult following status. While in the frantic hardcore band, he released a solo alt-folk/country project A Rose, By Any Other Name, showing that yes, this screaming dragon can sing. After disbanding with The Chariot (which still shocks me), Scogin is back again fronting and manning the guitars of '68, with former Becoming The Archetype drummer Mike McClellan behind the kit. The debut full-length In Humor And Sadness was produced by longtime friend Matt Goldman (The Devil Wears Prada, The Chariot, Underoath), and is due out July 8th.
In Humor And Sadness is an album gripped with spontaneity, and uses multiple angles to attack the listener. 'R (Track One)' is a vicious assault with agitated, pounding drums and gritty distortion as Scogin addresses the mic with his traditional rasped howls. Next, Scogin channels his inner grunge and brings a faint Kurt Cobain vibe to the beginning of the second track, letting all the angst release in a promising beatdown featuring feedback and a hyped up chorus. 'G (Track three, formerly known as Third Time Is A Charm)' is a fuzz infested groove with gang choir vocals being the most memorable element. At this point, most of what has been shown on this album is familiar for anyone who knows Scogin's previous work. Be sure to listen for Bart Balboa of the illustrious Birds In Row rip it up with his guest spot.
It is 'r (Track four)' and 'e (Track five)' that gave me eyes wide full of surprise faces. What we have on the former is two men limping along at a sullen pace, vocals are more along desperate moans at the beginning before transforming into powerful screams as the song picks up. The latter, 'e', is an alternative song with the kind of melodies that are perfect around a campfire. It pulses about at a moderate tempo, with Scogin offering a personal approach to lyrics: "I've been lost, I've been found and I've been blind again", but it is in his final plea, "Don't take me away", that the desperation settles in. 't (Track six)' seems to be the band's approach at twangy pop punk, plowing away with chord progressions and McClellan's spastic drum work.
The seventh song, labeled 'N', sounds like a more violent approach at a Buffalo Springfield song. 'O (Track eight)' was formerly known as 'Three Is A Crowd', and is still as awesome and well executed as when we first heard it. 't (Track nine)' is another fantastic song not in the norm for Scogin's previous work. The vibe pushes along because of a catchy guitar loop behind Scogin's almost whispered delivery. The closer of the album makes sure to pack as much punch as a duo can bring, mellowing around the midpoint before spiraling into a detuned riff and a whole mess of twanging strings. A discordant arpeggio takes over, McClellan kicks back in, and Scogin raises his voice from grumbles to his most urgent performance on the album.
Scogin's final moments give light to my thoughts about his vocal approach: it sounds as if his life might end if he doesn't get what he has to out of his throat. This type of pressing delivery has been highlighted in every release of his, and In Humor And Sadness is no different. Michael McClellan packs up the background with his 80's metal drum kit. In typical renaissance man (and cryptic Scogin) fashion, the songs spell out the phrase, "R e g r e t n o t .", a nod to the phrase of the last Chariot album, "Forget Not Your First Love. Speak In Tongues And Cheek.". '68 has packed a plethora of influences and dynamics into this album, and it is not one to miss out on.