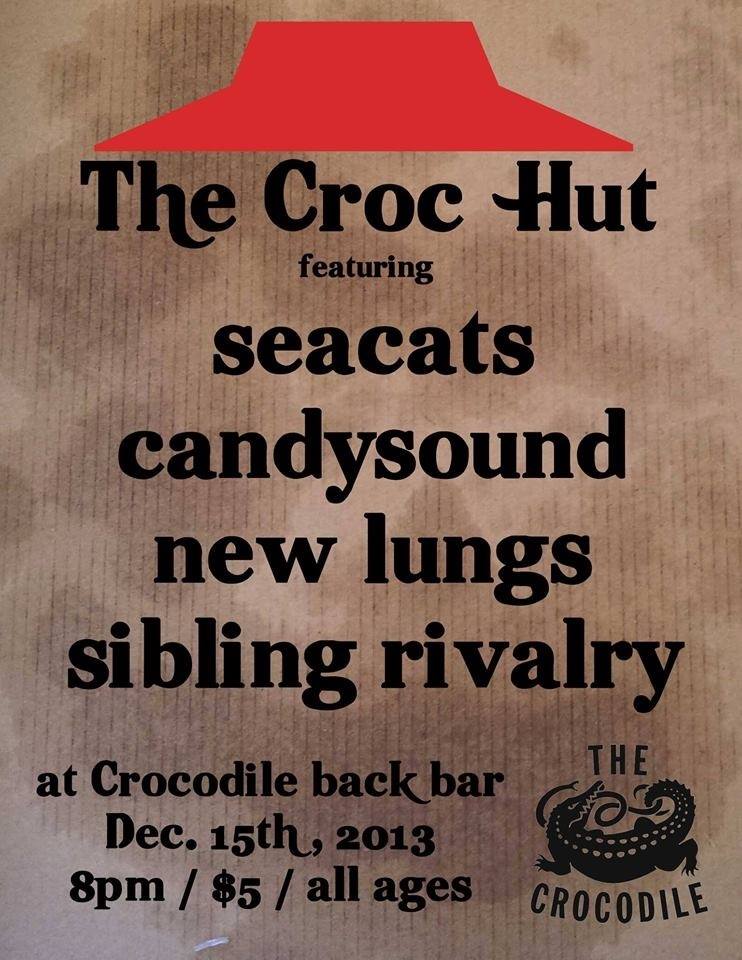 Seacats/Pizza Hut Express Partnership?
Washington jokers Seacats have announced their new relationship with Pizza Hut Express, a 2014 partnership that is being celebrated with free records at the band's upcoming Portland 12/14 and Seattle 12/15 shows. While we are not entirely sure of the seriousness of the partnership, DO bring your pizza box to the merch table to receive your free album. Read the official announcement below, and EAT PIZZA!
HUGE ANNOUNCEMENT!
Some of you have already noticed and a few have even sent us personal messages wondering what was up with the Pizza Hut-themed flyer for our show this Sunday. Up until this point we have been forced to remain silent, but as of today that all changes.
We are extremely excited to reveal that starting in 2014 SEACATS are partnering w/ Pizza Hut Express!!! Those of you that know us well know that we have been huge supporters of this brand for years, and that this is truly a dream come true for us.
To celebrate this great new chapter, we are having a special merch deal this weekend at our two shows (Saturday 12/14 in Portland @ Laughing Horse Book and Film Collective and Sunday 12/15 in Seattle @ Crocodile Back Bar). If you purchase a pizza at any point between now and this weekend's shows, you will receive a free copy of our new self-titled record. Just bring your empty pizza box (personal or "express" size only please) to the merch table for a free record!
And this is really only the beginning, we are so excited for the opportunities that us and our fans will get from this in the new year. Get ready for more cool cross-branding, sweet deals, and of course great pizza. This photo is of our celebratory pizza when we got final confirmation of the deal. More details regarding the partnership will be announced soon!
comment and tell us what you think, and with what your favorite combo at Pizza Hut Express is!!!
PS Huge thanks to Pizza Hut for making this all happen
PPS HUGE thanks to Fin Records for a wonderful show on tuesday, as well as a wonderful 3 years!