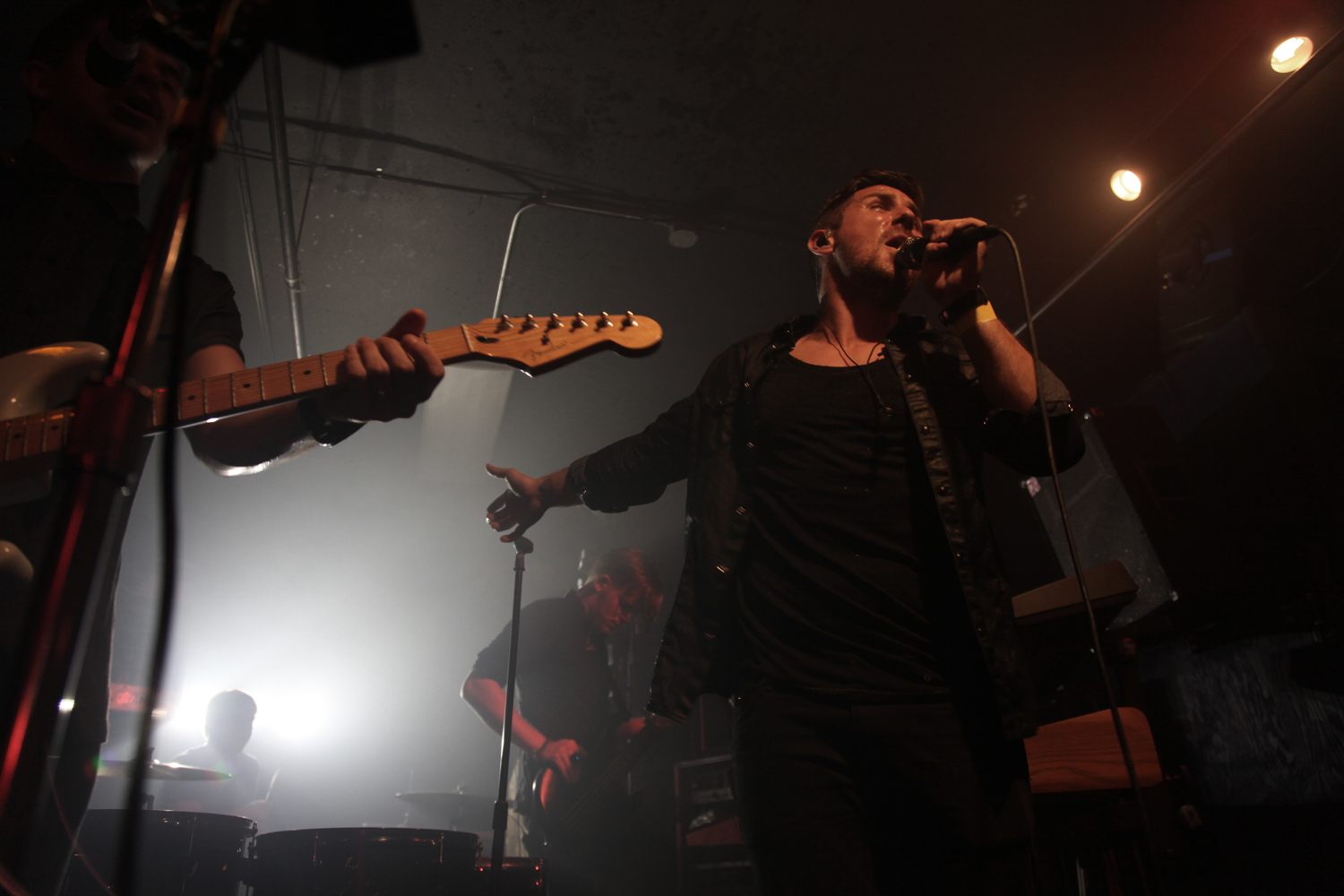 Local Spotlight
Night Argent

From: Pasco, WA
Genre: Pop/Alternative
Washington band Night Argent is going to be the next big thing out of Washington. Huge. This talented pop/alternative rock quintet gave us the lowdown on what's happened this year and what's coming up. It's all huge.  Take a look, and keep an eye out for our show coverage of last Sunday's concert with Charming Liars and Amanda Markley!
---
Anthony Chang: Hey guys! Thanks for taking the time to do this. My name is Anthony and I am one of the editors for Seattle music blog Rain City Ambience. We're excited to be featuring Night Argent as our local music spotlight. Okay, sure, Pasco isn't THAT close to Seattle, but we're stoked about the band and are honored to have you on it! First off, who am I speaking with today?
Night Argent: We're happy to be part of it, and although Seattle might not technically be home for us, we love it here and claim it as our own. We are all die hard 12's and would love to see the Mariners win the World Series. You're speaking with Chase Manhattan (Vocals), Shane Santanna (Keys), Jeff Stachofsky (guitar), Evan Taylor (Bass) and Zac Burrell (drums).
AC: It's always awesome to see Washington bands gaining momentum and it seems like things are really lining up for the band in 2015! How are you guys doing with all that's happening?
NA: It's definitely an exciting time for us. We put in a lot of time throughout 2014 really developing our style, sound, and stage show, and now we're finally getting a chance to share all of our hard work with people. It was a little nerve racking releasing our first single not knowing how people would react, but the reception it's gotten has blown us away. Now we're just working on getting the new EP finished up, and prepping for Warped Tour. We've got our hands full, especially being independent and a very DIY kind of band, but we wouldn't have it any other way. It just makes us hungry for more.
AC: I saw mentions of new music, Warped Tour this Summer, and of course the video for "Nothing More Beautiful" with Red Bull in February. How's the new material coming? What is/was it like working with John Feldmann?
NA: We're really happy with how this EP is turning out, it's always interesting seeing how our ideas come together and play out in a mix, but we are definitely extremely happy with the result. This EP and our single "Nothing More Beautiful" was actually all self produced. We recorded everything in our personal studio, and worked with Brook Floyd of Rainmaker studios on the mix. We'll be teaming up with John Feldmann this fall on a second EP, and we couldn't be more excited. The guys a legend, and we can't wait to see what we come up with together.
AC: How was working on the video and partnering with Red Bull to get the music video out? Plenty of sweet fireworks in there! (As an aside I'll be at the Mountain View Warped Tour so I'll be sure to catch your set!)
NA: We can't wait to see you there! Shooting the music video was an unforgettable experience. Going back to us being a DIY band, we shot, produced, and edited the video ourselves (with the help of friends and family). Shooting the fireworks scene was such a blast, if you take away the part about it being in the middle of winter standing knee deep in a frozen lake, haha! We got a lot of Pacific Northwest support for the video.The Dangerzone firework booth in Muckleshoot hooked us up with all of the fireworks we needed for the video, Silver Ridge Ranch in Easton, WA. opened up a couple hundred acres for us to shoot in. We feel very blessed to live in this area, we've traveled all over the country and nothing beats our love for the Northwest.
AC: "Nothing More Beautiful" is a fresh and comfortable stretch from what's big on the radio now without being alienating. What goes into your writing process? What sorts of influences do you look to for inspiration and ideas?
NA: With "Nothing More Beautiful", we wanted to write a song that would make an impact not only musically, but lyrically. We wrote the song with the hopes of reaching the people who are down and out, struggling trying to make ends meet, and fighting to survive in these hard times. We want to let them know that it's in those moments when you feel you have nothing left to give, and that the world is beating all will to fight out of you, that you truly discover how strong you are. This country was founded by people who left everything they knew and love behind, looking for a fresh start, and it's because of those people we now have the opportunity to risk it all in pursuit of our goals and our dreams. We definitely want to make sure any music we write and release comes from a place of honesty. Not all of it will have some great or inspiring message, but all of it will be based in real life experience.
AC: What's the music scene like in Pasco? I think I've passed through the city once on the way to Walla Walla but don't know much about the city otherwise!
NA: It's really starting to develop into something cool, not just in Pasco, but in the tri-cities as a whole. It still has a long way to go to compete with the Portland/Seattle music scenes, but there are some extremely talented bands here, and it seems like all the young people are getting more and more excited about live music.
AC: How did the band get started? It looks like you've only been together for a year or so, so it's truly amazing to have come so far in such a short amount of time!
NA: We all played in different bands for several years prior to Night Argent forming. Our first show with the five of us was two and half years ago under a different name. It was just over a year ago that we became Night Argent. We all actually attended Pasco High School at one point in our high school careers, not at the same time, but we all spent time in the music room there with the same music teachers. The funny thing is we ended up discovering each others talents and getting together thanks mostly to Youtube videos we individually released.
AC: I think that's all I have for now. We're hoping to send some folks out to the Seattle show this Sunday so hopefully see you guys there!
NA: Thank you so much for having us!