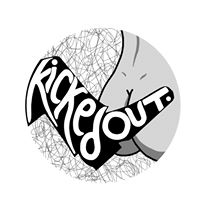 Local Spotlight
Kicked Out Events

From: Seattle
Genre: Underground and Punk
Seattle has always had a vibrant underground, which has worn many faces over the years. These days the face of Seattle underground is young and vibrant, versed in Harambe memes and dad jokes, deeply knowledgeable about the bands that came before and enthusiastic about the bands around them. It looks a lot like the guys that run Kicked Out Music.
I got a hold of Tanner Houghton, known to the bums selling loose cigarettes on Pike street as Jimmy Tall Bones and to many readers as the lead singer of Falling Over, and asked him about Kicked Out. I'll let you read his unedited and unabridged responses:
Q: How long have you been working on this, how long has Kicked out been a 'thing'?
We started kicking around the idea about a year ago, but at that point we weren't entirely sure what form we wanted Kicked Out to take. Originally we had plans to record some splits between a couple of bands and release them on vinyl, and we'll definitely revisit that idea in the future. Things really started picking up around July of this year when we planned out our first generator show and started making videos.
Q: Who all is involved and how do people get involved?
There are about a dozen of us that meet up every week or so to toss around ideas, drink some beer, and try and think about what would be fun to do next. If anyone wants to help out or get involved, we'd love to hear from you. We're also interested in finding ways to collaborate with artists from all mediums to design posters for shows, come up with ideas for videos and sketches, and maybe even do some animation.
Q: What are the funnest/sketchiest things that have happened so far?
At our last generator show Jeff from Cool Void was smoking a cigarette during his set and accidentally lit his hair on fire, so that was pretty wild. The most fun we have is on Taco Tuesdays.
Q: How do you pick locations for shows?
Have you ever seen Field of Dreams? It's kinda like that.
Q: What was the impetus to start this and what is the goal of Kicked Out?
The motivation for us to start working together really centered on the feeling that as friends we all felt like we had some interest or talent that we didn't really have an outlet for. A lot of us have been making music, but are also interested in things like editing, videography, visual art, and sound engineering. Part of working together as "Kicked Out" means that we can give each other ideas and come up with projects that give us a chance to explore our interests and learn by experience. It'd be really cool to continue to meet more people through Kicked Out that want to experiment in the same kind of way.
Q: How do bands get involved, get invited to the shows?
The best way is to come to one of our shows, come say hi, and tell us about you kick-butt band. You can also shoot us a message on Facebook.
If you have the chance to go to one of their generator shows, do take it, they are one of the best chances you'll get to see the young and up-and-coming bands of the city in unexpected locations and are insanely fun to attend. You can see what is going on with Kicked Out here, and look for us to continue to support the awesome things that they do.