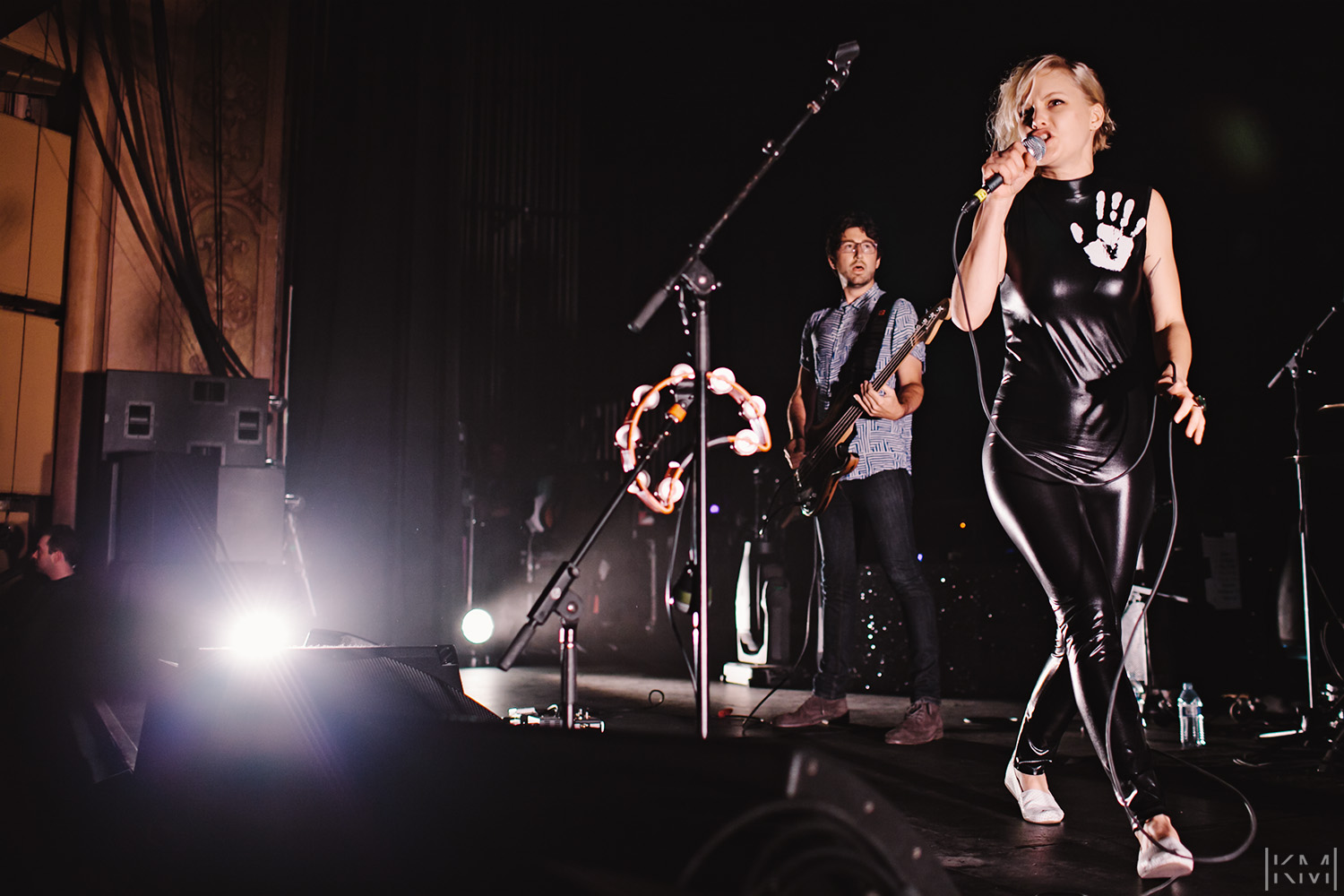 Conway
Conway is an indie/alt-pop singer-songwriter emerging from Los Angeles, and is currently the main supporting act for Ellie Goulding's tour. Her empowering synth-infused tracks are bound to get you dancing.
How has touring with Ellie been?
Conway: Oh man, it's been so awesome and such a pleasant surprise, because you know as an opener you never know, you have a hard job. People will maybe like you, and if they do, they're here to see someone else so you gotta go out and win people over. And usually she has really amazing fans which is great, meaning that her die hard fans camp out like all day so they can be right up front. But honestly, and unexpectedly, I feel like every show we've just gotten shown so much love, I meet so many people and people cheer for songs they've never heard, which is a huge deal. I feel like it's the best case possible right now.
What one piece of advice can you give to other emerging artists performing as opening acts?
C: I would say, go out their with full committal with what you do because what I think people respond to most is authenticity. If they see somebody truly enjoying what they're doing or they believe that person is really "about that," I think that they will give you more of a chance. And I would say go meet everyone that you can because really, like that chance of being in front of new people is huge and a lot of people miss out on the chance to connect. People remember when you're nice to them, my social media for this tour has gone through the roof, I've gotten people that come back for repeat concerts and stand in the front and scream for our band, you see it quicker than you think you would.
I see that you're sort of a nomad (having lived in St. Louis, Brooklyn, and LA). Do you think the different locations influence the way you write music?
C: Definitely, I think for a couple reasons, you know I've gone through something different in every city. I write what I'm going through. LA, where I've been the past few years has really forced me to get more serious as a musician, and like be a better song writer, work really hard, and play all the crappy clubs with my band that I used to have and really work my way up. I think the songs that I'm writing now are coming from a more empowered place.
I totally dig your stage outfits. Any particular fashion muses?
C: Thank you! Well, I like things that are strong, but feminine, and playful. I don't want an outfit that I'm worried will pop-off, which is why I go with the onesies a lot because I feel like it's basically like workout gear and I can make it as weird or cool, or into whatever I want, and I like being really active. I think really, I'm not too much of a girly girl, I'm not super frilly, but I like to dress for kinda like, "musical combat"… I don't know [laughs]. I don't know where it came from, but I just have a lot of warrior belts and superhero-y things.
What was the last song you listened to?
C: Frank Ocean's "Lost." I really like his "Channel Orange" record. I really like Frank because he's able to pull off a hybrid of what he does, poppy, r&b, things that are indie and weird, in a good way. And he just has a beautiful voice, and talks about diverse things.
So how do you feel about the "#SELFIE" song?
C: It's funny because it's true, I've seen that with girls in the bathroom, taking selfies, it's funny because it's scary and it's a total comment on what people think is real. It's kind of a warning, like hey, this isn't real life and people make decisions about their life based on texts they didn't get or a picture that doesn't really look like them or whatever. And I think I just kind of took it as one of those weird "sign of the times" type thing.
I want to let you get back to your fans now, but first, can we take a selfie?
C: SURE! I can't say no to a selfie!
For more on Conway, check out our full Featured Artist spotlight.