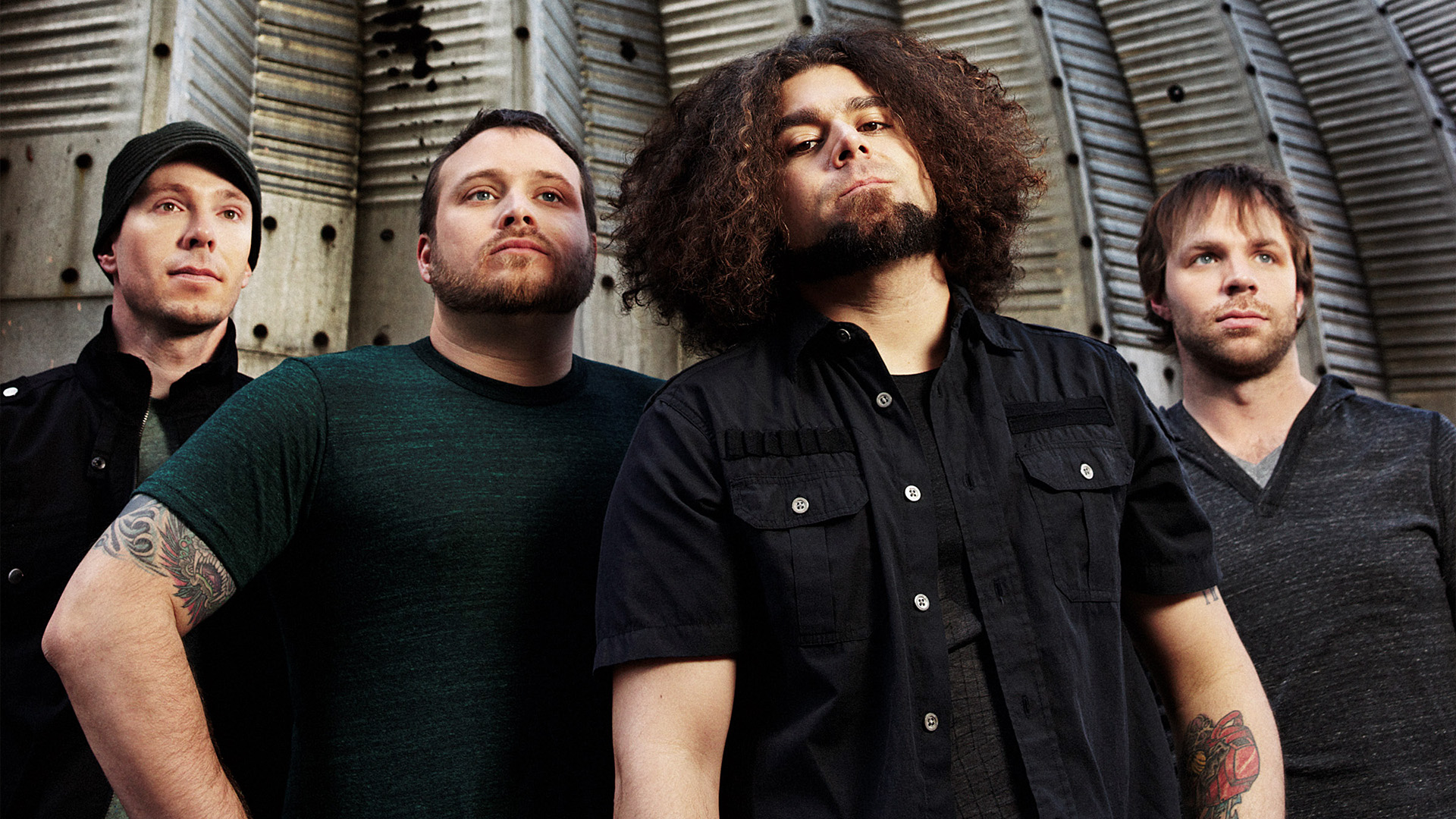 Coheed And Cambria
If you've enjoyed rock for any amount of time, chances are you've heard of Coheed And Cambria. Undeniable veterans, this New York-based quartet has just released their eighth studio record, The Color Before The Sun, and will hit Seattle tonight with the tour to support the release! I had a chance to work with guitarist Travis Stever for this interview… which was fantastic. Read on:
Travis Stever Q&A with Rain City Ambience
RCA: Thanks for taking the time to do this! How's the tour going so far?
TS: It's been really, really awesome.
RCA: I see that Knapsack and Thank You Scientist are both on the bill. What made you decide to bring these particular groups? How're fans taking the other bands?
TS: TYS is a band that we have enjoyed touring with and been fans of for years. And they are signed to Claudio's label Evil Ink too. Knapsack is a band we have all been fans of for years so it's awesome we get the opportunity to play with them. Also our good friend Eddie Breckenridge who is also in Thrice plays bass for Knapsack. So it's an all around friend fest.
RCA: I have to confess that I didn't listen to The Color Before The Sun until tonight, and dang. It's insane, and yet not at all what I expected. It's not as dark and brooding as some of the past releases, but it still feels like a Coheed record. How was songwriting different, if at all, for this newest album?
TS: Claudio had a very set idea for how he wanted a lot of the material to sound. Not that he hasn't on prior records but often times it's a bit of a mixed batch in the past. On this one he had the songs and a vision and we all joined in and added our voices through our instruments. I don't want to make it sound like there wasn't room for each musician to do their thing. There definitely was. The addition of every members' sounds is what makes it a Coheed record.
RCA: What is the normal songwriting process for the band, especially in terms of the instrumentation, key and time signature changes, etc., that make up Coheed's sound? On prior albums usually Claudio would come to the band with a skeleton of a song and we would all add our flavors and arrange it together. Some songs have had different approaches from record to record. At times I may have had guitar riffs or the rough outline of a song on guitar and Claudio will write a song and arrange with that. With The Color of the Sun he had an albums' worth of songs and a very set vibe in mind. So with this record for the rest of the band it was very much about adding any colors that could heighten or elevate the songs. It was already a strong album to begin with as just bare bones demos. And then once he started passing them around to work on the heat was on to make whatever was added good.
TS: How was the recording process this time around? Any major new developments working with Jay Joyce for the first time? Well his main approach is to record the bands live. And once we got to his beautiful studio iN Nashville it became clear that it would be the perfect atmosphere to attempt tracking live as a band. We started with the song "Island" and after hearing the energy of all of us playing together live it solidified the whole record would be done this way.
RCA: I listened to the whole record once through, revisited a few tracks, and then listened to "Here To Mars" at least ten more times. From the looks of Spotify (please enjoy my .0003 cents!) the song has struck a nerve with quite a few folks, only second to "You Got Spirit, Kid" in number of plays. What made you choose "You Got Spirit, Kid" as the first single, and what aspect of "Here To Mars" do you think stands out the most?
TS: I think here to Mars has a combination of a hypnotic verse with melodies that stick in the mind and on top of that it has an explosive, and catchy chorus. That is what I feel is two of the main strengths on
that one. I think with "You" we liked the idea of showing that poppy and fun side of the album first.
RCA: The album artwork for this release is a little different from the releases before. It's lighter, more airy, and if I could say it, more… hopeful looking? I heard that it was Nick Steinhardt (Of Touché Amore) who did the artwork. If so, how did you work with him to arrive at the final product? Any particular theme or idea?
TS: That was a collaboration between Nick and Claudio. Claudio had a lot of imagery in his mind with the music and Nick just hit the nail on the head with making it real. And the hopeful art comes from a place of this album having hope. Musically and lyrically. It's as much about new beginnings as it is about endings.
RCA: Speaking of themes, a few of the past records have followed some form of storyline. Is there a major storyline or recurring idea that runs through The Color?
TS: The record deals with a great deal of personal things in Claudio's life. Many of which I share in experience especially having a new baby. And just the many changes and self doubts that come at the point we are in our life. The rest of the albums were always majorly influenced by the personal life. But this one is just bare bones honest life experience. Which of course is a story and concept in itself.
RCA: I'm always curious. What gear went into the studio with you guys? Any particular guitars, amps, or effects that were big parts of the new material?
TS: For guitar I used my Les Paul black beauty custom and traditional gold top with Bigsby pretty much the whole album. For amp I used my Mark 5 and on a bunch of other stuff. A matchless combo amp that was at the studio. As for Claud he used a Telecaster a lot on the record. He of course had his Explorers, but the Telecaster was used pretty much the whole time. As for amps it depended on the song he would switch it up. Being that we cut it live we would want the perfect tones for each song. We used a massive pedal board that Jay Joyce had at studio in combination with many of the pedals Claudio had with him.
RCA: I think that's all I have for now. Thanks again for taking the time for this! I'll pick up the record this Wednesday when I go to the local shop, so you'll get more than a few hundredths of a cent in support from me!
TS: Thanks it all matters. It was a fun interview. Hope to see you at the show!