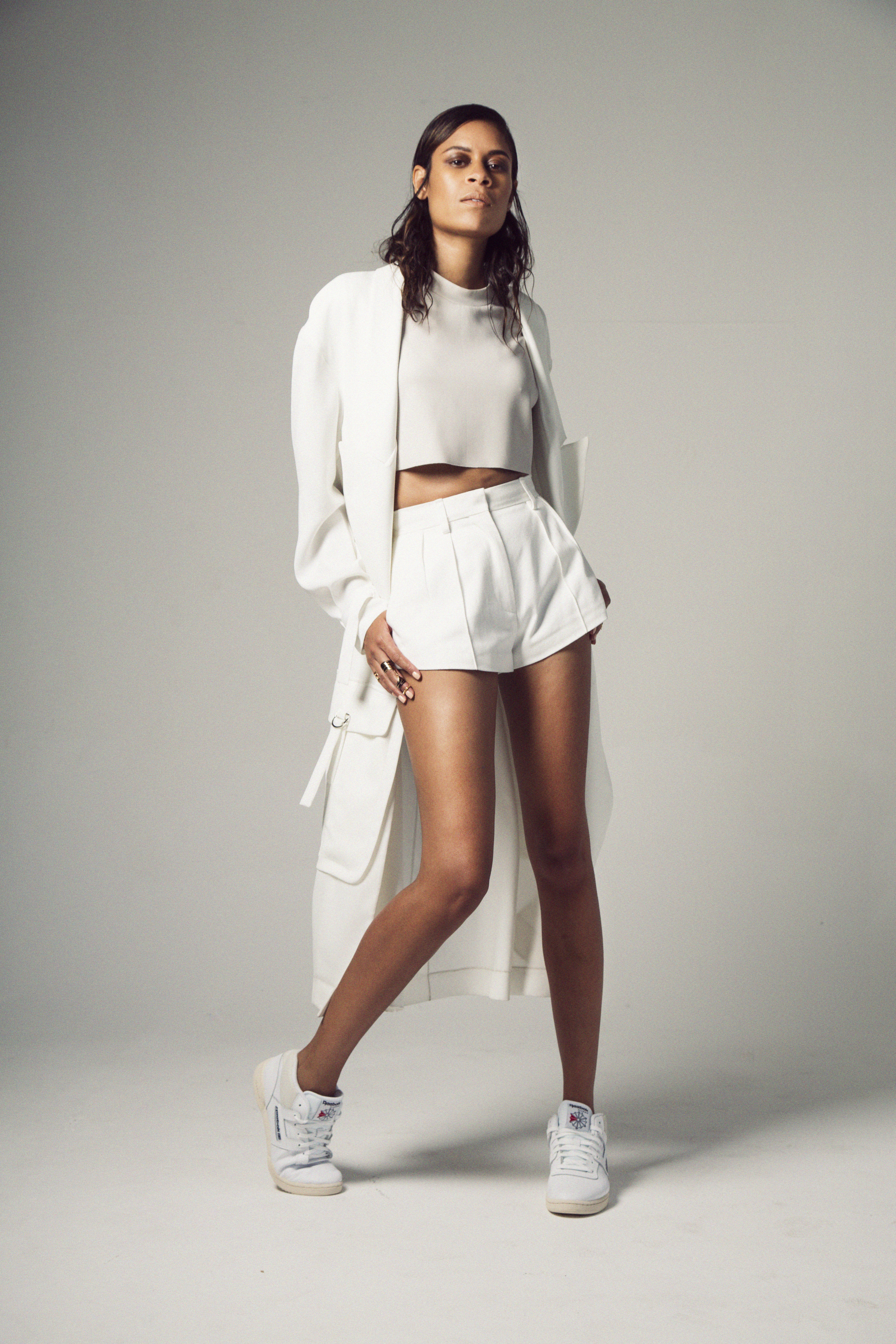 Aluna Francis of AlunaGeorge
Earlier this week I had a chance to chat with Aluna Francis of AlunaGeorge, if you haven't heard of the producer-singer duo take a second to catch up, because they are just getting started. Taking the world by storm with their first album Body Music alongside features with artists like DJ Snake and  Jack Ü, AlunaGeorge are making their presence impossible to ignore.
Thank you for taking the time to chat with me today,  lets get started! I saw you at Sasquatch Festival back in May…
A: Yes!
And the whole time  you dominated the stage which such an amazing energy that it was easily one of my favorite performances of the weekend- what fuels you when you are about to perform?
A: Well basically from day one me and George knew that playing live was the key to creating the kind of genuine energy onstage that transcends to an audience. So when I'm backstage me and my whole crew -who are all really good friends of mine- we are probably freaking out about something, that gives me energy. We will have a group hug, we are all doing our warm ups before the stage and we are kind of rooting for each other you know? If we have a problem we are helping each other out..
So it's a group energy?
A: It is definitely a group energy..
That's awesome! Something that I think makes your music so relatable –at least for me– is the pure honesty and vulnerability with which you talk about love and relationships. Would you say your life experiences have really helped you write your music?
A: Absolutely, I think if I'm writing from someone elses' perspective it will still be a real person I know and a real story that they've told me. I'm writing from my own understanding of that and my own empathy… I've found it's kind of easier if I'm writing my own stories and bounce them off somebody else because it points out a perspective of something I'm going through and we'll talk it through and come to some sort of decision that I can't skew on my own.
Along those same lines what do you hope your music reflects about you?
A: To be honest… the music that we do comes through us rather than being a reflection of us. It's a reflection of our taste and our experiences in them that we were looking for something that wasn't there and so we created it in the studio.
Got it!! What has it been like working with George the past few years?
A: It's been incredible- every time that we come in the studio its kind of  like the first day we worked together and that chemistry is always there. Its really nice to play with that- its put us in different situations, its led us to different positions sometimes…. it's let  us see what a fresh kind of perspective or a new environment does to our… kind of process.
Do you think your dynamic has changed since you began?
A: No..
Through time I feel like sometimes you begin to understand how someone works a little better and you will be able to relate to their opinions and situations way better so through the time that you guys have worked together have you noticed that almost… attachment? Where you've built a friendship that kind of  carries you through, have you felt that growth within you guys?
A: Absolutely- me and George got to know each other through this entire time… because all of the time we've worked together its relating to music we get to see a part of each other that is very creative and very inspired and that's -I think-  a real privilege. It's not something that everyone gets to see and we get to be part of a team with the other person and be a part of their dream and be encouraging to that so we've shared some pretty fun stuff.
And you guys are about to begin tour, correct?
A: We're mid- tour.
Can we expect any new music on this tour?
A: Actually yeah, there will be a couple of new things!
Did you know your Seattle show sold out?
A: NO! I didn't know that!
Yeah! It sold out pretty quickly!
A: Last time we were in Seattle we didn't know what to expect, we were just like pretty open minded. We spent the afternoon walking around! My drummer met some skater dudes that… well we went to get ice cream and he was across the way talking to some skater dudes. We had some fantastic food and everyone we met was really nice, we are really looking forward to coming back.
I think everyone is really excited to see what you guys are cooking up and like I said the Sasquatch! performance was just mind blowing- I'm beyond thrilled to be covering this show. Thank you for your time I look forward to seeing you in a week!
A: Yes!! Are you coming to the show then? Come backstage, come say hi?
I don't know about backstage but I will be covering the show and I got my photographer with me to get some awesome action shots!
A: Great!
If  you are swooning at the thought that Aluna herself might have graced  Cap Hill's Molly Moon's with her presence on her last visit, you are not alone. Let's swoon together at their show this Sunday, October 18th at the Croc! (If you were one of the lucky ones to snag a ticket).  If you weren't so lucky, do not worry friends I will have a full gallery and write-up for you to catch up on the nights events!