The Greatest Generation Tour At El Corazon
On March 19th, The Wonder Years' long-awaited Greatest Generation Tour sold out Seattle's El Corazon. The grizzled pop punk vets brought Modern Baseball, Real Friends, Citizen, and Fireworks along to support the groundbreaking 2013 record of the same title, and offered a VIP bundle featuring a signed screenprint poster, a special lanyard tag, and early entrance for an acoustic performance.
I showed up around 4:30 for the VIP session, which ultimately started closer to 5. After a brief introduction by the tour manager, frontman Dan 'Soupy' Campbell and the gang slammed out a few excellently adapted acoustic tracks. Backed by guitarists Nick Steinborn, Casey Cavaliere, and Matt Brasch, the acoustic session was a perfect testament to this band's live prowess. Remarkably, Soupy filled the entire venue in the intensity of the last song without the help of his mic.
After a brief (and hilarious) Q&A session with the full band, VIP members were allowed to roam and shop merch while general admission filed in. I staked out a front row spot for Modern Baseball, not wanting to miss any part of this exciting young band's maybe first Seattle appearance.
The stage was pre-set with Modern Baseball's equipment, and there was a palpable excitement to see this bright star out of Philly perform. Co-frontmen Brendan Lukens and Jacob Ewald led an energetic run through songs off 2012's 'Sports' and the brand new breakthrough 'You're Gonna Miss It All', pitching their plaintive lyrics over the band's roving pop punk leanings. Bassist Ian 'Slugworth' Farmer and drummer Sean Huber powered the fun set, cutting through highlights like Tears Over Beers, The Weekend, Rock Bottom, and incredible final song Your Graduation featuring Huber's raw vocal power.
Real Friends vocalist Dan Lambton joined the Modern Baseball crew for a song or two, and added to the fun by sharing Lukens' mic. Without a doubt, this little band of nearly-kids have an earnest hoot playing together, and it's evident in great music and performance.
Lambton quickly returned to the stage with the rest of Real Friends. The Illinois quintet cranked up the heat immediately, punching out hits like Floorboards, Skin Deep, and Dirty Water. The crowd was pushed into a fiery frenzy, waves of crowdsurders washing onto the tiny stage (and eventually claiming the life of my trusty/entirely needed glasses; shoutout to the gal who found the pieces for me). While Lambton helped up fallen surfers and belted song after song, guitarists Dave Knox and Eric Haines hammered out walls of pop punk goodness. Bassist Kyle Fasel shared heavily in the crowd duties, leaping from monitor to monitor and shouting himself hoarse in the frenzy. Completed by drummer Brian Blake, Real Friends pounded through a huge set of favorites, and with the excellent closer Late Nights In My Car, continue cementing themselves as key proponents in the pop punk/emo revival.
Up next was Toledo five-piece Citizen. Having toured relentlessly (and hitting Seattle several times) with 2013 summer hit 'Youth', this band is no stranger to pumping the crowd in the Northwest. Opening with the heady The Night I Drove Alone, Citizen set a more serious, brooding tone for the night than the highly charged punk performances the quintet had previously put on. Frontman Mat Kerekes led the band through notable tracks like Sleep and Roam The Room, allowing guitarists Nick Hamm and Ryland Oehlers, bassist Eric Hamm, and drummer Jake Duhaime to carve out the grungey, strummy Brand New-esque side of the Midwestern up-and-comers.
Fireworks was up next, the Detroit heavyweights on tour pushing (and selling!) their new record 'Oh, Common Life' early. Frontman David Mackinder kicked off the set with new track Glowing Crosses, swiftly following with 'Gospel' songs Summer and The Wild Bunch. Completed by guitarists Brett Jones and Chris Mojan, bassist Kyle O'Neil, and keys player Adam Mercer, the band navigated their chameleonic catalog with ease and precision.
The set increased steadily in energy, as Fireworks flipped through songs old and new to finish on 2009 favorite When We Stand On Each Other We Block Out The Sun. Fireworks seems to garner favor with everything they do, and the upcoming record is no different. Stream the new album 'Oh, Common Life' on Redbull Music now!
Last up for the night, headlining champs The Wonder Years took the stage at full force. At nearly 10 years old, this venerable pop punk sextet has come a long way in ability and performance. Frontman Soupy Campbell started off the set with 'The Greatest Generation' opener There, There, a perfectly ramped entrance for the entire band built on Campbell's emotional refrains. Following up with second song Passing Through A Screen Door, The Wonder Years fired on all pistons from the get-go.
The crowd was wild with enthusiasm, singing and shouting along with the gang's vicious set. Choice cuts like Local Man Ruins Everything and The Bastards, The Vultures, The Wolves were among the full force hits that spurred fans to wilder heights. Although the setlist was skewed toward the two newer records, older songs like Everything I Own Fits In This Backpack, Logan Circle, and Washington Square Park were pulled out, as well as surprising B-Sides I Was Scared And I'm Sorry and An Elegy For Baby Blue. Campbell even invited Modern Baseball's Brendan Lukens out for a hug and a line in the guest-vocal studded All My Friends Are In Bar Bands, a tender moment of a pop punk vet encouraging a talented newcomer.
This many years into their career, singing guitarists Casey Cavaliere, Matt Brasch, and Nick Steinborn, drummer Mike Kennedy, and bassist/vocalist Josh Martin were a powerhouse backdrop to Campbell's expressive vocals. In 'The Greatest Generation' and the matching tour, it's increasingly clear that this long-running band has traded youthful angst for confidence and maturity. The emotional clarity in songs like The Devil In My Bloodstream and closer Came Out Swinging was pervasive in the live performance even more than on the studio versions, making this six-piece a truly different breed of rock star.
After the world's shortest encore wait, the band returned to stage to play the titanic concept track I Just Want To Sell Out My Funeral, putting everything they had into slamming out the 7:34 long song collage. The crowd went nuts with every stanza and verse from the now familiar songs, singing and crowdsurfing with incredible ferocity.
The Greatest Generation Tour was an absolute pleasure to see, and with such a foolproof lineup, The Wonder Years is more than proving themselves once again. If you aren't on the bandwagon for any one of these bands, it's time to hop on, and pay any amount to see The Wonder Years the next time they're in town. You won't regret it.
Don't forget to watch the heartbreaking new video for Dismantling Summer.
Kelly photo notes: El Corazon is notoriously tough to shoot without a flash, but I bumped my ISO and went for it. Some are out of focus, some are just there, and I may have gone overboard on the Wonder Years photos–but I did my best to capture the excitement of the night with crowd shots and unique angles from all over the stage. Enjoy!
Modern Baseball
Real Friends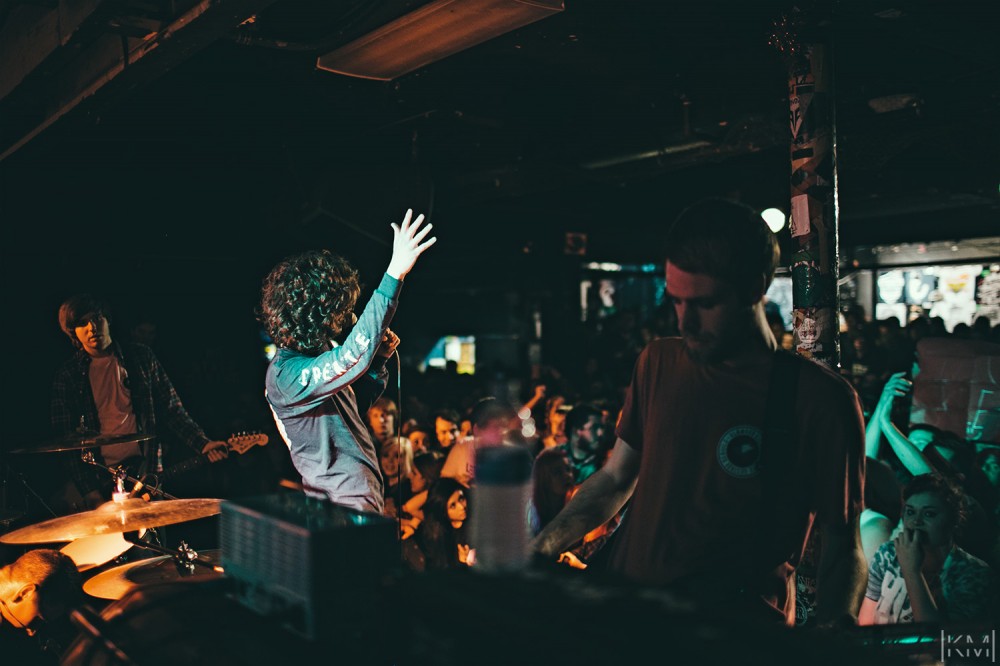 Citizen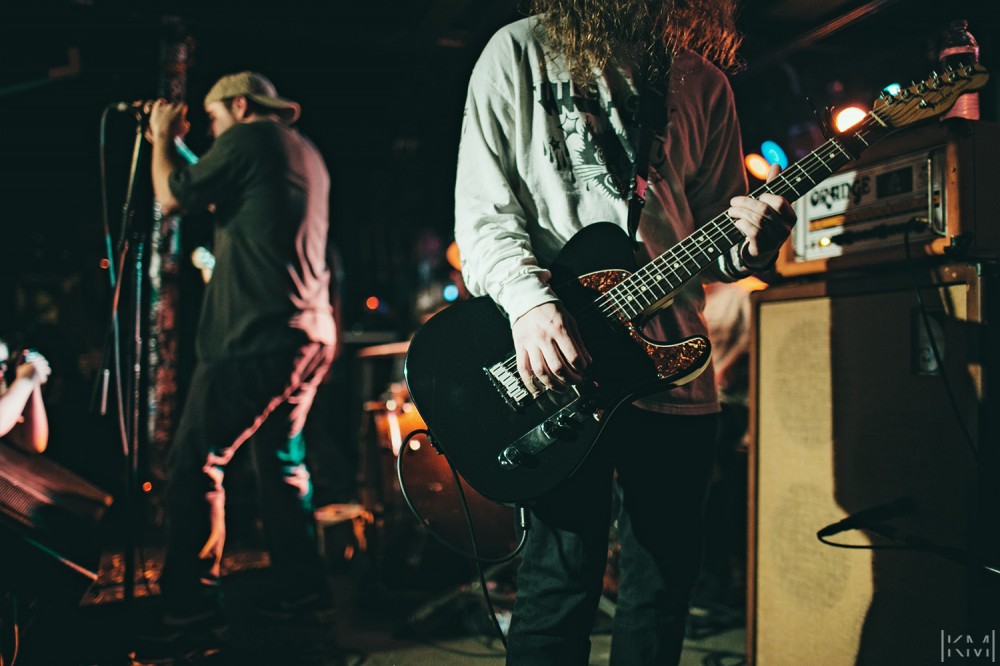 Fireworks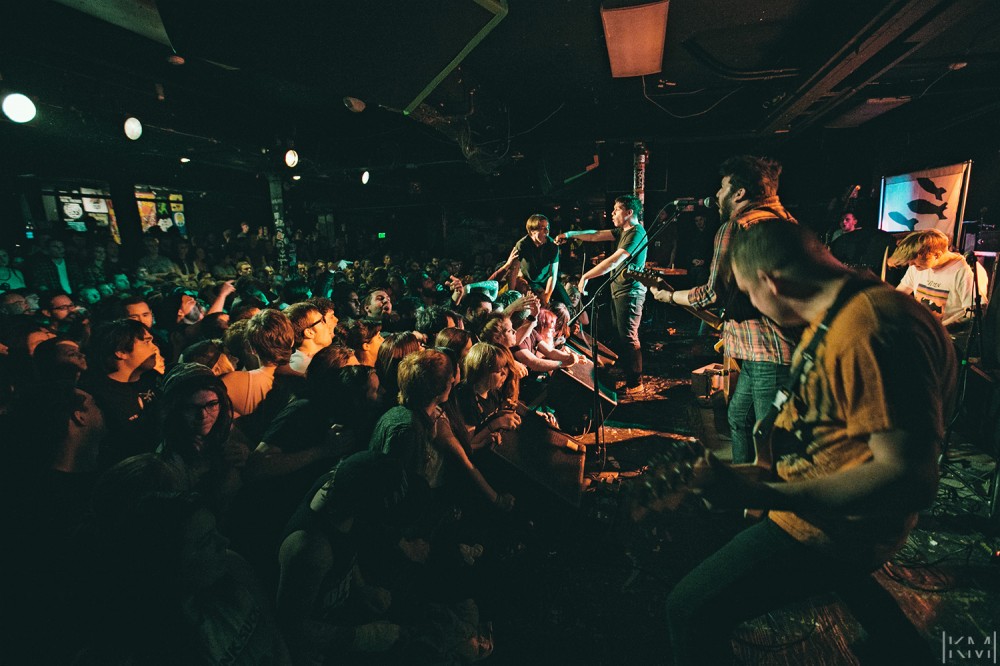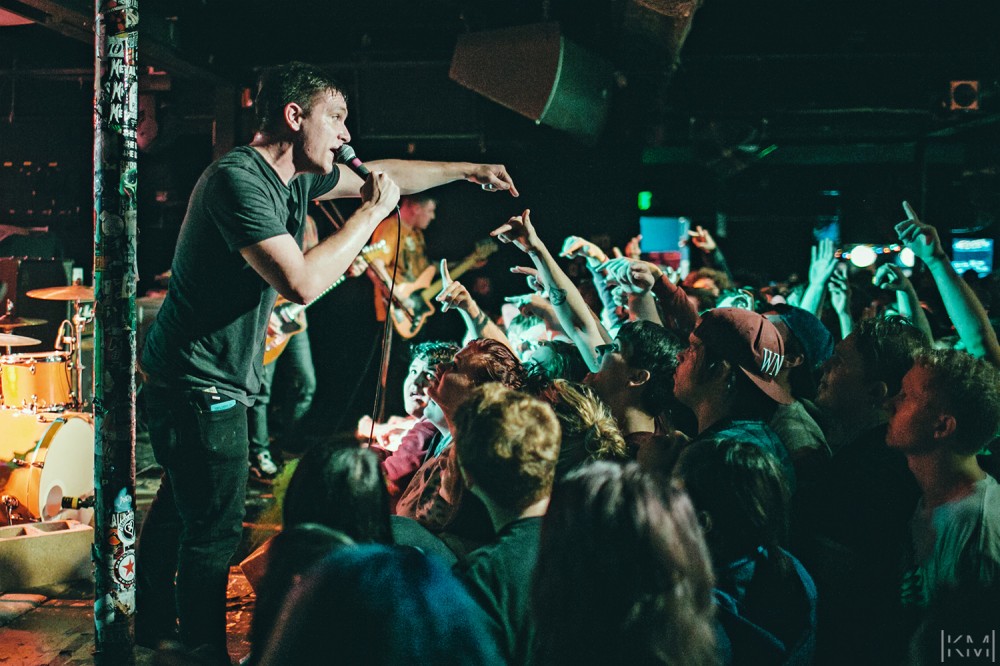 The Wonder Years