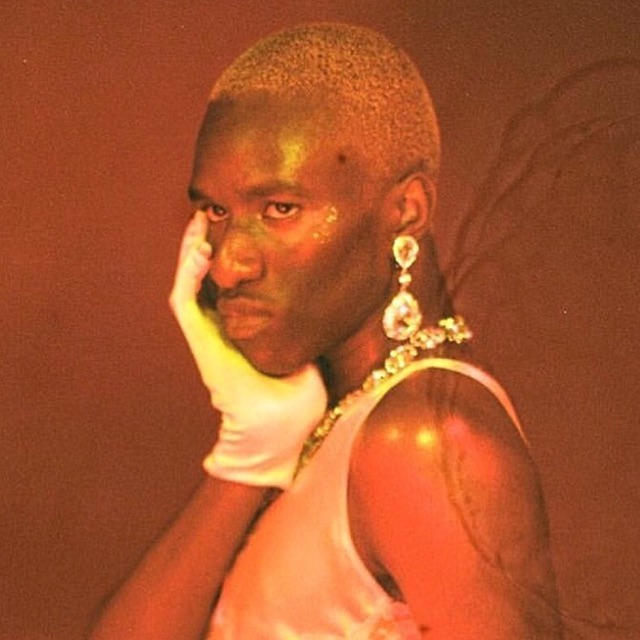 Featured Artist
Tama Gucci

From: Miami, Florida
Genre: Experimental
For the past year or so I found myself following the life of artist and model Kymani Floyd who goes by the name Tama Gucci. I fell for his style, his realness, humor and of course his undeniable talent. Sitting pretty at 19 years young, Kymani has cultivated a safe space with his online presence to embrace gender fluidity and support for young artists like himself. His music is experimental, much like many other aspects of his life, and often comes from waves of creativity and freestyles. I had a chance to chat with the Florida native to discuss music, fashion- and his upcoming mix-tape, "Out of Order" coming out this Friday!
I don't know too much about you, so I want to get a little background! I know you live in Florida- where about?
I live in Miami. I don't know if you're familiar with this Wynwood thing they have here, it's like the art part of Miami and I live about 5 mins from there.
That's awesome, what were some of the things you did growing up?
I danced for a little bit when I was little in like late middle school, I'd say 8th grade? I did ballet. I loved it but I stopped because I was sick of being the only boy- let alone the only black boy… let alone the tallest. I felt pinpointed all the time so I just stopped.
When did you decide to start making music- or I guess when did you realize you wanted to make music?
I've been making music for probably about four years now… I've been singing forever but I started making music because I went to an art school for middle and high school. For Christmas my mom had gotten me this loop system machine. I used to use that all the time to randomly sing in the house and then I noticed that I could connect it to GarageBand. I recorded my first song and I put it up on SoundCloud and that's how I started actually making music because I got some really good reviews. I've always been writing music so being able to record it is where it all started.
I know you often do some free styles, how do those come about?
What I do is I'll smoke while I'm looking for beats and then when I find a beat, I'll start recording video. So those videos you see of me sitting in a room singing is often me freestyling and I record it just so I can be able to listen back to it and see if I want to turn it into a song.
The method to the madness! I love it! Now let's switch gears, I know fashion is huge for you, who are your three biggest style icons?
That's hard! Uhm, Rihanna because duh!
 I knew that was coming!
Who else let me think…. I think I'm a fan of things and how people wear them over people themselves. I try not to fall too deeply into a person's style with the exception of Rihanna because her style is so care-free and experimental. She just kind of goes for it and works it!
What is your biggest fashion rule to live by?
Well… one of them is if you don't love it don't buy it. Also, it's okay to show up fashionably late because if you look good it'll be excused. Yeah, that's the one, that's my biggest rule! I'm really late everywhere but I always show up in a look and people are always like "Don't worry"!
That's the best rule! Back to music, who are your top three musical inspirations?
Imogen Heap– I love her so much, the way she plays around with melodies and builds upon her voice is amazing. My second is Nicki Minaj because she is so flexible, she is everywhere- and she always goes for it. My third is definitely Brandi…
I love her!
Yeah! See I don't have the strongest voice- l used to try to belt the highest or strongest note and I just realized like I don't have the voice for that and listening to her showed me that you can go so far with a soft voice and some pretty melodies.
Love that! This question may seem funny but I gotta know, what was it like being a meme?
Oh my god! This has happened to me like six times and it is the strangest thing ever! Being a meme is so random because if your name is in the photo that gets posted everyone suddenly knows it. Randomly you'll be getting lots of followers out of nowhere and you may not know yet that you were posted by some meme Instagram. I love it because it gives you a consistent growth on social media 'cause it's always going around.
Do you think that your social media following has increased because of the way you're so real on it? And on top of that do you think it's drawn people to your music?
Yes, that's exactly how I look at it- on the internet I try to be the same as I am in person. I will literally talk about anything and I want anyone to talk about anything with me. I use music as a way for me to talk about my feelings because I can be bad about speaking about it normally if that makes sense? So the only real way I can easily do it is through music. I want people to be comfortable with my music and connect to it but I also want them to be comfortable with me.
Right, it's like believing in the product that you're buying into…
Exactly, I try to be a safe space too like not only do I get to vent and put out music but what's your problem? What's going on with you? I think I'm really good about writing music not only about my situation but also about how other people feel.
It's so funny you say that because that's something Aluna Francis mentioned when I interviewed her as AlunaGeorge. She said something very similar about how sometimes her music is not a direct correlation of something she's going through but rather her understanding and empathy of someone else's situation.
Yeah that's literally me! So, yeah, I definitely think my social media plays a part in my music.
What can we expect out of your tape coming out this month?
Every song is going to flow- in a way- to the other song when you listen to it. But it's not all going to be the same. I was able to bring a different genre into each song because I'm able to sing on almost anything so I wanted to put a huge variety on the tape. You can expect it to be a bit edgy as well.
Were there any particular inspirations?
One of my inspirations behind this album is Björk– I've always listened to a lot of her but I just buried myself in her music and realized how much she played around with effects. So I played around with the music a lot and some songs are all effects and she really inspired me on that. Someone else who inspired me on this tape is Frank Ocean as far as writing. I was also inspired with playing around with gender norms. If you're thinking about a guy and a girl dancing- the guy will typically put his hands on the girl's hips but I state it in a way that it can be the other way around… or any way really. There is no set way. That's something that I wanted to explain in this tape.
That's something that I see you do a lot in fashion as well- I feel like I often see you breaking gender norms and stereotypes almost every day in your looks and shoots.
Yeah, that's something that I live by in a way. Some of the people that I shoot with will be like- "I want to put you in a dress, are you okay with that?" and I'm like "of course I'm okay with it!" It's not the normal but it should be the normal. Who cares if I'm wearing a dress and two sparkly earrings? If no one talks about it and no one does it especially me being a black male, it'll never be talked about or normalized. Black men I feel like are expected to be so tough- and I get it sometimes you do have to be aggressive with almost everything. Even opportunities you have to jump on it- so I get it…. but you don't have to be that all the time.
A motto! What do you see for your music in the future? Where do you want to be or end up?
I want to have that moment performing in front of thousands of people like on the Coachella stage… that's where I want to be. I want to share my music as much as possible and I want people to use my music as a safe space.
Where do you not want to be?
I don't want to be put into a category or a box. Like rappers, for example, always get put into a category. Like if you're a gay rapper, then you're a gay rapper and that's it.
Right, like as soon as you get a label you're expected to remain that forever…
Yes, eventually I want everyone to be on this wave of being comfortable being every part of yourself.
Whether you're following him for style inspiration or his wisdom beyond his years, Kymani has a lot to offer and is just getting started. Stay tuned for the release of "Out of Order" this Friday and be sure to keep an eye out for his next viral meme!