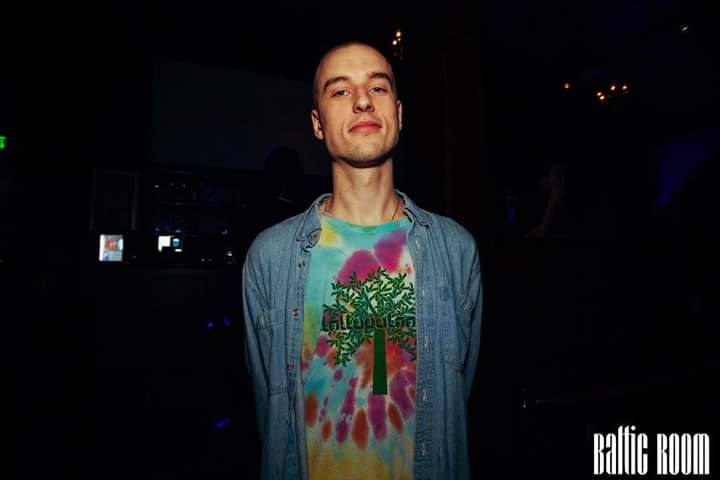 Featured Artist
Luna God

From: Seattle, WA
Genre: Electronic/Hip-Hop
Seattle's electronic scene has never been a secret, with some of the coolest venues like Q Night Club and organizations like USC and Upper Left bringing by some of the biggest tours. However, I find that the gems of Seattle are slowly growing in smaller events such as Jet Seattle– previously hosted on Friday nights in Barboza. There, I was able to discover some of the best DJ's and producers Seattle has to offer.
I saw Luna God for the first time in December of 2016. I was exposed to his social media and SoundCloud up to that point, but his live show changed it all. Luna God has a sound unlike anyone here in the city- which is why he's so instrumental to this rapid growing scene. You can find his name on a misleadingly diverse set of bills. Ranging from a Friday at Q, opening up Hip-hop shows, and spinning for artists like ZELLi  who he collaborates with. There is not a genre he hasn't put his stamp on. Blending anything from trap to cumbia with a Jersey bounce flare- his mixes and remixes are incredibly unique and his sound is always identifiable.
If this is your first exposure to Luna God, some noteworthy projects to check out are "LGEP2- Day & Night" as well as his epic remix, "WHY U GOTTA FIGHT WITH ME AT CHEESECAKE"- an ode to Drake's Child's Play with a twist. I had a moment to visit Luna God and talk about what's been in in the works and hear about Upstream Festival which took place a few weeks ago.
B: Lets start with…. When was Luna God born?
Not last November but the November before.
B: So that'd be 2015..?
Yeah. I've been making music for my whole life pretty much, doing different projects and shit like that. I was working with Astro King Phoenix, do you know who that is?
B: No…
He's a local rapper, I used to work with him, we kinda just started making music. I'd been making beats for him, but not asking to be credited for them- like I was just doing it for him and I wasn't really making beats for anybody else either. Then, he put out an album- before that it had just been songs or EP's or whatever- and he was like, "you gotta have a name or how am I gonna credit you? Like we both did this" and so I was kind of like "fuuuuuck" like what am I gonna… then it kinda just came to me. I knew I wanted it to have something to do with the moon because I'm a cancer and the moon is tight, so that's where it came from.
B: So when you were working with him…do you think you still had the same sound? Or has that changed?
I think I'm always changing and developing or trying to at least and I've gotten way better as a producer. I spent like a whole year, and even the summer before that, making music by myself all the time. I was super unemployed and broke but making tons of music because that was all I was doing. This sound definitely came out of that… but yeah, constantly developing.
B:  The people you surround yourself with… how do you think you influence one another? Do you think you guys have built a community?
It's definitely a community, that's something that always, even before Luna God, has been important for me is being around people who are into the same things or trying to push each other you know. But I think we are all doing similar things but just in different mediums.
B: How do you make yourself fit into all these different places or different types of shows, like how do you prepare for that?
I don't know, to me it's all music and I just love music. I listen to a lot of music, I studied music and I'm still studying music you know. So, to me it's just like- what does this place need right now? How can I bring that energy?
B: That's dope. Tell me about Upstream? I bet that was super exciting, I was stoked to hear that you were on that!
It was tight,yeah. I didn't really know what to expect- and I feel like a lot of people didn't know what to expect and I got there Thursday morning for the summit  and I missed the early sessions so I was only going to the later ones and there were not that many people there and WAMU was just kind of dark and I was like "what is this gonna be!" and I think I told someone like "this is gonna flop" but then the next day we saw DoNormaal and Aluna George and every show I went to was packed. No matter what time of day it was, it was packed.
B: What did you think about the venues inside? I know they used restaurants to clubs to coffee shops…
Yeah it was cool, like I don't really hang out in Pioneer Square , do you?
B: Only when I worked there a year ago, I worked right next to Occidental Square so I kinda know the area is cute and that it had a lot to offer… but I didn't know how that would translate into a festival.
It was cool because I feel like I learned about a lot of spaces or restaurants that I didn't know about. Like the bar I played at I didn't even know existed.
B: Where did you play?
The Kraken Congee… and a couple other venues had me like wow, I would have never gone here hadn't it been for this… but I guess that's what they wanted.
B: Yeah! Now tell me about your events at Baltic Room, how did you get to doing them?
They'd been closed on Thursdays before and yeah they wanted me to basically just do whatever…. Bring Luna God to Baltic Room… then I came up with the name Pluto.
B: How are you going to build on this? Is this something you'll keep doing?
Yeah, it's bi-weekly- the first and third Thursday of each month. I have the next handful of them planned already.
B:  And you always have the best guests!
Well everyone's dope!
B:  On a Thursday it's so worth venturing out and it's so sick to see you putting together such great shows for just $5
Exactly and other than a couple theme nights at Baltic Room, not many shows are going on, so its cool because it's a really cool space.
You can catch Luna God hosting, spinning, and providing the vibes during Pluto the first and third Thursdays of each month at Baltic Room or keep a lookout for his upcoming events on Facebook.
Don't forget to follow his SoundCloud for any new music!