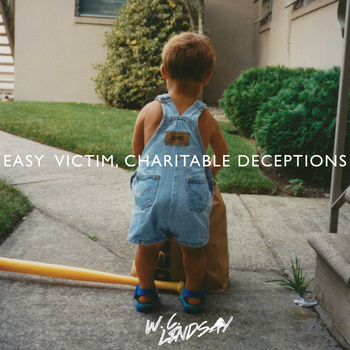 W. C. Lindsay
Easy Victim, Charitable Deceptions
Rating: 8/10
Key Tracks: Grow, Little Ghost, Tree, Hum & Roar
William Charles 'W. C.' Lindsay. Remember this name.
Fresh off his Tax Day (4/15) release of 'Easy Victim, Charitable Deceptions', this young Philly transplant is a solo-ish artist whose style is impossible to describe, but entirely easy to enjoy. Grown out of electronic and rock roots, Lindsay jumps genres with ease, and naturally progresses through rock and pop punk into hip hop and electronic in this 12-song titan. The album is available for purchase on Bandcamp, and $1 of each purchase will go to Big Brothers, Big Sisters!
Album opener Into The Night is a great initiation to this dizzying slew of styles. Huge drums and shimmering electronic riffs trade off as Lindsay belts vibrant verses and choruses, a winsome introduction to a massively diverse body of music. Not missing a beat, follow-up Kids These Days is a whimsically sunny pop jam built upon sashaying percussion and dancey motifs. Lindsay gives listeners a taste of his remarkable rap talent in this choice Spring Break song before shifting vocally into third track Slowly, So Sweet's folky twists. Reminiscent of old Matt & Kim or St. Lucia, the album kicks off with a trio of marvelously upbeat openers.
Compared to the first three tracks, midpoint segues Kelsey and Oregon are toned down a notch, with the former keeping a chill 80's dance vibe and the latter fitting nicely somewhere between Drew Holcomb and Dashboard Confessional.
Uncommon bisecting instrumental Grow is a valiant and beautiful three-minute build into key track Hardly Youth, Hardly You. Lindsay's soulful croon in Hardly Youth rests elegantly atop engaging loops and a hip hoppy drumbeat before driving into a pair of raging rock breaks.
Lindsay covers most common lyrical topics, including relationships, family, and individuality, but it's the latter half of the album that piles the emotion on especially thick. Tracks 8, 10, and 11 are standouts in this category, titled Little Ghost, Tree, and Hum & Roar respectively.
Little Ghost holds the most straightforward hip hop influence on the album, Lindsay's spitfire verses paving the way for the gorgeous synth washes in the song's unforgettable chorus. Touching on broken families and lost hope, Lindsay spins a haunting number that resounds long after the album ends. Though genres are jumped freely throughout, Little Ghost confirms that Lindsay excels at every genre he touches.
Tree is a ballad in the same vein, covering related topics with a handsome indie rock approach. Lindsay's expressive voice propels the song from hurt to hopeful with a sudden subtlety that would make Jimmy Eat World proud.
Penultimate track Hum & Roar  is perhaps the most crucial piece of the album, a wonderfully singer-songwriter cut that neighbors Tracy Chapman's Fast Car and YouTube sensations Boyce Avenue at times. Lindsay's mournful refrains and swirling acoustics join seamlessly and escalate into a shoegaze rocker's paradise. Although Lindsay's dancey bits are bold and fun, his acoustic-driven songs possess a special beauty, and allow space for arrangement and vocal timbre to be appreciated.
Lastly, Ungrow preserves the key lines from Hum & Roar, and serves as a brief but dense reminder of the incredible journey that is W. C. Lindsay's new record. Should Will and touring members George Legatos and Richie Straub swing through your town, let W. C. take you on a trip. They promise to deliver.